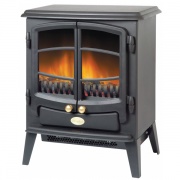 The Dimplex Tango is a traditionally designed, cast-iron effect electric stove with the unique Optiflame
®
coal effect with real coals. Simply plug in and enjoy the realistic effect on its own plus there's a 2kW fan heater within the stove for colder evenings.
£229.00£280.00
---
The Willowbrook is a medium-sized model which brings a modern twist to a classic stove design. Featuring the innovative Opti-Myst flame and smoke effect, the contemporary styling of the open window and chrome effect handle are offset by the traditional black cast-iron effect housing.
£449.00£550.00
---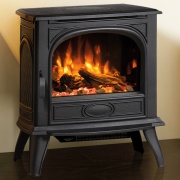 The Dovre 280 electric stove is a popular choice for people who don't have a chimney but want a realistic focal point that offers instant heat and ambience. Attractive and sturdy cast iron casing offered in classic matt black.
£829.00£1,039.00
---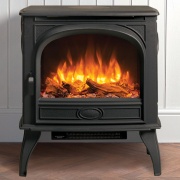 For ultimate authenticity, the Dovre 425 Electric Stove features the same, cast iron casing which is used on the Dovre 425 wood burning stove. Combine this with the unique Veriflame
™ flame effect and you can see why this model is so popular!
£999.00£1,259.00
---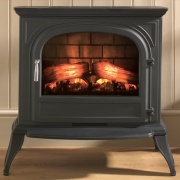 With the next generation of LED flame technology, the stunning Eko Fires 1250 electric stove allows you to create a realistic focal point that works equally in urban city living as it is in rural country abodes. This cast iron bodied, designer stove is offered here in the classic black finish.
£615.00£740.00
---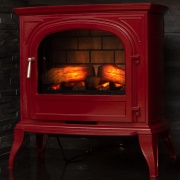 Featuring the latest LED technology which creates a lovely, 3 dimensional flame effect and four coloured fuel bed options, this model of Eko Fires 1250 electric stove is finished in a beautiful burgundy finish. This cast iron stove will appeal to those who want to add a striking and unique feature.
£630.00£760.00
---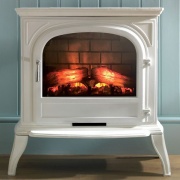 The latest in electric fire technology which utilises a state-of-the-art LED technology to produce a realistic flame pattern that costs a fraction to run compared to standard bulbs . The stunning Eko Fires 1250 is constructed using a solid cast 'woodburner' style body in a striking white finish.
£615.00£740.00
---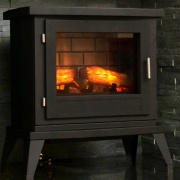 The Eko 1350 features a fabricated metal body offered here in matt black finish. At the heart of the stove is a large glass window that allows the authentic LED flames to be enjoyed in all their beauty. Packed with the latest technology which creates a full-depth, 3 dimensional flame effect.
£550.00£670.00





---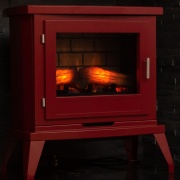 Break away from the norm with this delightful freestanding electric stove in an exclusive burgundy finish. The Eko Fires 1350 will transform your home with its stylish looks and LED flame picture. Dancing flames over a log effect fuel bed can be enjoyed in rooms with or without a chimney.
£580.00£695.00
---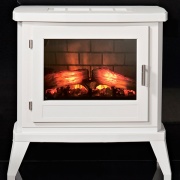 Even when this stove is not switched on, it will stand out in any room which its gorgeous white finish. Cast construction and boasting the latest LED technology, the Eko 1350 electric stove has the charm and character of a real woodburner with the convenience and simple installation of electric.
£550.00£670.00
---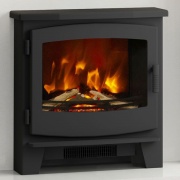 The large model of the Beacon Inset stove, it benefits from a wonderful view of the log effect fuel bed and dancing flames through the stoves panoramic viewing window. Despite its extra width, the large Beacon Inset electric stove is designed to be recessed into a standard, 16" fireplace back panel opening.
£555.00
---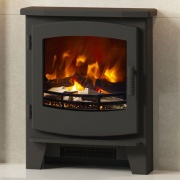 Designed to be inset into a standard fireplace back panel opening, the Beacon Inset electric stove in small size provides the look and charm of a freestanding stove but with minimal protrusion. The outer casing is manufactured from timber and painted matt black to give a cast appearance.
£525.00
---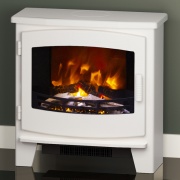 Brighten up any fireplace area with the Beacon large electric stove is an attractive Ash White finish. A favourite model in the Elgin & Hall range, the large Beacon electric stove features a lovely flame effect created using low energy LED illumination dancing above a realistic log effect fuel bed.
£595.00
---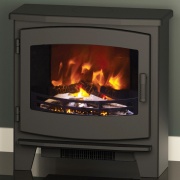 The larger size of Elgin & Hall timeless Beacon electric stove provides a lovely, welcoming ambience which replicates the charm of a real fire. Simple to install and operate, the Beacon Large stove is an ideal addition to any room in your home - just simply plug in for instant ambience and heat!
£595.00