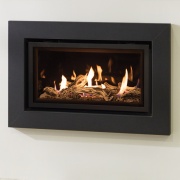 Simple, stylish and sophisticated, the Studio Expression offers a complete focal point around which to express your very own decorative style. This Graphite frame is perfectly proportioned to complement the realistic Log-effect, Pebble & Stone or Driftwood-effect fuel beds.
£2,399.00£2,998.00
---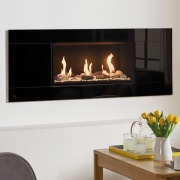 Designed to perfection, the Gazco Studio Glass Balanced Flue looks sensational with its sleek, black glass fascia in wide aspect format. This 'no chimney' fire is packed with innovative features ranging from visual appeal to heating performance and styling options to installation possibilities.
£2,949.00£3,692.00
---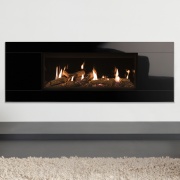 Sleek, chic and shining, the Gazco Studio Glass gas fire offers you a striking focal point around which you can create your own distinctive interior. Glass fronted, conventional flue gas fires with the option of Log-effect, Pebble & Stones or the highly realistic Driftwood-effect fuel beds.
£2,829.00£3,542.00
---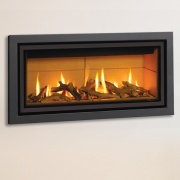 For optimal versatility, the Gazco Studio Profil Balanced Flue gas fire is available in a choice of sizes, interior lining options, fuel effects and trim finish. With no chimney or flue needed, it's the ideal choice for anyone looking for a stylish, modern centerpiece with superb performance.
£2,479.00£3,098.00
---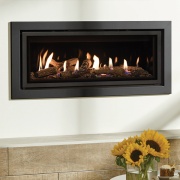 The conventional flue, glass-fronted Gazco Studio Profil gas fire features timeless styling that fits in perfectly with virtually all interiors. Furthermore, the Studio Profil gas fire is offered with a choice of size, frame colour, fuel effect and interior linings.
£2,359.00£2,948.00
---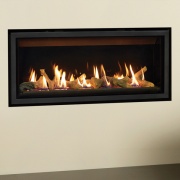 Boasting a minimalist appearance with a 'no-frame', clean edge design, the Gazco Studio Slimline Edge balanced flue gas fire is offered in two sizes and an ideal solution for no chimney homes with much less building work required than most wall-mounted balanced flue gas fires.
£1,959.00£2,453.00
---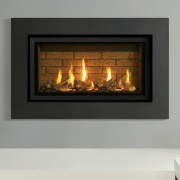 A popular frame option for the Gazco Studio Slimline balanced flue, the 'Expression' provides a clean, uncomplicated look to this versatile appliance. Ideal for flat wall installations and capable of providing up to 4.50kW of sublime heat output. Choose from two sizes on this stylish designer fire.
£2,129.00£2,664.00
---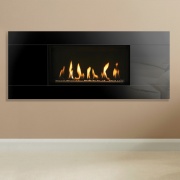 Featuring a shallow firebox depth of just 155mm, the Gazco Studio Slimline 'Glass' balanced flue gas fire is ideally suited to new build homes as it can be recessed into a standard, external cavity wall. A rear exit balanced flue kit supplied with the fire vents the fumes horizontally through the wall.
£2,569.00£3,208.00
---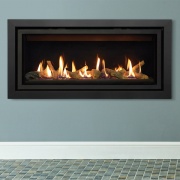 The perfect, wall-mounted gas fireplace for properties without a chimney or flue. The Gazco Studio Slimline Profil features a shallow inset depth allowing it to be inset into a standard, external cavity wall without the need to build out. Impressive heat output combined with excellent efficiency.
£2,089.00£2,614.00
---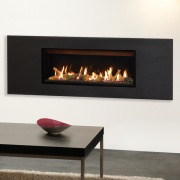 With its landscape fascia, the Gazco Studio Slimline Steel 2 balanced flue gas fire gives a wider overall look well suited to larger walls. The main benefit of this model is that is one of the few 'hole-in-the-wall' balanced flue gas fires that can be inset into a standard, external cavity wall.
£2,239.00£2,804.00
---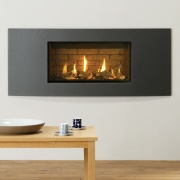 With its 3D frame designed to create maximum impact in your home, the Gazco Studio Slimline Verve is well suited to modern living spaces in properties without a chimney or flue. Choose from cool, white stones or classic log fuel effects plus interior options.
£2,319.00£2,888.00
---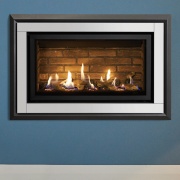 Increasing the appeal of one of Gazco's most innovative gas fire ranges, Zero Clearance Kits are being introduced to allow homeowners to install either the Studio Slimline 1 or 2 fires into an opening or enclosure constructed from combustible materials.
£2,299.00£2,868.00
---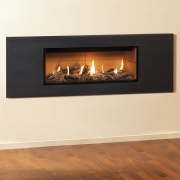 Giving a larger overall look on this high efficiency gas fire, the panoramic Steel 2 fascia is finished in graphite for a dramatic contrast to the flames within. The Gazco Studio Balanced Flue has performance to match its looks with the larger Studio 2 size capable of producing up to 8.9kW of heat.
£2,629.00£3,288.00
---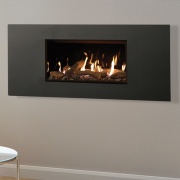 The Gazco Studio Steel 2 is for those with larger spaces who wish to create a greater presence with their choice of fire. The striking, landscape Steel 2 fascia frame in graphite finish instantly creates a distinctive and individual focal point. Operated by programmable remote control.
£2,499.00£3,138.00