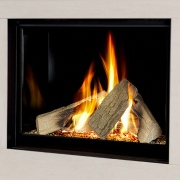 Providing a stylish alternative to a standard 16" inset gas fire, the Collection Celena HE can be fitted into a fireplace without the need for a frame around the fire. With larger proportions, the Celena will make a striking impact allowing the authentic log effect and dancing flames take center stage!
£1,379.00£1,675.00
---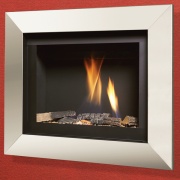 If you live in a property without a chimney or flue, the Celena balanced flue gas fire offers straight forward installation with no stud wall required to accommodate the appliance depth. With a slimline fire box, the Celena can be recessed into the cavity wall and vented horizontally outside.
£2,039.00£2,490.00
---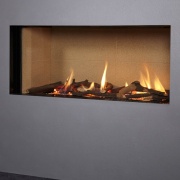 Despite it featuring a slimmer depth than the original Eden HE, the Collection by Michael Miller Eden Elite boasts a taller viewing window resulting in even more visual impact of the fantastic flame picture. Choose from black or cream interior and install as a hole-in-the-wall or combine within a fireplace.
£2,159.00£2,640.00
---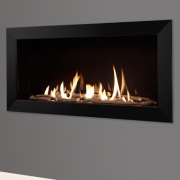 The stunning Eden Elite contemporary gas fire offered here as a slimline balanced flue model. The Eden Elite Slimline is designed to be fitted on a standard external cavity wall with no need to build a stud wall in the room!
£2,379.00£2,910.00
---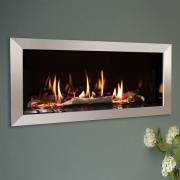 A stunning, glass-fronted hole-in-the-wall gas fireplace boasting incredible heating performance and high efficiency. The Collection Eden HE features enchanting, flickering flames operated by a state-of-the-art thermostatic remote control allowing you to maintain optimum room temperature.
£1,799.00£2,250.00
---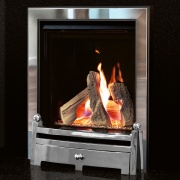 The Passion HE Mk2 is a high efficiency inset gas fire that features an authentic log effect fuel bed set behind an almost invisible glass panel. You can create a beautiful looking fire which will enhance any style of fireplace with one of the extensive range of exclusive trim and fret combinations.
£799.00£899.00





---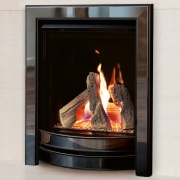 With the addition of one of Kinder's beautiful fascia frames, the Passion HE Mk2 gas fire is transformed into a sleek, designer gas fire that will compliment any modern setting. This high efficiency model features a unique log layout set behind an anti-reflective glass panel.
£799.00£899.00
---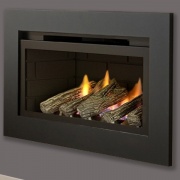 Superb performance and efficiency in a neat, modern design. The glass-fronted Crystal Boston gas fire gives you the opportunity to tailor the fuel bed, interior and trim to your personal taste to create a stylish 'hole-in-the-wall' gas fire feature ideal for fashionable modern living.
£895.00£999.00





---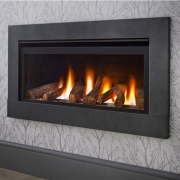 A wider option of Crystal Fires superb Boston glass-fronted, high efficiency gas fire. Offered with a wide selection of trim colours to suit any colour scheme, the 'hole-in-the-wall' Boston Wide is capable of providing up to 4.6kW of heat and is offered with manual or remote control.
£1,095.00£1,245.00
---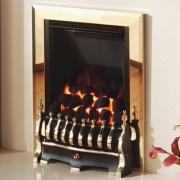 A very popular inset gas fire ideal for those with limited depth, Class 2 Pre-Cast flues. The Crystal Diamond has a slimline fire box of only 100mm (4") making it suitable for the shallowest of spaces. Despite it's reduced inset depth, it's still capable of providing up to an impressive 3.18kW of heat!
£249.00£389.00
---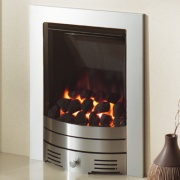 A sleek, one-piece fascia gives the Crystal Diamond inset gas fire a more contemporary feel which will provide any modern fireplace with a stylish centrepiece. Designed especially for shallow Pre-Cast flues, the Diamond has a reduced inset depth of only 100mm! Manual or Remote control option.
£249.00£389.00
---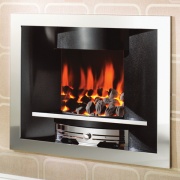 The Emerald is one of a small number of open-fronted 'hole-in-the-wall' style fireplace that has performance to match it's fashionable looks. Combing the Crystal Gem inset gas fire with a stylish outer fascia in a choice of 'Emerald' or 'Scoop' designs. Coal or Pebble effect with heat output of up to 3.88kW!
£689.00£879.00
---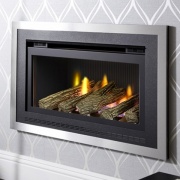 The glass-fronted Florida is a cutting-edge gas fire from Crystal Fires that incorporates a twin fan convector system within the fire that actively draws cold air from the room, circulates it around the back of the fire and expels this extra heat back into the room! Offered in a vast range of striking colours.
£1,149.00£1,349.00
---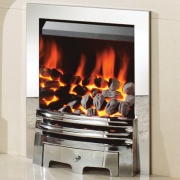 The Gem is the hottest model in Crystal Fire's open-fronted range of inset gas fires boasting a fabulous maximum heat output of 3.88kW. Mesmerising flames dancing over a coal or pebble fuel bed and offered with a large choice of trims and frets to tailor the fire to your exact requirements.
£379.00£499.00