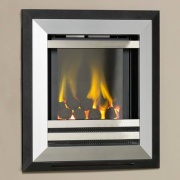 With an efficiency rating of 84.3%, the Flavel Diamond HE is a 'hole-in-the-wall' gas fire that offers a economical form of heating whilst providing a stylish, modern focal point. Contemporary stainless steel and black fascia with a choice of coal or pebble fuel effect.
£939.00£1,209.00
---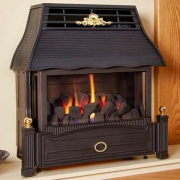 Incorporating the elegant look of cast iron, the Flavel Emberglow Balanced Flue gas fire is a classical design with side windows allowing the flames to be seen from all angles. This model is designed for properties without a chimney or flue.
£1,169.00£1,509.00
---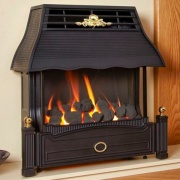 The Flavel Emberglow is a highly efficient, outset gas fire combining a robust, cast iron canopy and front with the very latest technology. Triple aspect windows give the ultimate view of the mesmerising living flame effect. Suitable for Class 1 or 2 flues.
£809.00£1,039.00
---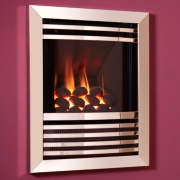 Providing a stunning, contemporary centerpiece as well as an economical heat source for your home, the Flavel Expression HE features a a stunning stainless steel fascia design and is operated by a fully automatic remote control system. Glowing coals and flickering flames set behind a glass panel.

£999.00£1,299.00
---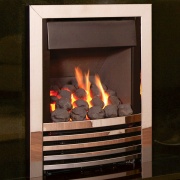 A lovely, contemporary styled inset gas fire that benefits from improved efficiency compared to standard open-fronted models. The Flavel Expression Plus can be fitted into a conventional chimney or Class 2 flues including pre-cast when combined with a fireplace surround with 3" rebate.
£579.00£745.00
---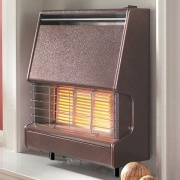 Featuring manual controls located at the top of the appliance for ease of use, the Flavel Firenza is a outset gas fire available in a choice of bronze or black finish. Radiant bar heating with a maximum heat output of 3.8kW and 80.1% efficiency.
£329.00£419.00
---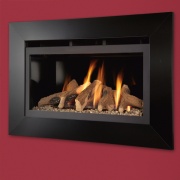 A compact, 'hole-in-the-wall' style gas fireplace that is offered with a choice of trim colours. The glass-fronted Flavel Jazz is ideally suited to installation into an existing chimney or if adequate depth is available, it can also be fitted into Class 2 Pre-Fabricated flues.
£1,109.00£1,429.00
---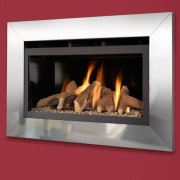 The balanced flue version of Flavel Fires popular Jazz gas fire is supplied with a realistic log fuel bed and offers an incredible efficiency of 83.9%! As a 'hole-in-the-wall' model, the Flavel Jazz Balanced Flue requires inset depth for the 315mm deep appliance engine.
£1,759.00£2,265.00
---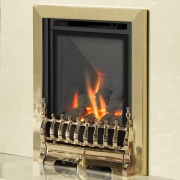 For modern or traditional fireplaces, the Flavel Kenilworth HE is a high efficiency gas fire offered in a choice of finishes. This high efficiency gas fire offers an excellent way to reduce running costs without compromising on style. The Kenilworth HE is available with Manual or Remote control.
£579.00£745.00
---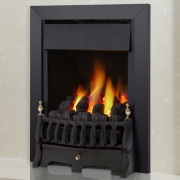 The Flavel Kenilworth Plus is a great choice for anyone looking for a high efficiency gas fire but doesn't want to lose the realism of a open flame. Choose from black, brass or silver finish on this fabulous fire with heat output of up to an amazing 4.2kW!
£549.00£709.00
---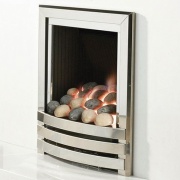 Installing the contemporary styled Flavel Linear gas fire into any modern fireplace surround will provide a stylish feature which produces a maximum heat output of 2.7kW. Choose from coal or pebble fuel effects to compliment the polished silver fascia frame.
£499.00£649.00
---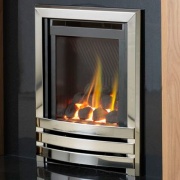 This high efficiency gas fire manages to combine modern looks whilst offering reduced running costs. The glass-fronted Flavel Linear HE features a beautiful, contemporary stainless steel fascia and a choice of coal or pebble fuel effects.
£579.00£745.00
---
Flavel have developed a new range of open-fronted gas fires which offer improved efficiency and heat output. The Flavel Linear 'Plus' has a incredible heat output of 4.2kW and an energy efficiency of 68.3% whilst retaining an open-fronted appearance for maximum effect.
£549.00£709.00
---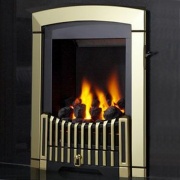 The Flavel Melody is a slimline gas fire designed especially for shallower flues such as Class 2 Pre-Cast. It is available in four finishes and features discreet, slide control operation for ease of use. Open-fronted, living flame gas fire offering a 3.1kW maximum heat output.
£569.00£725.00