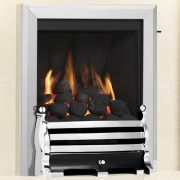 Giving you the option for choosing a variety of fire types including slimline open-fronted, high efficiency glass-fronted and a balanced flue model for properties with no chimney or flue. The versatile FLARE Classic is offered with a variety of trims and frets to match your perfect style.
£369.00£469.00
---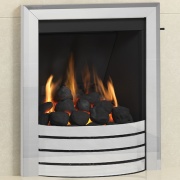 Designed for modern fireplaces, the one-piece fascia frames available on the FLARE Collection Design gas fire provide a clean, contemporary look. Select from a range of gas fire engines including Slimline for Class 2, High Efficiency or a Balanced Flue model for no chimney properties.
£339.00£439.00
---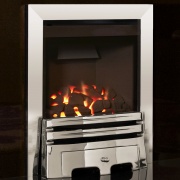 The Flavel Calibre balanced flue gas fire offers marketing leading efficiency and heating performance combined within a stylish focal point of which you can choose silver or brass finishes. There is also three options for control including full remote.
£969.00£1,249.00





---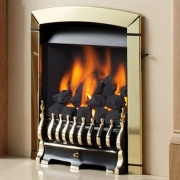 Designed for modern living, the Flavel Calypso gas fire offers a easy way to turn the fire on and adjust the flame height with a convenient slide control lever located at the top, right hand side of the appliance. A convector gas fire with impressive 3.7kW maximum output.
£579.00£745.00
---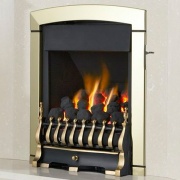 From the new 'Plus' range of open-fronted, high efficiency gas fires by Flavel, the Calypso Plus offers both increased efficiency and heat output compared to the standard model. Brass finish with a full-depth coal effect fuel bed.
£629.00£809.00
---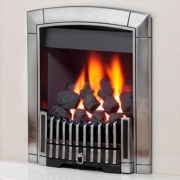 The Flavel Caress Contemporary is a full depth, convector gas fire offering an excellent maximum heat output of 3.7kW with a realistic, open-fronted living flame effect. Choose from manual or slide control options with a high quality, polished silver trim and fret.
£609.00£779.00
---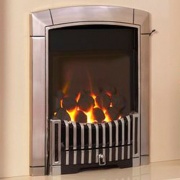 Featuring a beautiful solid cast curved trim in polished cast iron or brass, the Flavel Caress HE Contemporary gas fire offers market leading efficiency combined with superb heating performance. This glass-fronted gas fire is available with two control options.
£769.00£989.00
---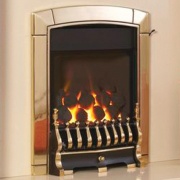 The glass-fronted, Flavel Caress HE Traditional gas fire offers incredible efficiency combined with a powerful heat output. This stylish convector gas fire is a excellent choice for anyone looking to reduce their heating bills without compromising on performance.
£739.00£945.00
---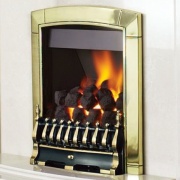 A stylish, full-depth convector gas fire that is offered in a choice of finishes and control options. The Flavel Caress Traditional gas fire is well suited to installation into an existing chimney or deeper, Class 2 Pre-Fabricated 5" flues. Providing beautiful open-fronted flames.
£609.00£779.00
---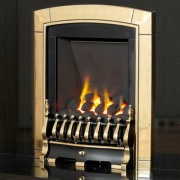 Ideally suited to shallower flues such as Pre-Cast, the Flavel Caress Slimline gas fire is offered in a choice of two finishes and two control options. The open-fronted Caress Slimline offers a maximum heat output of 3.1kW.
£469.00£605.00
---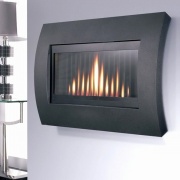 With simple installation, the contemporary styled, Flavel Curve is a 'hang-on-the-wall' gas fire that is suitable for all flue types including Pre-Cast. The unique flame pattern and striking curved fascia make it a popular choice with modern home-owners.
£1,159.00£1,489.00
---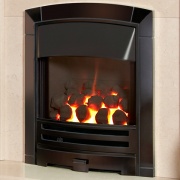 The Decadence HE is a high efficient, glass-fronted inset gas fire from Flavel that combines state-of-the-art technology with stylish good looks. Offered in a choice of three finishes, this superb fire is suitable for both Class 1 and Class 2 flues subject to adequate recess depth being available.
£709.00£915.00
---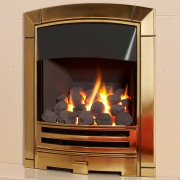 The Decadence Plus is a open fronted full depth gas fire which features a choice of three beautiful high quality cast iron fascias available in a choice of gold, silver or black nickel plated finishes. Using innovative technology, it boasts a higher efficiency rating than standard open-fronted gas fires.
£659.00£845.00
---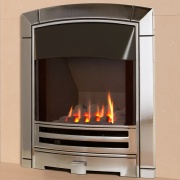 With a reduced depth compared to the standard model, the Decadence Slimline HE gas fire is designed for shallower Class 2 installations including Pre-Cast flues often found in modern built properties. Offered in a choice of silver, brass or black nickel finish with manual controls at the base of the fire.
£689.00£889.00