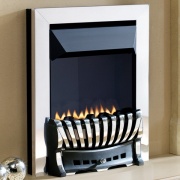 The stylish Eko 5510 is designed to be inset into a standard fireplace opening and will compliment both classical or contemporary fireplace designs as well as providing unbeatable 100% efficiency. Alternatively, it can be fitted free-standing against a flat back panel using the optional spacer frame.
£539.00£675.00
---
This exciting addition to the Elgin & Hall range allows you to transform one of their popular high efficiency gas fires to achieve the classic 'stove' look. The cast stove trim gives the appearance of an inset stove but with the instant controllability of gas. No chimney balanced flue version also available!
£749.00£915.00
---
This innovative appliance combines the classic looks of a wide bodied stove combined within a high efficiency inset gas fire. The Widescreen 22" gas fire from Elgin & Hall has a heat output of up to 4.2kW and is easily operated using the slide control lever at the top, side of the appliance.
£1,065.00£1,299.00
---
A truly spectacular, award winning complete fireplace suite which gives homeowners living in properties with shallow, Pre-Cast flues the opportunity install a fashionable centerpiece with large, landscape gas fire. The Cassius 950 is offered in two marble finishes and operated by slide control.
£2,131.00£2,599.00
---
To compliment your fireplace, you need to give it a warm glowing heart and there's no better way to do this than with the Elgin & Hall Chollerton Widescreen gas fire! Giving you a panoramic view of the flames, this 22" high efficiency gas fire is offered with a contemporary fascia in two colours.
£967.00£1,179.00
---
If your home has a Class 2 flue and you thought you'd be limited to a standard sized gas fire, the 48" wide Elgin & Hall Earlston 950 offers a superb solution for you! This exquisite, marble fireplace suite incorporates a wide gas fire with a version compatible for shallow, Pre-Cast flues.
£1,948.00£2,375.00
---
A new addition to the Elgin & Hall range of gas fires, the Eclipsim is a beautiful, cast fascia frame that is compatible with a wide selection of fire types including slimline, high efficiency and balanced flue. Designed to be combined within a fireplace, the Eclipsim will enhance and style of interior.
£475.00£579.00
---
The chic Embleton marble fireplace is offered in a choice of three colours and features stylish stepped detailing around the back panel. It provides an attractive backdrop to the Elsie 900 widescreen glass-fronted gas fire which boasts incredible performance and is compatible with Pre-Cast flues.
£2,071.00£2,525.00
---
The Mariella high efficiency gas suite is designed to be fitted into a Class 1 real chimney but also has the option of being capable to be fitted into a Class 2 Pre-Cast flue when the depth of the chimney is extended. A unique option for those looking for a fireplace with a fire larger than standard.
£1,902.00£2,319.00
---
Tall, broad and beautiful, the Orieta harmonises timeless marble with advanced gas technology. The glass fronted fire delights with large dancing flames, by completely filling the space framed by the surround. This fashionable fireplace suite can even be fitted into Class 2 Pre-Cast flues!
£2,000.00£2,439.00
---
A beautiful combination of gas fire and surround, the Vitalia embodies the timeless essence of Elgin & Hall. With an uncompromising presence, the widescreen glass-fronted fire is sublime in every way and has the benefit of being suitable for all flue types including shallow, Class 2 Pre-Cast.
£1,992.00£2,429.00
---
No longer is your choice of gas fire limited if you live in a property with a pre-cast flue. The gorgeous Wayland Gas Suite from Elgin & Hall features a been uniquely engineered in a way to fit into a standard 22" x 16" opening in a UK chimney breast or pre-cast flue, with no need for any extra building work.
£2,026.00£2,471.00
---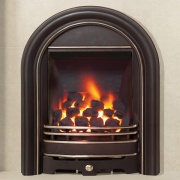 An unusual, inset gas fire that features a striking, cast arched fascia supplied with a beautiful, highlight or polished cast fascia. The FLARE by Be Modern Abbey gas fire is designed to fit into a standard rectangle fireplace opening and with two inset depth models available, is suitable for all flue types.
£379.00£495.00





---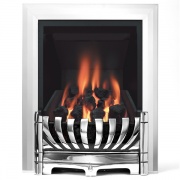 The Avantgarde has been a firm favourite in the FLARE range of gas fires for many years. This versatile model is available in two depths - a Slimline model ideal for shallow pre-cast flues and a Deepline model giving a realistic fuel fire bed well suited to brick chimney homes.
£374.00£485.00