With quality, cast iron construction, the Cast Tec Puma 5 will retain the heat produced for longer periods after the fire dies down. This attractive multi-fuel stove features a large window which is kept clean thanks to an active Airwash system and is approved for use in smoke controlled areas.
Showroom Exclusive
£849.00

---
Whether you're looking for a inset woodburning stove to recess into a fireplace or want to create a striking, modern feature by installing a stove raised up in the wall, the Titus 5 is a versatile cassette stove that can do just that! Steel and cast iron construction with a nominal heat output of 5kW.
Showroom Exclusive
£1,079.00

---
For those looking for more heat, the Vulcan 8 is a popular choice with a nominal heat output rating of 8kW. This stylish stove is constructed using a combination of steel for the body and cast iron for the door and boasts a lovely, large viewing window for the ultimate view of the flames.
Showroom Exclusive
£875.00

---
Offered with a choice of black or brushed stainless steel sides, you can personalise the Di Lusso R4 Euro stove so it will enhance any modern home. A highly advanced, free-standing stove, the sophisticated R4 Euro incorporates a Dynamic Air Control Cassette for the ultimate in burn control.
Showroom Exclusive
£1,749.00

---
A stylish, contemporary alternative to a free-standing stove, the Di Lusso Eco R4 Inset is offered with a choice of 3 or 4 sided frame options to allow you to combine within a fireplace at hearth level or install raised up in a chimney breast as a 'hole-in-the-wall' feature. Choose from Black or Pewter finish.
Showroom Exclusive
£1,499.00

---
The R5 Euro is a contemporary styled stove with convection for improved heat distribution and minimal clearance requirements. A large glass viewing window with active Airwash system sits above a convenient log storage box making this stylish wood burning stove ideal for free-standing installations.
Showroom Exclusive
£2,049.00

---
The Di Lusso R5 Inset Stove provides a stylish focal point and plenty of heat whilst utilising space in your home. With a nominal heat output of 6.3kW, it is ideal for heating larger rooms and with Di Lusso's innovative firebox technology it is extremely controllable and easy to operate.
Showroom Exclusive
£1,749.00

---
For those looking for both performance and style, the Di Lusso Eco R6 Cube is definitely one to consider. This powerhouse woodburner has a nominal heat output rating of 6.2kW but when ran on maximum, up to a mighty 13kW can be achieved! Offered with an Arco or Quattro style of stove body.
Showroom Exclusive
£2,099.00

---
The larger proportions of the Eco R6 Inset Stove by Di Lusso provide a spectacular view of the dancing flames. Featuring Di Lusso's cutting-edge 'Flame Technology' system that ensures a more complete combustion of the fuel used to further lower emissions even at lower burn temperatures.
Showroom Exclusive
£1,749.00

---
A slimmer version of the original R6 Inset Stove, this Di Lusso model boasts advanced firebox technology and a truly exquisite finish, all whilst utilising space efficiently. Already compliant with stringent Ecodesign 2022 standards and can be used to burn wood in smokeless areas.
Showroom Exclusive
£1,749.00

---
What is striking about the Dik Geurts Aste wood stove is its classic look, realised by the beautifully designed legs and robust cast iron door. The centre of the flue pipe is located only 10 cm from the rear side. The result is that this wood burner can be easily placed inside an existing fireplace.
Showroom Exclusive
£1,405.00

---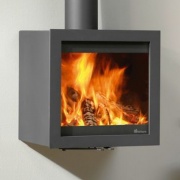 Offering five stunning variants to create a spectacular, contemporary feature in your home. The Bora wood burning stove can be fitted in a variety of styles including wall-hung, suspended from the ceiling or on a pedestal base. Up to 8kW heat output and superb high energy efficiency of 84%.
Showroom Exclusive
CALL

---
Another stunning, contemporary wood burning stove from premium Dutch manufacturer Dik Geurts. The Folke is a tall stove boasting windows in three sides of the appliance providing a wonderful view of the flames. Beneath the fire chamber is a handy place to store and season logs.
Showroom Exclusive
£2,270.00

---
The Instyle and Prostyle Tunnel is a see-through, inset woodburning cassette fire that can be built into a pre-fabricated chimney breast or room dividing wall. With hinged doors on either side, it is both stunning and practical. It has a powerful heat output of up to 12kW and an efficiency rating of 83%.
Showroom Exclusive
£2,935.00