The Icarus 5 9605 is a dedicated wood burning stove from Burley which boasts the very latest technology. Stylish in design, the Icarus 5 features a wonderful, tall viewing window which provides a stunning flame view. DEFRA approved for use in a smoke control area and Ecodesign ready.
Showroom Exclusive
£1,100.00

---
The Launde 9304-C is a lovely stove ideal for anyone looking to efficiently heat smaller rooms. Packed with innovative technology, this British made wood burning stove has a 4kW nominal heat output and incorporates a catalytic converter for lower CO and higher efficiency.
Showroom Exclusive
£950.00

---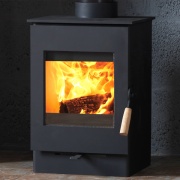 A superb stove for anyone looking to heat smaller rooms, the Burley Owston 9303 has a nominal heat output of only 3kW yet retains the highly advanced features found in the rest of the Burley 'Firecube' wood burning stove range. A DEFRA approved stove suitable for use in smoke controlled areas.
Showroom Exclusive
£800.00

---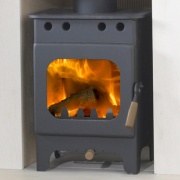 Small and neat in form yet packed with the very latest innovations including Burley's unique 'Fireball' flame technology for improved performance and efficiency. The Springdale 9103 has a nominal heat output rating of 3kW with an truly amazing energy efficiency rating of 88.9%!
Showroom Exclusive
£750.00

---
The Swithland 9308 is from Burley's range of 'Firecube' highly advanced wood burning stoves which incorporate an innovative heat exchanger feature. The heat exchanger scrubs the energy from the hot gasses before they go up the chimney and puts more warmth into your home.
Showroom Exclusive
£1,200.00

---
The 9308-C Swithland wood burning stove features a catalytic converter which aids complete combustion, turning carbon monoxide into carbon dioxide and releasing more energy in the process. A catalytic converter stove will generally have lower CO and higher efficiency than the stove without.
Showroom Exclusive
£1,370.00

---
A generous sized, powerful wood burning stove ideal for those looking to efficiently heat larger rooms or open-plan living spaces. The Burley Wakerely 9112 is a dedicated woodburner with nominal heat output of 12kW and a mighty maximum output of 18.3kW! Incredible high efficiency of over 84%!
Showroom Exclusive
£1,450.00

---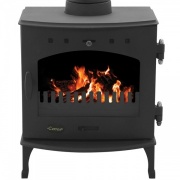 A popular, multi-fuel stove well suited to medium and large rooms, the Carron 7.3kW stove is capable of making the room warm and toasty even on the coldest of winter evenings. Cast iron construction and featuring a wide aspect viewing window, this beautiful stove will compliment any interior.
Showroom Exclusive
£749.00

---
The latest addition to Carron's popular range of stoves is the ECO Revolution 5kW model. This highly advanced wood burning stove is EcoDesign 2022 compliant and boasts Cleanburn technology with excellent high efficiency. An ideal stove for modern day living in standard sized rooms.
Showroom Exclusive
£895.00

---
The Cougar is a new addition to the robust range of cast iron stoves from Cast Tec. Featuring a multi-fuel grate, it gives you the option of burning wood logs or approved solid fuels and with triple burn technology, you can be sure this is carried out extremely efficiently.
Showroom Exclusive
£849.00

---
The Inset model of Cast Tec's popular Cougar stove is a great way to turn an existing fireplace opening into a highly efficient and clean way to enjoy wood burning. Quality cast iron construction, the Cougar Inset features a large glass viewing window providing a lovely view of the flames.
Showroom Exclusive
£849.00

---
An attractive new model from Cast Tec featuring a stylish door design with large viewing window. The Horizon 5 boasts easy to operate controls allowing you burn seasoned wood or HETAS approved smokeless fuels efficiently whilst also being passed for use in smokeless areas.
Showroom Exclusive
£499.00

---
An extremely popular woodburner in our showroom which benefits from an enormous viewing window for a glorious view of the flames. The Juno 5 provides a perfect solution for anyone looking for a stove that is capable of burning either wood or solid fuels even if you live in a smoke controlled area.
Showroom Exclusive
£825.00

---
An extremely popular stove in our showroom, the Cast Tec Norvik 5 ticks all the boxes and is a versatile, quality multi-fuel stove that benefits from DEFRA approval and offered at a superb price. Premium cast iron construction and triple burn technology for the ultimate in control and efficiency.
Showroom Exclusive
£699.00