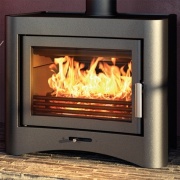 The magnificent Evolution 26 Boiler Stove will throw out up to 10kW worth of heat directly, enough for a considerably sized room. Its indirect effect is remarkable too, contributing a full 16kW to a central heating system. Quality cast iron construction with steel burn box and vermiculite firebricks.
Showroom Exclusive
£3,874.00

---
British made and having passed the EcoDesign regulations set to come into force in 2022, the Broseley Desire 5 Widescreen is perfect for modern living. A multi-fuel stove capable of burning wood or smokeless coal and featuring a much wider body and window compared to most other 5kW stoves.
Showroom Exclusive
£1,034.00

---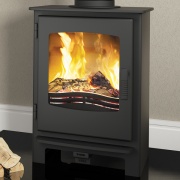 Whether you're new to the wood burning stove world or a seasoned expert, the new Evolution Desire 5 is one to look at! Ideal for small to medium sized rooms, this attractive British built stove boasts exceptional high efficiency and innovative, simple air controls to achieve the optimum burn rate.
Showroom Exclusive
£904.00

---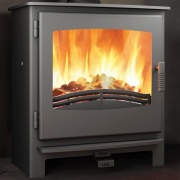 A substantial stove with the ability to provide medium to large sized rooms with ample warmth. The British built Evolution Desire 7 is offered as a standard leg or with a handy log store base and will certainly make its presence felt with a impressive 7kW heat output and full view of the flames.
Showroom Exclusive
£1,014.00

---
Made in Britain using the best combination of strong steel for the body for an air-tight combustion and robust cast iron for the door. The Broseley Ignite 5 'Widescreen' model boasts the same width as the larger 7kW model however it is rated as the more common 5kW heat output.
Showroom Exclusive
£1,099.00

---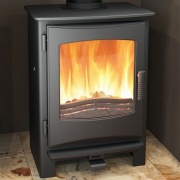 Proudly built in Britain using a combination of heavy duty steel and robust cast iron, the Evolution Ignite 5 from Broseley offers all the innovative features needed for modern living. Controllable heat output and exceptional efficiency whilst letting you enjoy a perfect view of the dancing flames!
Showroom Exclusive
£1,014.00

---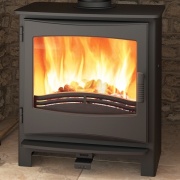 For anyone looking for extra heat, the handsome Evolution Ignite 7 is a powerful stove with multi-fuel capabilities. Simplistic design constructed in Britain using a combination of heavy duty steel and cast iron with a huge glass viewing window giving you the ultimate view of the roaring flames.
Showroom Exclusive
£1,129.00

---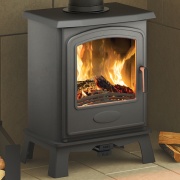 From the new range of their British made stoves, the Broseley Hereford 5 SE will appeal to anyone looking to add a stylish feature that will also boasts superb performance. It is also a smoke exempt appliance and can burn wood and smokeless fuels in all areas of the UK including smokeless zones.
Showroom Exclusive
---
The EcoDesign compliant Hereford 5 Widescreen offers the larger viewing window from the Hereford 7, and has the added benefit of producing 5kW of heat. This is the perfect choice if you need a larger stove but do not require a high heat output. Built in the UK with a decorative arched cast iron door.
Showroom Exclusive
---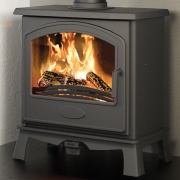 Providing a powerful heat source within a stylish, British built steel body with curved cast iron door, the Broseley Hereford 7 SE is a stove for those looking for simple controllability in medium to large sized rooms. Multi-fuel capability allows you to burn either wood or approved solid fuels.
Showroom Exclusive
---
The attractive Hotspur 5 from Broseley Fires is a dedicated wood burning stove with the option of adding a multi-fuel hopper allowing you to also burn approved solid fuels. Steel body in black with a stylish chrome handle covering the full door height. Impressive high efficiency and Airwash system.
Showroom Exclusive
---
The largest model in the exciting new range of designer stoves by Broseley which comply with EcoDesign Ready programme, effective in the UK from 2022. The Hotspur 9 wood burning stove will appeal to those looking for powerful heating performance without compromising on style.
Showroom Exclusive
---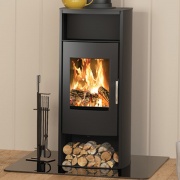 The stylish Phoenix contemporary wood burning stove from Broseley has performance to match its stunning, modern looks. With a heat output of 8kW, Airwash technology and an integrated log store at the base, the Phoenix will look sensational either fitted freestanding or in a tall enclosure.
Showroom Exclusive
---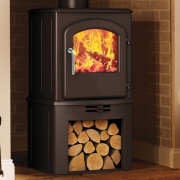 Designed for taller openings or for free-standing on it's own, the Broseley Serrano 5 SE with log store is equally suited to both classical or contemporary interiors. With 5kW nominal heat output, the Serrano 5 SE Log Store is perfect for average room sizes and requires no extra ventilation.
Showroom Exclusive