The Ivar 5 is offered with three options; the low leg version is ideal for recessing the stove into a fireplace chamber whilst the high leg and logstore models will create a stylish centrepiece when installed freestanding against a wall. Designed for modern day living with a nominal heat output of 4.9kW.
Showroom Exclusive
£1,295.00

---
The larger model in the Ivar range of stunning wood burning stoves from Dik Geurts. The Ivar 8 is a superb addition to homes where extra warmth is needed. With a heat output of up to 10kW, it can easily heat a large room, but its low emissions qualify it for DEFRA approval in smokeless zones.
Showroom Exclusive
£1,405.00






---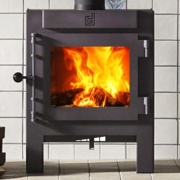 The Jannik Large wood burning stove from Dik Geurts is perfect for installation on an existing hearth. The practical door handle allows for easy access to the stove interior. The air slide helps you to regulate the air supply and, as a result, the stoves 7kW heat output.
Showroom Exclusive
£2,080.00

---
From the well-known brand of wood stove manufacturers based in the Netherlands, the Jannik Medium Low is instantly recognisable with it's square proportions, large window and clever door mechanism which takes inspiration from industrial design. 4.9kW output and excellent efficiency.
Showroom Exclusive
£1,760.00

---
The stylish Kalle contemporary wood burner will create a commanding presence for your home. Clean, straight lines of the stove allow the fire to take centre stage viewed from three separate windows. Below the tall fire chamber is a convenient place to store logs which adds to the overall appeal.
Showroom Exclusive
£2,370.00

---
Odin, the supreme god of Norse mythology, is now the name of a beautiful circular wood stove from Dik Geurts. Its distinctive circular design not only makes it a real eye catcher, but its shape also generates fabulous flame patterns. Offered in five stunning variants to suit all modern interiors.
Showroom Exclusive
£3,387.00

---
An impressive, 3-sided wood burning stove providing the ultimate statement piece for your home. The stunning Dik Geurts Vidar Triple is packed with innovative features with amazing high efficiency of 88% and a powerful heat output of up to 10kW. The handy log store base raises the fire to eye level.
Showroom Exclusive
£3,055.00

---
This spectacular, wall-mounted wood burning stove features glass on three sides of the body giving you a perfect view of the highly efficient fire within. The Vidar Wall will transform any living space with it's striking good looks and incredible performance and become the main feature in any home.
Showroom Exclusive
£3,055.00

---
Suitable for a huge range of installation applications ranging from country cottages to modern town house, the Dovre 250 boasts quality, cast iron construction combined with the very latest technological advancements. Suitable for use in smoke controlled areas.
Showroom Exclusive
---
A traditional styled stove constructed in cast iron and finished in Matt Black or Ivory Enamel. The Dovre 425 Multi-Fuel Stove boasts the style and performance that will give even larger rooms amazing warmth and ambience. As a multi-fuel model, you can burn a variety of solid fuels or logs.
Showroom Exclusive
---
A well proportioned, classically inspired wood burner that produces an impressive heat output of 9kW. The Dovre 640WD wood burning stove features both front and side loading doors for added convenience and a innovative Cleanburn system for added fuel efficiency.
Showroom Exclusive
---
An impressive wood burning stove featuring innovative, technical features which result in an superb heat output of 11kW and up to 75% efficiency. The Dovre 760WD can accept extra large logs up to 52cm meaning less sawing if you're using your own wood!
Showroom Exclusive
---
An ultra-stylish, contemporary stove that is offered as a dedicated wood burning model which can burn extremely efficiently. The Dovre Astroline 3 boasts an incredible heat output of up to 10kW and will look sensational fitted in a modern style interior where it will provide an abundance of heat!
Showroom Exclusive
---
With similar looks to the Dovre Astroline 3 but featuring flat side panel windows. Unusually for a European contemporary stove, the Astroline 4 is manufactured using premium cast iron for added durability and maximum heat transfer.
Showroom Exclusive