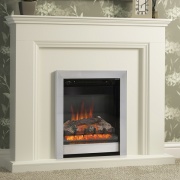 The Westcroft electric fireplace suite is a gorgeous, free-standing unit that includes a highly efficient electric fire. Ideal for any home type, the FLARE Collection Westcroft can simply be fixed to virtually any flat wall without the need to recess. Soft white finish with a modern log-effect electric fire.
£689.00£895.00
---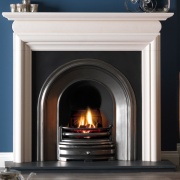 One of the best known and popular models in the Gallery range, the Asquith is a gorgeous natural limestone fire surround that features exquisite rounded leg and chest detail complimented by a shaped mantel shelf. Offered here with the Crown insert which is also a extremely popular option.
£929.00£1,199.00
---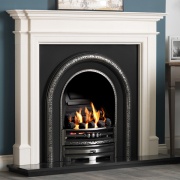 Instantly recognisable with a striking, tiered feature across the mantel chest extending down the leg, the imposing Gallery Bartello is a fireplace surround that will definitely make a impact in any home. Choose the mantel on its own for installation in an inglenook style or combine with most standard inserts.
£875.00£1,095.00
---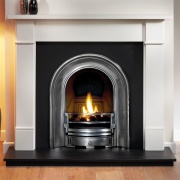 The Brompton 51" mantel from Gallery Fireplaces will create a prominent feature in a wide variety of interior styles and gives you the option of combining with a huge range of interior, fire and hearth options. Based on the attractive 'Flat Victorian' style, it is crafted in natural Agean Limestone.
£589.00£740.00
---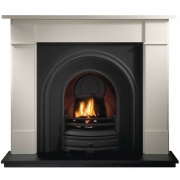 The larger version of the Gallery Brompton limestone fireplace surround will create a prominent feature within your home. With a 1420mm (56") mantel width, it is well placed on larger wall spaces and as offered here with the delightful Crown cast iron insert plus choice of gas, electric or solid fuel fire.
£599.00£749.00
---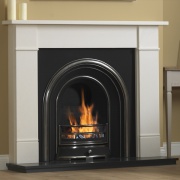 A breathtaking design that will make a bold statement in any home! The Gallery Brompton 56" limestone mantel takes its inspiration from the Victorian era yet manages to also fit in perfectly within the latest interior design trends, especially when combined with the optional Jubilee insert.
£599.00£749.00
---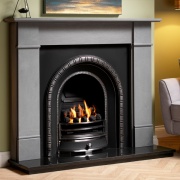 The timeless Brompton mantel is now available in a gorgeous Persian Limestone finish. Persian Limestone is a darker, grey toned version of the much loved Agean Limestone has the rare feature of appealing to both traditional and contemporary tastes. Offered with the Henley cast insert.
£589.00£740.00
---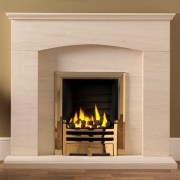 Manufactured in beautiful, natural Portuguese Limestone, the popular Gallery Cartmel is a full fireplace suite including a matching back panel and hearth. This 48" wide mantel is well suited to classical or contemporary settings and can be combined with most gas or electric fires.
£649.00£799.00
---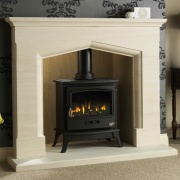 The Gallery Coniston 54" is offered here as a chamber fireplace which you are able to add the optional Tiger gas stove to create a fashionable 'stove fireplace' feature with the convenience of gas. Reeded fire board chamber with mantel and hearth in natural Limestone.
£979.00
---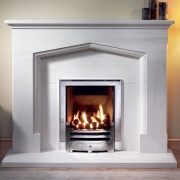 The Gallery Coniston limestone fireplace is a popular design that features a gentle, Tudor arch design on the chest with rounded detail around the inside legs and chamfered edging on the outside legs. Ideal for all interior styles and can be combined with either a gas or electric fire.
£789.00£959.00
---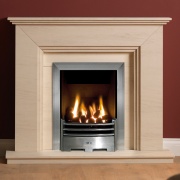 With its neat, compact dimensions, the Gallery Cranbourne 44" Limestone Fireplace Suite is a popular choice for installation into smaller rooms. Crafted using natural Portuguese Limestone with a striking 'stepped' design on the inner legs, chest and mantel shelf. Optional Aurora gas fire also offered.
£599.00£749.00
---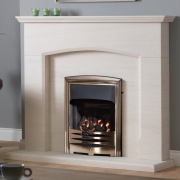 A stylish, designer fireplace manufactured using luxurious Portuguese Limestone with gentle curves and intricate chamfer detailing to the legs, chest and hearth. The Gallery Dacre limestone fireplace suit is ideal to combine with most standard sized gas or electric fires.
£699.00£869.00
---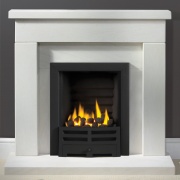 Available in two sizes with the larger model also offered with optional downlights, the extremely popular Gallery Durrington Limestone Fireplace has simple and clean lines yet will provide any room with a striking, visual impact. A popular model for smaller room sizes.
£579.00£699.00
---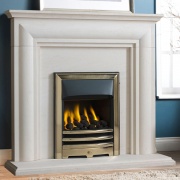 The Gallery Ellerby in beautiful Portuguese limestone boasts classical styling that is equally suited to modern settings. Gorgeous, curved detail to the legs and chest with a solid hearth with intricate edge detailing plus a 3 piece back panel suitable for a variety of gas and electric fires.
£729.00£899.00