A lovely addition to either classical or contemporary homes, the Ultiflame VR Boticelli Suite is crafted from premium quality Portuguese Limestone and features the latest, innovative electric fire from Celsi which boasts incredible realism using low cost LED illumination with flame effect only setting.
CALL
---
A simple fireplace suite that shows the opulent qualities of natural Portuguese Limestone in all its glory! The Celsi Ultiflame Pablo suite also provides the perfect companion for the wide aspect Ultiflame VR electric fire. Simple installation allowing you to create a spectacular feature in any home.
CALL
---
Crafted the finest quality Portuguese Limestone with lovely, neutral tones and a modern chalky finish, the Celsi Ultiflame VR Parada Elite Illumia will appeal to those who are looking for the pinnacle in contemporary electric suite design. Available in two sizes with remote control operation.
CALL
---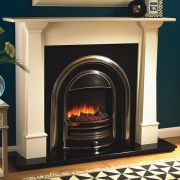 The Flamerite Bronte is a gorgeous, free-standing electric fireplace suite that combines a classic, stone-effect mantel, cast effect arched insert with realistic, LED electric flame effect and a granite effect hearth. Simple installation allow the fireplace to be fitted flush against a flat wall.
£1,728.00
---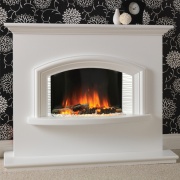 A lovely free-standing fireplace suite with attractive arched section at the front with curved plinth displaying the realistic 'Radia' or Flamerite's latest colour changeable 'Nitra' flame. The Flamerite Valentino can be operated by using you mobile phone or tablet in addition to the manual controls.
£1,285.00
---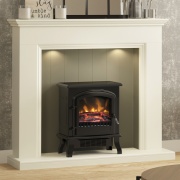 This stylish, inglenook fireplace suite will provide a focal point and heating solution to suit any project. The FLARE Collection Bainbridge Fireplace Suite is designed to accommodate an electric stove as is available as either a 'flat-to-wall' or 'inset' fireplace.
£539.00£699.00





---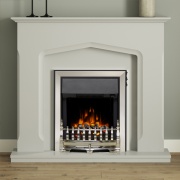 The FLARE Collection Bramwell electric fireplace suite is a complete, free-standing unit that is ideal for properties with or without a chimney. Choose from Light Grey with Chrome electric fire or Soft White with a Brass electric fire on this easy to install, complete fireplace suite.
£589.00£759.00
---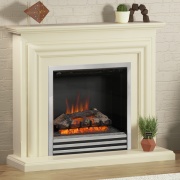 A stylish addition to both classical or contemporary homes, the FLARE Collection Carina electric fireplace suite will create a beautiful feature whilst boasting low running costs. The large, panoramic log effect electric fire makes a bold statement and benefits from LED technology.
£649.00£849.00





---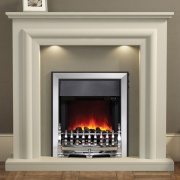 The Glenmore is a delightful, freestanding electric fireplace suite comprising of a modern surround in a soft cream finish with attractive detailing, a matching hearth plinth plus a fashionable back panel in suede finish which provides a lovely contrast to the chrome electric fire with realistic coal effect.
£579.00£745.00
---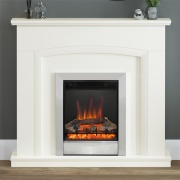 A stunning, free-standing electric fireplace suite featuring a soft cream mantel with a beautiful curved feature across the chest. The FLARE Hayden suite also comes complete with the 18" Athena LED electric fire. Simple 'no chimney' installation with no recess required.
£639.00£829.00
---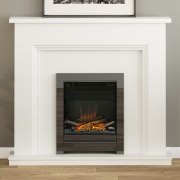 The modern, Black Nickel finish electric fire supplied within the Lansing fireplace provides a stunning contrast to the Ash White painted surround, back panel and hearth. Designed to be fixed against a flat wall with no chimney or inset required - just plug in for an instant focal point!
£739.00£955.00
---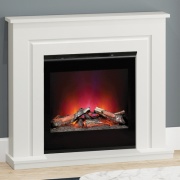 The attractive, bevelled details running along the chest and down the legs on the Orwell electric fireplace provides the perfect companion for the large aspect electric feature fire at the heart of the suite. Freestanding installation and finished in Ash White, the Orwell will enhance any room!
£819.00£1,059.00
---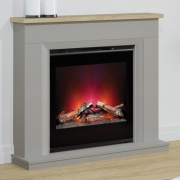 Available in two painted finishes; Dark Grey or Ash White with attractive Chalet Oak mantel shelf, the Rossington electric fireplace suite from the FLARE Collection provides an easy solution to add charm and ambience into any home. Features a modern, glass-fronted fire with remote control.
£929.00£1,209.00
---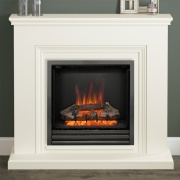 Choose from beautiful, Soft White or Natural Oak surround with Soft White back panel and hearth. The FLARE Collection Stanton is a complete, free-standing electric fireplace suite that also features a large, LED log-effect electric fire modern trim that provides a simple way to bring any room to life!
£629.00£815.00