Part of Burley's innovative 'Fireball' wood burning stoves, the Brampton 9108 is a stylish appliance that will appeal to those looking for performance, efficiency and a high level of control. With a nominal heat output of 8kW, this highly advanced stove is ideal for larger rooms or open-plan living areas.
£1,150.00
---
For those looking for more heat, the 8kW Burley Brampton 9108-C is an excellent option. Benefiting from cutting-edge features including Burley's 'Fireball' technology plus a catalytic converter for improved combustion and efficiency, this future-proof wood burner is also EcoDesign 2022 ready.
£1,300.00
---
Modern, tall proportions with a towering portrait viewing window providing the ultimate view of the flames within. The Burley Carlby 9307-C boasts the very latest catalytic technology helping the stove to achieve a powerful 7kW nominal heat output and impressive efficiency of 84.7%.
£1,300.00
---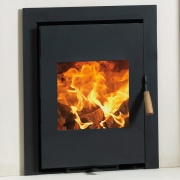 The Coppice 9050 is a Fireball stove from Burley designed to easily convert an inefficient and draughty open fireplace into a highly effective source of heat and centre piece for your home. DEFRA approved to use in smoke controlled areas and benefiting from the optimum 5kW nominal heat output.
£1,150.00
---
The Debdale 9104-C is a great choice for anyone looking for a highly efficient stove capable of providing heat to smaller sized rooms. An EcoDesign ready wood burning stove which benefits from Burley's amazing 'Fireball' technology resulting in spectacular flame visuals.
£900.00
---
An ideal wood burning stove to heat standard sized rooms, the Hollywell 9105 5kW stove incorporates Burley's superb 'Fireball' technology. It is extremely easy to light, very controllable, miserly with logs, leaves very little ash and throws out oodles of wonderful heat to keep you warm and cosy!
£970.00
---
The Hollywell 9105-C incorporates catalytic technology resulting in a spectacular high efficiency rating of 90.4%! From Burley's 'Fireball' range of wood burning stoves, this cutting-edge model is EcoDesign 2022 ready and can also be used to burn wood even if you are in a smoke controlled area.
£1,100.00
---
The Icarus 5 9605 is a dedicated wood burning stove from Burley which boasts the very latest technology. Stylish in design, the Icarus 5 features a wonderful, tall viewing window which provides a stunning flame view. DEFRA approved for use in a smoke control area and Ecodesign ready.
£1,100.00
---
The Launde 9304-C is a lovely stove ideal for anyone looking to efficiently heat smaller rooms. Packed with innovative technology, this British made wood burning stove has a 4kW nominal heat output and incorporates a catalytic converter for lower CO and higher efficiency.
£950.00
---
The Swithland 9308 is from Burley's range of 'Firecube' highly advanced wood burning stoves which incorporate an innovative heat exchanger feature. The heat exchanger scrubs the energy from the hot gasses before they go up the chimney and puts more warmth into your home.
£1,200.00
---
The 9308-C Swithland wood burning stove features a catalytic converter which aids complete combustion, turning carbon monoxide into carbon dioxide and releasing more energy in the process. A catalytic converter stove will generally have lower CO and higher efficiency than the stove without.
£1,370.00
---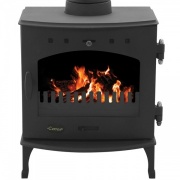 A popular, multi-fuel stove well suited to medium and large rooms, the Carron 7.3kW stove is capable of making the room warm and toasty even on the coldest of winter evenings. Cast iron construction and featuring a wide aspect viewing window, this beautiful stove will compliment any interior.
£749.00
---
The latest addition to Carron's popular range of stoves is the ECO Revolution 5kW model. This highly advanced wood burning stove is EcoDesign 2022 compliant and boasts Cleanburn technology with excellent high efficiency. An ideal stove for modern day living in standard sized rooms.
£895.00
---
The Cougar is a new addition to the robust range of cast iron stoves from Cast Tec. Featuring a multi-fuel grate, it gives you the option of burning wood logs or approved solid fuels and with triple burn technology, you can be sure this is carried out extremely efficiently.
£849.00