High quality steel construction with cast iron door and top casting for strength and efficient heat transfer, the ACR NEO 3C ECO is a 'smoke exempt' appliance meaning you can burn wood in smoke controlled areas. An EcoDesign ready stove boasting low emissions.
£1,830.00
---
With its striking pedestal base and side view glass windows, the ACR Neo 3P Eco is everything you would expect from a fully featured, contemporary stove from a premium specialist with extensive knowledge in this industry. DEFRA approval plus EcoDesign ready boasting lower emissions.
£1,810.00
---
Ultra modern featuring a sleek, black glass front and gloss black ceramic top plate, the new ACR Novus is guaranteed to create a striking feature within any modern interior. With multi-fuel capability, the Novus can burn wood or a range of smokeless fuels and is ideal for standard sized rooms.
£1,670.00
---
Manufactured using robust cast iron, the ACR Oakdale features a large viewing window giving you the ultimate view of the fire bed. This is a multifuel stove capable of burning your choice of either wood and solid fuels and it is offered in a choice of colours.
£1,045.00
---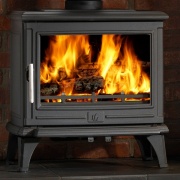 Instantly apparent with its striking, panoramic window, the ACR Rowandale will be a popular choice for anyone looking for a high quality, cast iron multi-fuel stove with generous proportions that will not normally require an air-vent fitting. 5kW heat output so ideal for standard room sizes.
£1,260.00
---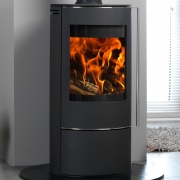 The Solis is a truly stunning, contemporary cylindrical stove crafted using high quality steel with a glass top plate. A stylish brushed steel door handle runs the entire length of the large opening door whilst the huge glass viewing window provides a sensational view of the flames.
£1,610.00
---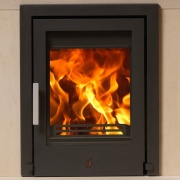 The ACR Tenbury multi-fuel inset stove is the perfect solution for enjoying real stove ambience in a standard 16" fireplace opening. Featuring attractive, contemporary styling and straightforward installation with its free floating flue collar and convection outerbox. Suitable for use in smokeless areas.
£945.00
---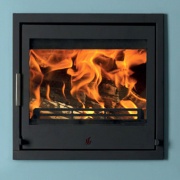 The ACR Tenbury T550 features the same contemporary styling as the T400 but with a wider firebox. It has a 5Kw output and a 10 year warranty. A removable convection outer box makes for straightforward installation with the option of a 3 or 4 sided frame to suit your setting.
£1,295.00
---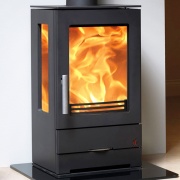 Equally suited to either free-standing installation or within a fireplace chamber, the ACR Trinity is a contemporary styled, wood burning stove boasting a vast array of innovative features. Available with the option of side viewing windows for a 180° view of the dancing flames.
£1,129.00
---
A recent addition to the ACR range, the Wychwood is a contemporary designed wood burning stove that benefits from being SIA EcoDesign Ready which by 2022 all wood burner stoves have to meet. A huge glass viewing window provides the ultimate view of the highly efficient fire within.
£1,150.00
---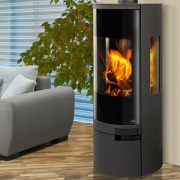 A truly beautiful model, the AGA Dorrington wood burning stove adds inspiration to any space it fills. With a high efficiency at 80.4% and a 6kW nominal output it is ideal for medium and large living areas. Tall, imposing with the advantage of additional side windows for a full view of the flames.
£2,094.00
---
AGA have introduced the fabulous Ellesmere EC4 to their exclusive range of wood burning and multi-fuel stoves. This innovative appliance carries the 2022 Eco Compliant Logo and represents the development of their range and their commitment to the stove market.
£884.00
---
One of the latest editions to the AGA Stoves family is the dynamic Ellesmere EC5. Blending contemporary and traditional design, the Ellesmere EC5 boasts clean lines and solid performance. Producing an outstanding flame picture and plenty of efficient heat ideal for standard sized rooms.
£1,049.00
---
With a wider footprint than the standard EC5 model, the AGA Ellesmere EC5W allows you to enjoy the maximum impact from the mesmerising flames through the widescreen viewing window. This innovative stove still retains a 5kW output making it perfect for standard sized rooms.
£1,149.00