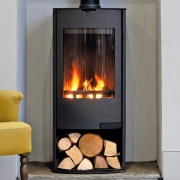 The clean, contemporary lines of the Hadley wood burning stove will appeal to those looking for an honest, unfussy design. With its impressive height and beautiful flame effect, the Hadley will bring warmth and comfort to the coldest room. With an 8kW nominal heat output and 75.7% efficiency.
£1,039.00
---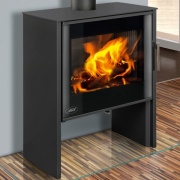 The grand proportions of the AGA Hanwood mean it will make a bold statement in any room. The extensive fire chamber with widescreen glass window allow the flames to take centre stage. As a smoke exempt appliance, the Hanwood is suitable for burning wood even in a smokeless area.
£1,379.00
---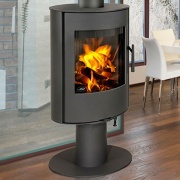 The AGA Lawley will create a stunning, stylish feature in contemporary living spaces. This modern wood burning stove allows the stove to be rotated giving you a full 360° view of the fire. Highly efficient and with a large viewing window providing a wonderful flame view.
£1,459.00
---
The AGA Ludlow EC5 has been updated to ensure the very best aesthetics, enhanced performance and, importantly, EcoDesign compliant and DEFRA approved. This guarantees peace of mind that you have a stove that meets the very latest standards for efficiency and a cleaner burn performance.
£1,049.00
---
The Ludlow EC5W is the wider of AGA's new Ludlow models and delivers a magnificent flame picture. Beautifully designed, this stove is designed to burn your choice of wood or solid fuels and features easy to use air controls. All AGA Ludlow EC solid fuel models are ECO 2022 compliant.
£1,149.00
---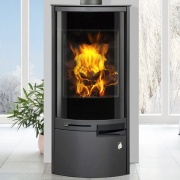 The ultimate in contemporary stove styling and featuring a huge feature glass viewing window allowing the mesmerising flames to take centre stage, the AGA Westbury will create a style statement in any home whilst being capable of providing a nominal heat output of 5.9kW plus superb efficiency.
£1,494.00
---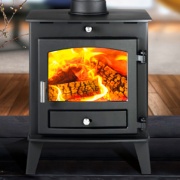 Enjoy warmth and ambience in two adjoining rooms or as a free-standing feature within open plan living areas with the Avalon 4 Double Sided Stove. Available as a dedicated wood burner or multi-fuel stove.
£1,439.00
---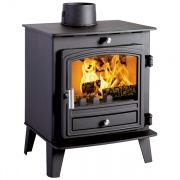 The smallest model in Avalon's range of wood burning and multi-fuel stoves, the Avalon 4 is an attractive design constructed using the optimum combination of strong steel for the body and robust cast iron for the door. Nominal heat output of 4kW making it ideal for smaller rooms.
£879.00
---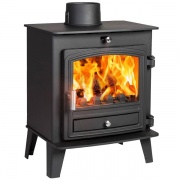 A superb solution for installations where space is at a premium. With a depth of only 363mm, the Avalon 5 Compact will sit comfortably on your hearth whilst still emitting an impressive nominal heat output of 4.7kW. Available as a dedicated wood burning or multi-fuel with black or silver door handles.
£829.00
---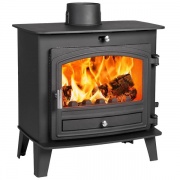 One of Avalon's best selling stoves, the Slimline 5 is ideal for those looking for a wider overall look whilst retaining a heat output ideally suited to standard sized rooms. Packed with innovative features including Tripleburn® technology making the stove better for the environment.
£929.00
---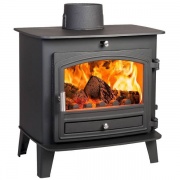 The timeless style of the Avalon 6 wood burning or multi-fuel stove ensures it will complement both traditional and contemporary settings. Featuring Tripleburn® technology using three streams of air to maximise combustion, so that more fuel is burnt and less is turned into deposits in the stove.
£979.00
---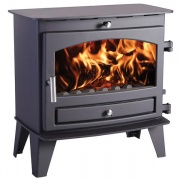 The Avalon Slimline 8 has everything you'd want from a stove - large, impressive body crafted from steel with a robust cast iron door, a huge glass viewing window providing wonderful flame visuals plus it's environmentally friendly having passed EcoDesign tests and boasting low CO emissions.
£1,039.00
---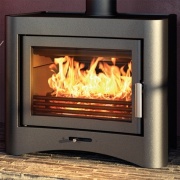 The magnificent Evolution 26 Boiler Stove will throw out up to 10kW worth of heat directly, enough for a considerably sized room. Its indirect effect is remarkable too, contributing a full 16kW to a central heating system. Quality cast iron construction with steel burn box and vermiculite firebricks.
£3,874.00
---
British made and having passed the EcoDesign regulations set to come into force in 2022, the Broseley Desire 5 Widescreen is perfect for modern living. A multi-fuel stove capable of burning wood or smokeless coal and featuring a much wider body and window compared to most other 5kW stoves.
£1,034.00