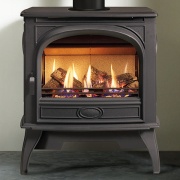 The balanced flue version of Dovre's popular 425 gas stove features state-of-the-art technology allowing homes without a chimney or flue to enjoy a real, living flame effect which will offer a beautiful, ambient feature as well as impressive heating performance of up to 5.4kW.
£1,619.00£2,029.00
---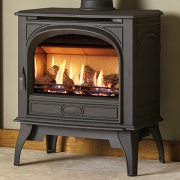 The Dovre 425 Gas Stove offers traditional styling combined with the latest technology that provides a highly realistic glow and gentle dancing flames around a authentic log fuel bed. Available for both natural gas and LPG homes.
£1,579.00£1,975.00
---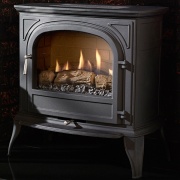 Enjoy the fashionable 'woodburner' look even if you don't have a chimney with the new Eko 6010 flueless gas stove. This flueless gas stove incorporates a state-of-the-art catalytic converter with a heat output of up to 3.1kW. Black, Ivory or Burgundy finish with plain or lattice door designs.
£835.00£960.00
---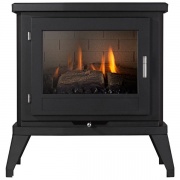 Create a stunning centrepiece in virtually any room in your home with the Eko 6030 Flueless Gas Stove. The charm of a real flame dancing over an authentic log effect fuel bed set behind a glass panel. Available in black, white or burgundy finish, the Ekofires 6030 does not need a chimney or flue.
£779.00£895.00
---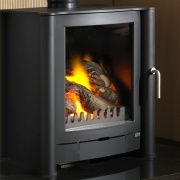 With a realistic log fuel bed giving an authentic alternative to a real stove, the Firebelly FB1 Gas Stove is offered with the same vast selection of colour options allowing you to create a unique centrepiece in your home. Boasting an impressive heat output of up to 6kW and excellent efficiency.
£1,639.00£1,735.00
---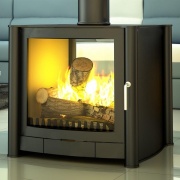 The gas version of Firebelly's FB2 Double Sided stove will create a truly stunning feature in large spaces and give a 360º view of the flickering log-effect fire bed. With the convenience of gas, you have instant control of this designer gas stove and a choice of 18 dazzling colours.
£3,789.00£4,250.00
---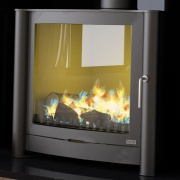 A wonderful, modern design gas stove which features a huge glass viewing window of which Firebelly are synonymous for. The FB2 Gas Stove provides the charm of a real wood burning stove combined with the convenience of gas. Available in a vast array of stylish colours.
£3,389.00£3,650.00
---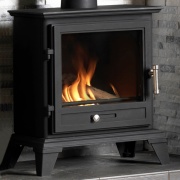 Boasting a spectacular view of the flames dancing over an authentic log effect fuel bed, the Gallery Classic Gas Stove replicates the charm and character of a real stove for those who prefer the convenience of gas. Manual control as standard with option to upgrade to remote.
£949.00£1,189.00
---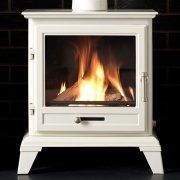 Finished in a striking, Warm White gloss enamel finish, the Gallery Classic Eco Gas Stove will brighten up any living space. Not only does this conventional flue gas stove look incredible, it will provide instant, efficient heat of up to 4.8kW. A beautiful, log effect fuel bed adds to the realism.
£1,159.00£1,449.00
---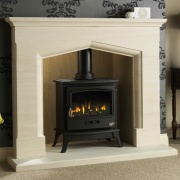 The Gallery Coniston 54" is offered here as a chamber fireplace which you are able to add the optional Tiger gas stove to create a fashionable 'stove fireplace' feature with the convenience of gas. Reeded fire board chamber with mantel and hearth in natural Limestone.
£979.00£1,225.00
---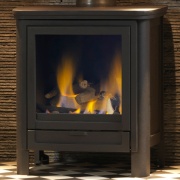 The balanced flue version of the Gallery Darwin allows properties without a chimney or flue enjoy the character and impressive performance of this stylish gas stove. Suitable for most rooms in the home, the modern design and cast iron construction will add a charming feature plus plenty of heat!
£1,799.00
---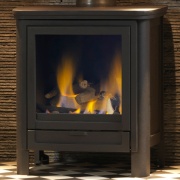 The Darwin is a delightful gas fired stove from the Gallery Collection which will create a stunning feature in small to medium sized rooms. Quality cast iron construction with clean, modern lines and a large glass viewing window which provides a superb view of the log effect and flickering flames.
£1,295.00
---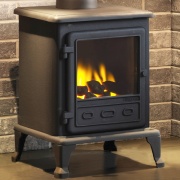 Constructed using a robust cast iron casing and incorporating a high efficiency coal effect gas fire engine, the Gallery Firefox 5 gas stove provides the charm and character of a real wood burner with the controllability and convenience of gas. Combine within a fireplace surround or fit on its own.
£729.00£899.00
---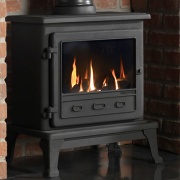 Attractive design and packed with the latest technology make the Firefox 8 Gas Stove an superb addition for anyone looking for a stylish centerpiece capable of providing instant heat and ambience. Offered with your choice of classical Coal or authentic Log effect fuel bed.
£749.00£939.00