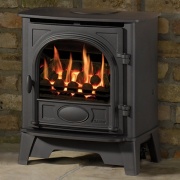 With authentic multi-fuel stove styling, right down to the hinged door with handle, the new Gazco Stockton 5 gas stove is sized between the small and medium Stockton stoves. The perfect sized stove to combine within a fireplace or alternatively, sit it on a hearth as a free-standing feature.
£1,279.00£1,595.00
---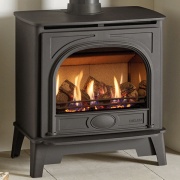 With simple, understated lines and Gazco's latest living flame technology, the Stockton2 Medium balanced flue gas stove will suit a variety of interior styles in properties that do not feature a chimney or flue. Powerful heating performance combined with high efficiency for lower running costs.
£1,719.00£2,145.00
---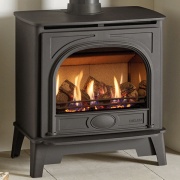 The popular, Gazco Stockton2 Medium gas stove incorporates a technically advanced gas burner which produces up to 4.80kW of sublime heat and a high efficiency rating of up to 78%. The Stockton2 Medium is now supplied with a updated cast door and realistic log fuel bed as standard.
£1,589.00£1,989.00
---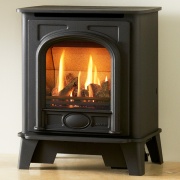 A neat, compact gas stove that is designed for homes without a chimney or flue. The Gazco Stockton2 Small balanced flue gas stove provides the charm and ambience of a real log burning stove combined with a high efficiency gas fire. Rear exit balanced flue kit option only.
£1,369.00£1,709.00
---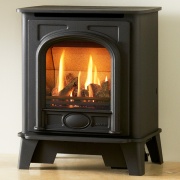 Utilising the same high quality steel body and cast iron door as used on the multi-fuel model, the Gazco Stockton2 Small gas stove offers a authentic 'woodburner' focal point whilst combining the instant heat and controllability of gas fire. Up to 3.60kW of heat with a realistic log fuel bed.
£1,159.00£1,449.00
---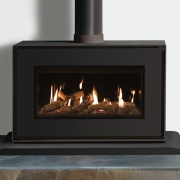 A spectacular, freestanding appliance that does not need a chimney or flue! The Studio 1 Freestanding Balanced Flue gas fire from Gazco combines cutting edge styling in a striking black finish with a highly advanced burner capable of providing your home up to 5.30kW of heat.
£2,895.00£3,619.00
---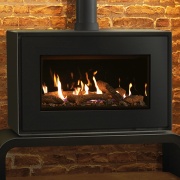 A natural extension to the existing Studio cassette fires, the Gazco Studio 1 Freestanding gas fire represents the ultimate in gas fire design, blending geometric angles with sweeping curves to create a strikingly contemporary centrepiece for your home. Available with a choice of base plinths.
£2,695.00£3,369.00
---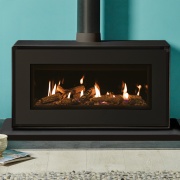 The balanced flue Studio 2 Freestanding gas fire can be selected with a curved Plinth or Bench mount in either matching white or black finishes. No chimney needed as a twin-walled pipe going from the fire to the exterior of the property draws in combustion air whilst also removing flue gases.
£3,219.00£4,019.00
---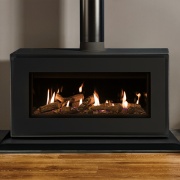 Offering a breathtaking view of the rolling flames, the Gazco Studio 2 Freestanding gas fire is available with a choice of smoothly curving bench or plinth mounting options. The flames and heat output can be controlled using the Programmable Thermostatic handset for ultimate convenience.
£2,999.00£3,745.00
---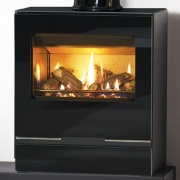 The ultra contemporary Gazco Riva Vision Medium balanced flue gas stove incorporates a highly-realistic log effect fire with a glowing ember feature and an unparalleled flame picture. Sleek and stylish, this 'no chimney' model will provide any modern home a striking, ambient focal point.
£2,229.00£2,789.00
---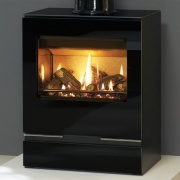 The flames on the Gazco Riva Vision Medium gas stove are enhanced further by the stainless steel lining panels, creating extra illumination in the stove with a mirror-like finish that echoes the Vision's reflective exterior. Powerful heat output of 5.2kW with excellent energy efficiency of 78%.
£2,039.00£2,545.00
---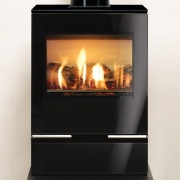 Featuring a newly enhanced fuel bed and highly realistic flame effect, the strikingly contemporary Gazco Riva Vision Midi balanced flue offers an excellent solution to add a much needed focal point into properties without a chimney or flue. Highly efficient gas stove available which remote control.
£1,729.00£2,159.00
---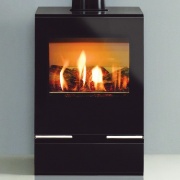 The Gazco Riva Vision Midi conventional flue gas stove is supplied with manual control as standard with the option to upgrade to one of Gazco's Command Remote Control systems. Ultra-modern, black glass finish with realistic log effect fuel bed producing up to 3.41kW heat output.
£1,629.00£2,035.00
---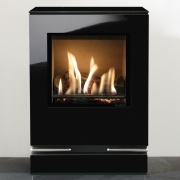 A small, compact balanced flue gas stove finished in contemporary black glass with a sublime, log-effect fuel bed. The Gazco Riva Vision Small balanced flue offers home owners without a chimney or flue the opportunity to add a striking, modern stove with optional bench plinths.
£1,629.00£2,035.00