A perfect stove for standard sized rooms, the new Rochester 5 benefits from multi-fuel capability allowing you to burn either wood or solid fuels. This attractive stove is constructed using a combination high quality steel and cast iron and has a lovely, classical style that will appeal to all.
Showroom Exclusive
£739.00

---
The Flavel Rochester 7 is a lovely, versatile stove that features an attractive curved door, decorative top plate and leg plinth in cast iron combined with a sturdy, steel body. 7kW direct heat output or can be converted to 5kW direct heat output using optional reducing bricks.
Showroom Exclusive
£799.00

---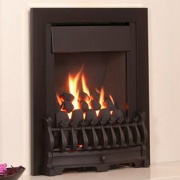 The Flavel Sirling offers one of the highest outputs of any gas fires designed for installation into Pre-Cast flues. This open-fronted, high efficiency model offers 4.0kW maximum heat output and is available in black or brass finish.
Showroom Exclusive
---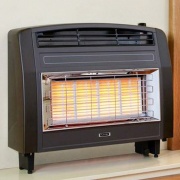 Suitable for hearth or wall mounting, the Flavel Strata is a outset gas fire with an incredible 5.2kW maximum heat output from its radiant bars. Operated by a easy to turn Electronic Top Control and available in a choice of brown, black or cream finish.
Showroom Exclusive
---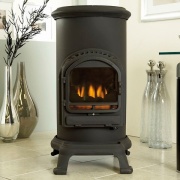 The Flavel Thurcroft is a fully mobile, flueless gas stove that is ideal for rooms that benefit from additional heat and ambience such as living rooms, conservatories etc. This cast iron effect stove has the appearance of a traditional stove.
Showroom Exclusive
---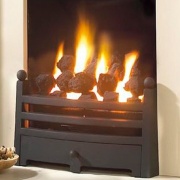 Offering a fantastic solution to bring an existing, open fire grate to life. The Flavel Waverley is a inset tapered gas tray that is designed to fit into a standard 16" fire back and will provide a beautiful ambient effect from it's realistic coal fuel bed.
Showroom Exclusive
---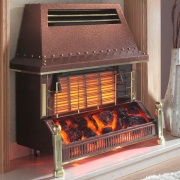 With a electrically illuminated coal fuel effect located at the base of the Flavel Welcome outset gas fire, you can enjoy a ambient glow even when the gas fire is not being used. When heat is needed, the Flavel Welcome offers up to 4.5kW of radiant and convected heat.
Showroom Exclusive
---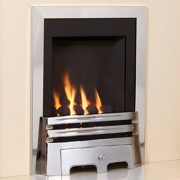 The clean lines of the Flavel Windsor Classic gas fire mean it will blend beautifully into any interior décor. Also, as a slimline gas fire, it will also fit into any flue type including Class 2 Pre-Cast flues.
Showroom Exclusive
---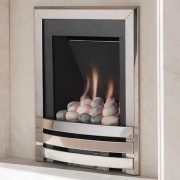 The Flavel Windsor Contemporary is a stylish, modern looking gas fire that is offered with a large selection of fascia colours and fuel effects. With a slimline depth, it's suitable for all flue types - especially shallow Pre-Cast flues.
Showroom Exclusive
---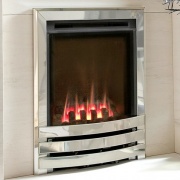 The glass-fronted, Flavel Windsor Contemporary HE is a highly efficient gas fire with a modern one-piece fascia available in either polished silver or brass finish. With a slimline fuel bed depth of 125mm it will easily fit into virtually any chimney or flue including Class 2 Pre-Cast.
Showroom Exclusive
---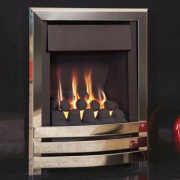 The Flavel Windsor Contemporary Plus is one of the warmest gas fires available that has been specifically designed to be fitted into a Class 2 Pre-Cast flue. Whilst this model will also fit any other flue type, its slimline 120mm depth make it best suited to shallow flues.
Showroom Exclusive
---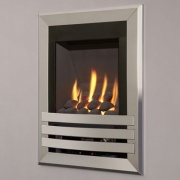 The new, wall-mounted Flavel Windsor Contemporary gas fire offers a simple solution to add a modern, hole-in-the-wall style feature in your home at a superb price. A sleek, silver 4 sided fascia frame and your choice of coal or pebble fuel effect.
Showroom Exclusive
---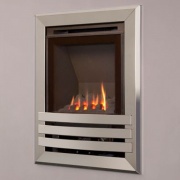 Anyone looking for a simple way to add a stylish, highly efficient centrepiece which is suitable for all flue types, look no further than the new Flavel Windsor HE wall-mounted gas fire. Slimline inset dimensions mean it is especially popular for shallow, Pre-Cast flues in modern properties.
Showroom Exclusive
---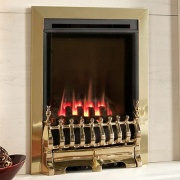 Supplied with the popular Blenheim fret and matching trim in a choice of brass or silver finish, the Flavel Windsor Traditional HE gas fire is well suited to a variety of fireplace styles. This living flame, inset gas fire boasts an incredible energy efficiency of 81.3%!
Showroom Exclusive