Mendip The Woodland Stove Review
With the huge increase in popularity of wood burning stoves over recent years, the range available is extensive so choosing the right stove can be a daunting task. How hot does my stove need to be? Shall I choose a dedicated wood burning stove or is it better to opt for cast iron? These are just some of the questions often asked in our showroom and each answer can be different to suit individual requirements. We thought we would write this blog on one of our favourite models that is displayed in our fireplace showroom in Manchester - the Mendip Woodland which is a superb choice for modern day living and an ideal size and output for standard room sizes in the UK.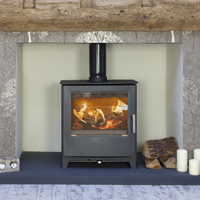 The Woodland Stove fitted into a fireplace chamber
with wood beam
The Woodland stove is surprising large for a stove that has a nominal heat output of 4.5kW. This has been done purposely as this level of heat is perfect for average sized rooms and stoves that have a nominal output of 5kW or less do not require an air-vent fitting in the room in most circumstances. You therefore benefit from a lovely view of the flames from the panoramic viewing window whilst the stove is capable of accepting logs up to 300mm in length.
Innovative features that help with efficiency, performance and controllability on the Mendip Woodland include a 3-way air control system allowing for optimum combustion. The tertiary air also aids post combustion of the flue gases; so ultimately, your stove will burn cleanly, creating as much energy from your fuel as possible. A pre-heated Airwash system helps keep the glass window clean and as a full convection stove, the Woodland has reduced distances away from combustible materials making it more versatile to fit into a variety of installations.
With DEFRA approval meaning that it is exempt from the Clean Air Act 1993, you can burn wood or smokeless fuels in any area of the UK. The Woodland is a stove that is extremely easy to use and control the air-flow to ensure an optimum burn rate for your requirements by simply adjusting a lever at the bottom of the stove. As well as burning logs, you have the option to also burn approved solid fuels which give you longer burn times.
Premium steel construction with a robust, air-tight cast iron door and stainless steel door handle. The large ashpan inside the stove means you will enjoy several firings before emptying will be needed. Finished in classic matt black with a choice of standard legs or log store base which raises the fire chamber and provides a handy fuel storage solution.


By buying this stove you are contributing £10 to the Woodland Trust, and helping to plant native trees in the UK.