Focus on....Gallery Fireplaces
Every once in a while, our fireplace blog will focus on one of the numerous leading fire manufacturers we stock.
About Gallery Fireplaces
The Gallery Collection is one of several product portfolios from Percy Doughty, a British company that has been associated with all things fire for over 60 years. Although the company operates on a national basis, its head office is just up the road in Farnworth, Bolton.
The Gallery collection offers a comprehensive range of traditional stoves and fireplaces suites with the latter built from high quality materials, many in stunning finishes such as marble, granite and limestone. The fireplaces themselves include selections from cast iron inserts, fascia's and fire baskets and combined together they offer a finished product that oozes quality and sophistication.
It's no wonder some of the best dressed homes in the UK feature a Gallery fireplace. Whether you live in a period home and want to replicate the elegance of a Victorian or Edwardian fire – or whether you just appreciate that timeless design, Gallery will be the first brand we recommend. When it comes to which ones to highlight here, it has proven a difficult choice – but here goes.
Gallery Asquith Agean Limestone Fireplace with Crown insert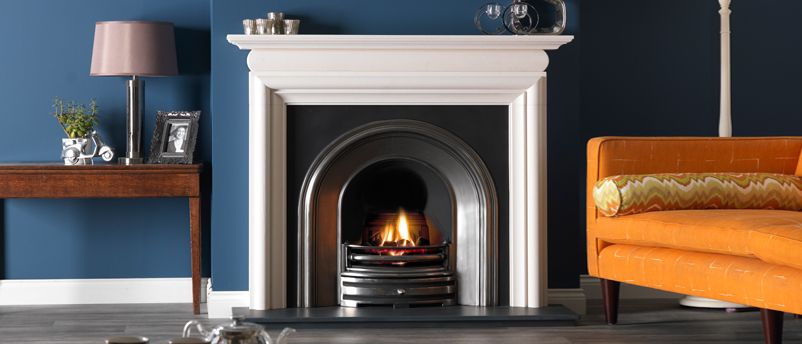 The natural limestone fireplace in neutral colour tones looks fabulous set against a dramatic coloured chimney breast. The 1405mm mantel shelf works well on standard chimney breast sizes and is the perfect display unit for your objet d'art.
The rounded detail across the chest and proud legs on either side give the Asquith its imposing look which perfectly complements the striking arch of the Gallery Crown cast iron insert.
The arch set inside the straight lines of the fireplace itself prove that opposites do attract and with a choice of black, half polish and full polish finishes you can choose the insert that best suits your home. You can also choose from a gas, electric fire or solid fuel fire option making this the ideal choice for everyone.
Gallery Nottage 30" Cast Iron Combination Fireplace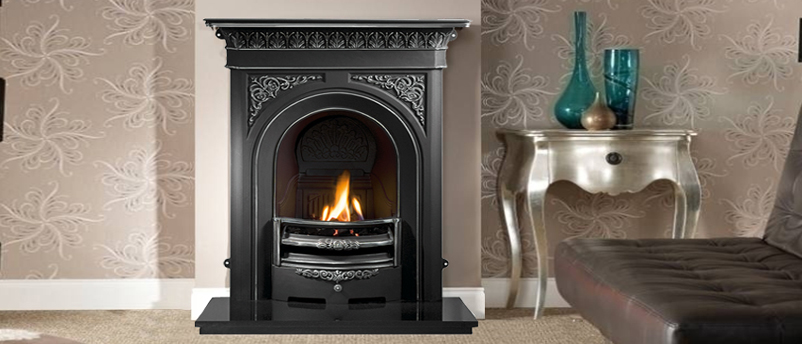 If you are short on space but still want your fireplace to add some period drama, this is the smallest option in the Gallery range of cast iron combination fireplaces. This is perfect for a Victorian home, or Victorian interior décor theme and it can be used with either solid fuel or a highly-advanced gas fire. This fire works well in the living room, dining room or bedroom and you and your guests will really appreciate the intricate detailing.
Gallery Chiswick Cararra Marble Fireplace with Gloucester horseshoe insert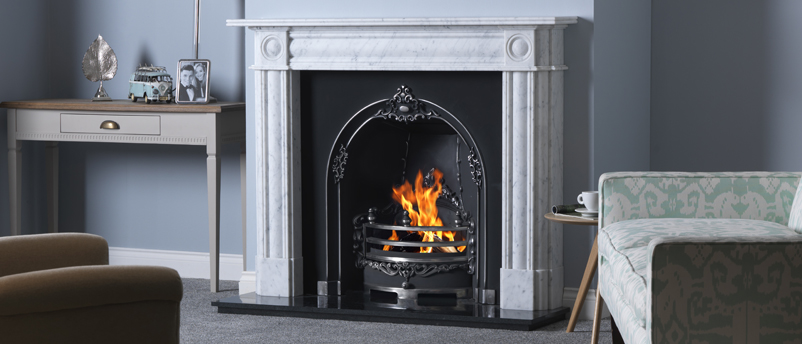 If its opulence you are after, the Gallery Chiswick fits the bill nicely. This large 56" surround in Carrara marble has stunning attention to detail and will become the focal point of your living room or dining room. The Gloucester horseshoe cast iron interior is not to be out done and itself features delicate designs. If you are looking for the full package then an optional slabbed granite hearth adds the finishing touch.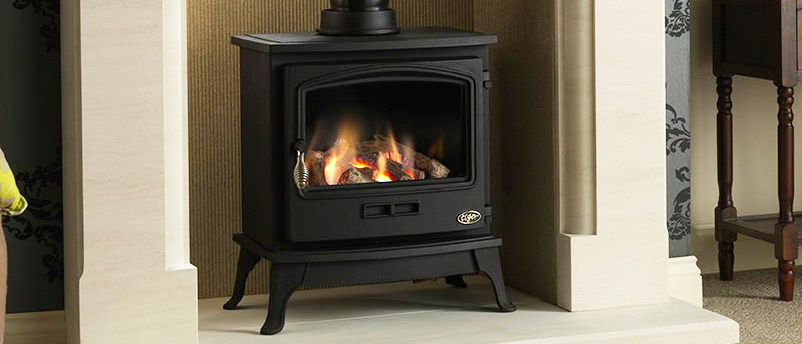 If you love the look of a real stove but want the convenience of gas – this Tiger gas stove offers a realistic cast iron body and all the appeal of an authentic wood burner. The discreet manual controls offer control of the flames as they dance on either a coal or log effect fuel bed which can be enjoyed through the large glass window. The stove can be fitted into a real chimney or prefabricated flue chimney – all the fun and none of the fuss of a real stove.
Gallery innovations
Despite its success, Gallery is always looking at ways to enhance its product offering. They also offer an 'Efficiency Plus' cast iron insert in two designs which keep the traditional look of a cast iron insert but can be combined with a choice of high output and high performance fires.
However, we love that you can mix and match most surrounds, inserts and hearths and that most products allow the choice of a gas, electric or solid fuel kit making them hugely versatile. It's no wonder they are such a popular choice for the discerning homeowner.