Chesneys HEAT Collection Barbecues & Heaters with Free Delivery and 0% Finance Available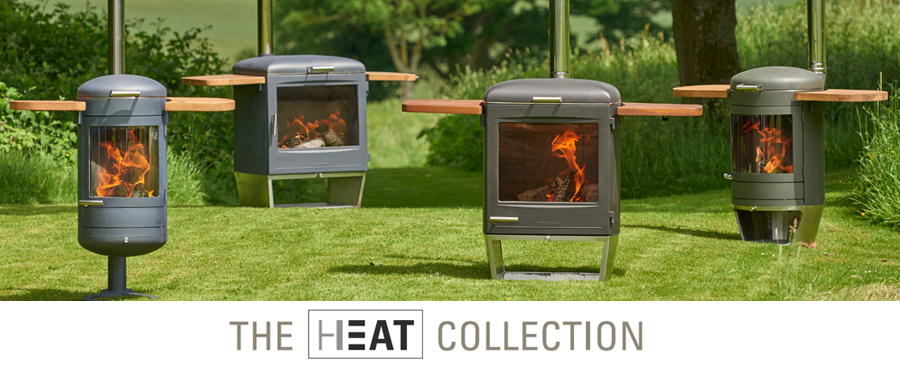 Updated for 2019, the Gourmet Collection, based on the 2018 range (the 500, 600 and 700 models) but now fitted with wheels for easier movement and more accessories included as standard. Ideal for ambitious cooks and sized to suit different sizes of outdoor space.
Chesneys is internationally recognised as the leading luxury brand for contemporary stoves and fireplaces. For decades, the company has been the first port of call for both professional and private clients looking for the ultimate in fireplaces, wood burning stoves and gas fire appliances.
This year, the company has launched an innovative and exciting new range of outdoor living appliances and as one of their premier dealerships, Flames.co.uk is delighted to be able to offer The Heat Collection to our customers.
The Heat Collection
Chesneys has created the ultimate barbecue and outdoor heater experience. This two in one outside living product reflects the superb styling the brand is renowned for and the new collection has taken its design cue from their iconic stoves.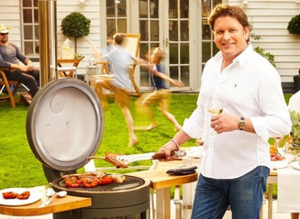 Featuring a clear view glass window to show the beauty of the flames, the main unit is made from painted steel and features a log storage area. On either side of the grill are wooden work tops and over the top of the grill is a solid steel lid. The overall result is a contemporary, sleek and luxurious heater and barbecue.
There are four models in The Heat Collection and all offer the same unique functionality, namely, an easy to use and versatile cooking experience combined with a beautiful and effective way to stay warm outside when the temperature drops. It's the perfect accessory for British summer time.
Heat Garden Party is the largest model and boasts a cooking area to cater comfortably for an extended party. Chesneys Heat & Grill is the smallest of the cooking collection and has been made to fit onto a small roof terrace or patio thanks to its stunning cantilevered design. Each of the four models deliver a striking, radiant heat using Chesneys award winning wood burning technology.
Although most of us enjoy barbecuing and eating outside, we don't get too many nights when it's warm enough to remain outside for very long. Now, thanks to these new efficient and environmentally friendly outdoor heaters – British summer time can start earlier and finish later in the year.
A new addition for 2019 is the Chesneys HEAT Clean Burn which is a heater model only with all the environmental and performance benefits of an indoor stove. Using advanced technology as found their wood burning stove collection, the Chesneys Clean Burn emits a substantial amount of glowing heat, producing next to no smoke and runs on very little fuel.

Let's get cooking
Chef James Martin has said that given the choice, he wouldn't cook on any other barbecue and so what's so special about The Heat Collection?
Chesneys has been developing its stove technology for over thirty years and the challenge for the company was to create an outdoor appliance that would provide an outstanding barbecue and cooking experience which would appeal both to the likes of professionals like James Martin and amateur cooks like you or I.
There is no waiting around with this appliance. Thanks to the unique combustion process the barbecue is ready to cook within 15 minutes of lighting. The combustion technology that Chesneys uses in its range of stoves has been adapted to provide a degree of temperature control that is uniquely sensitive and responsive to a barbecue. This means that grilling a steak or undertaking the most complex recipe can be approached with absolute confidence.
The HEAT barbecue provides a unique degree of temperature control, ease of use and a variety of cooking modes that provides limitless opportunities for cooking different recipes. It's fast to light and emits very little smoke.

Grilling
A HEAT barbecue will grill beautifully. With temperatures in excess of 400°C a steak can be cooked in minutes leaving the meat moist and with searing lines enhancing its flavour. Low temperature grilling of fish and seafood is simple, cooking directly on the grill with the option of using direct or indirect heat
Baking
The combination of constant temperature control and highly effective thermal rotation provided by a Chesneys HEAT barbecue will result in a degree of even baking that produces outstanding results. For pizza lovers a HEAT barbecue is perfect as the high temperature required for indirect cooking can be achieved by burning wood.
Roasting
Imagine cooking and eating Sunday lunch outside? With a sealed cooking area and thermal rotation, meat will remain moist for hours whilst cooking on a single load of charcoal with a HEAT barbecue. The unique rotating grill allows the height of the cooking area to be increased or decreased, accommodating very large cuts of meat if required.
Smoking
A barbecue from The HEAT collection will provide the long and slow indirect cooking that is required to impart the flavour of the wood or charcoal that is being used in the smoking process and result in tenderising the meat that is being cooked.
Wok Cooking
If you love Asian food you will be pleased to know The HEAT Collection is ideally suited to Wok cooking. The cylindrical shape of the Terrace Gourmet models enables a Wok dish to fit perfectly when the grill is removed and an adaptor ring can be purchased for either of the rectangular models, so that the high temperatures generated by all the models in the HEAT collection can be applied to this form of cooking.
If we've got your taste buds tingling James Martin has provided some great recipe ideas specifically for The Heat Collection.
Flames.co.uk is delighted to be able to offer its customers what we believe to be the best barbecue on the market and now you've grilled the steak and baked the fish, time to enjoy the rest of the evening in front of the warm glow of the fire.

Let's stay out late
James Martin says sitting around the fire late into the evening with a group of friends is one of life's great pleasures and we agree. Now we don't have to go in with the sun goes down as we can just turn the temperature up and stay out late.
It's easy to transition the appliance from barbecue to heating mode by simply repositioning a baffle inside it which turn the barbecue into a highly efficient outdoor heater, which will deliver up to 700 degrees of radiant heat. This is made possible by a temperature control system which uses the baffle to direct the heat upwards for cooking and then allows it to radiate outwards in heater mode.
When you place logs on the charcoal or wood ashes that have been used to cook within minutes, the heater is creating its own micro climate. The heater works in the same way as a stove with a glass door that opens so that the fuel can be replenished. It has a single lever operating a valve that controls the amount of air entering the chamber and governs the rate at which the fire burns and the level of heat it generates – which means you are in control of the heat.
Unlike a firepit, the heater uses clean burn technology to burn logs which reduces harmful particulate emissions at a time when there is increasing concern over air pollution and so it's healthier to stay warm. And of course, burning wood is a carbon neutral compared with gas patio heaters which emit significant volumes of CO2 and contribute to climate change. And if you hate the smell of smoke on your clothes and on your hair, you'll love Chesney's award winning stove technology as no smoke is emitted.
Who doesn't love the atmosphere created by fire? Thanks to the large glass window, you can enjoy a generous view of the fire within – ideal for night time entertaining or relaxing.
Oh, and one more thing, once you switch to heating mode the barbecue self-cleans – seems like our friends at Chesneys have thought of everything.

Guarantee
Like all Chesneys products, the Barbecue Heater is built to last. They've used the best materials, including cast iron components produced to the highest technical specifications and the toughest ceramic glass and internal panels. Confidence in the product is reflected in the five-year guarantee offered for the bodies of our appliances and the one year guarantee for all non-consumable body parts.