A stunning, contemporary styled stove from ACR Heat Products that has the benefit of DEFRA approval for use in smoke controlled areas. The Neo 1C Eco is also EcoDesign 2022 ready boasting low emissions to ensure a cleaner environment. Nominal heat output of 5kW ideal for standard sized rooms.
£1,730.00
---
Following on from the huge success of ACR's existing NEO range of contemporary stoves, the 1F and 3F now give you the opportunity to fit the stove into a enclosure due to the stove having standard legs. Enjoy the ultimate view of the flames from the stoves magnificent window!
£1,555.00
---
Create a real sense of occasion with the Neo 1P ECO from ACR Heat Products. This stunning, contemporary styled wood burning stove is EcoDesign 2022 ready and benefits from DEFRA approval allowing use even if you live in a smokeless area. Stylish pedestal base.
£1,695.00
---
High quality steel construction with cast iron door and top casting for strength and efficient heat transfer, the ACR NEO 3C ECO is a 'smoke exempt' appliance meaning you can burn wood in smoke controlled areas. An EcoDesign ready stove boasting low emissions.
£1,830.00
---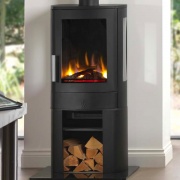 This spectacular model is one of a small number of contemporary styled electric stoves. The NEO 3C electric stove is based on the same tall platform as its wood burning counterpart but features some of the most advanced technology available featuring 3D holographic electric flame projection.
£1,069.00£1,299.00





---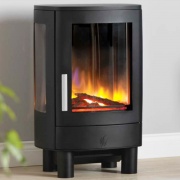 The ACR Neo 3F electric stove is a contemporary styled model with the distinctive feature of two side window panels, creating a focal point and sense of occasion for any setting. Equipped with two heat settings - 1Kw and 2Kw to provide instant heat with thermostatic control and a seven day timer.
£919.00£1,089.00





---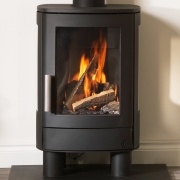 The NEO 3FG is a stylish, modern gas stove that is equally suited to recessing into a taller fireplace chamber or sat free-standing in the room. With it's elevated proportions, you benefit from an amazing view of the ultra-realistic flames and authentic ceramic log fuel effect through the 3 glass windows.
£2,760.00
---
With its striking pedestal base and side view glass windows, the ACR Neo 3P Eco is everything you would expect from a fully featured, contemporary stove from a premium specialist with extensive knowledge in this industry. DEFRA approval plus EcoDesign ready boasting lower emissions.
£1,810.00
---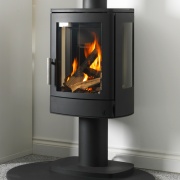 One of a small number of contemporary gas stoves boasting a remarkable flame almost indistinguishable to a real wood fire. The spectacular ACR NEO 3P Gas Stove is a ultra modern pedestal stove with a large glass window at the front plus side windows for a wonderful view of the log effect fire.
£2,875.00
---
Ultra modern featuring a sleek, black glass front and gloss black ceramic top plate, the new ACR Novus is guaranteed to create a striking feature within any modern interior. With multi-fuel capability, the Novus can burn wood or a range of smokeless fuels and is ideal for standard sized rooms.
£1,670.00
---
Manufactured using robust cast iron, the ACR Oakdale features a large viewing window giving you the ultimate view of the fire bed. This is a multifuel stove capable of burning your choice of either wood and solid fuels and it is offered in a choice of colours.
£1,045.00
---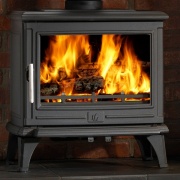 Instantly apparent with its striking, panoramic window, the ACR Rowandale will be a popular choice for anyone looking for a high quality, cast iron multi-fuel stove with generous proportions that will not normally require an air-vent fitting. 5kW heat output so ideal for standard room sizes.
£1,260.00
---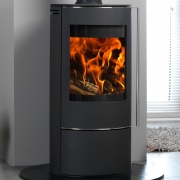 The Solis is a truly stunning, contemporary cylindrical stove crafted using high quality steel with a glass top plate. A stylish brushed steel door handle runs the entire length of the large opening door whilst the huge glass viewing window provides a sensational view of the flames.
£1,610.00
---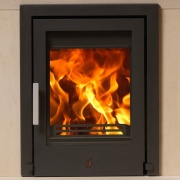 The ACR Tenbury multi-fuel inset stove is the perfect solution for enjoying real stove ambience in a standard 16" fireplace opening. Featuring attractive, contemporary styling and straightforward installation with its free floating flue collar and convection outerbox. Suitable for use in smokeless areas.
£945.00