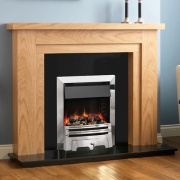 Bring your room to live with the wonderful Pureglow Hanley fireplace. Blocky, stepped design and incorporating low energy downlights, this really is a fireplace that will make a dramatic impact! Gorgeous, natural oak finish with your choice of ebony granite or Perla marble interior and hearth.
£668.00
---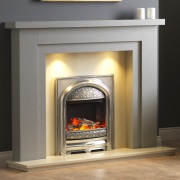 With grey is a sought after colour for home furnishing, Pureglow have now created a version of their popular Hanley fireplace surround painted in a lovely grey wash which allows the beauty of the wood grain to subtly show through. Ambient down-lights add to the appeal of this lovely design.
£435.00
---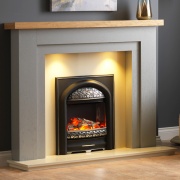 The Hanley fireplace surround is offered here painted in a fashionable grey colour with complementing oak mantel shelf. Offered with a choice of marble or granite back panel & hearth plus ambient downlights fitted as standard, this is a stunning fireplace ideal for a variety of interiors.
£435.00
---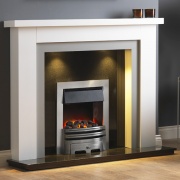 Finished in white with the inner stepped feature of the surround picked out in a fashionable grey colour, this version of Pureglow's Hanley fireplace surround will appeal to modern homes. Shown with the optional Grace Illusion electric fire, this lovely fireplace is equally suited to gas fires.
£435.00
---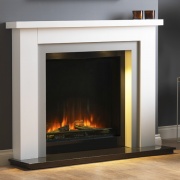 A stunning, complete electric fireplace package from Pureglow featuring the timeless Hanley timber surround in a choice of finish with a marble or granite set plus the spectacular Chelsea 750 panoramic electric fire with its highly advanced LED flame technology. Overall mantel width of 1370mm.
£1,619.00£1,798.00
---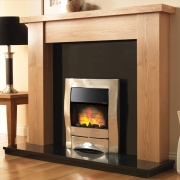 The Stanford is an extremely popular fireplace in the Pureglow range. Classical natural oak finish combined with modern design and incorporating ambient downlights under the mantel chest producing a truly stunning effect. Option to add the premium Zara fire at a extra discounted price.
£669.00
---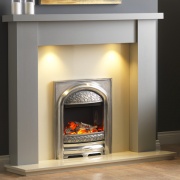 A simple yet stylish mantel offered in a lovely painted grey colour which allows the grain of the wood veneer to subtly show through. The Stanford is available in two sizes and features spotlights located under the chest for added ambience. Suitable for combing with either gas or electric fires.
£435.00
---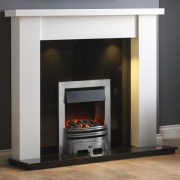 The Stanford is a simple design of fireplace surround offered here in a striking white painted finish. Shown in the images with an optional black Granite back panel and hearth creating a stunning contrast and providing a ideal companion for either a gas fire or electric fire.
£435.00
---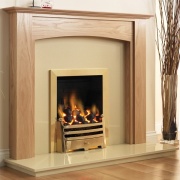 Finished in natural oak with a choice of Perla marble or ebony granite interior and hearth set, the Pureglow Stretton features a subtle arch and stepped detail down the legs. It is well suited to both traditional or contemporary interiors is the perfect companion for a variety of fire options.
£489.00
---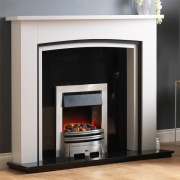 New from Pureglow, the Westbury features a stylish double stepped arch and is offered with the option to combine with a choice of marble or granite. The Westbury is painted in 'Mist' which is a subtle, off-white with a lovely contrasting slate/anthracite finish which accentuates outer arch.
£435.00
---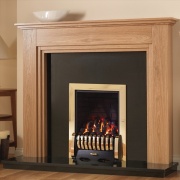 The Whitton is finished in natural oak with the option of a sleek, ebony granite or a gorgeous Perla marble back panel and hearth set. Featuring a tasteful 'stepped' design across the chest and down the inside legs, this striking feature fireplace will blend well into a wide range of interior styles.
£599.00