Featuring a wide aspect electric fire with three flame settings incorporating orange and red LEDs. Each flame effect has five brightness settings for optimum ambience. Featured here in the impressive Elgin & Hall Cassius marble fireplace suite which allows installation against a flat wall.
£1,672.00£2,039.00
---
Simplicity at its finest with clean, straight lines which displays the luxurious micro-marble off in all it's glory! The Cotsmore will compliment both classical and contemporary settings and can be fitted against a flat wall with no recess required. It accommodates a stunning widescreen electric fire.
£1,147.00£1,399.00
---
If your home has a Class 2 flue and you thought you'd be limited to a standard sized gas fire, the 48" wide Elgin & Hall Earlston 950 offers a superb solution for you! This exquisite, marble fireplace suite incorporates a wide gas fire with a version compatible for shallow, Pre-Cast flues.
£1,948.00£2,375.00
---
The Edwin by Elgin & Hall is a complete, free-standing electric fireplace featuring the Eco Design compliant 950 HD electric fire. This wide aspect, LED appliance creates a stunning feature and is complemented here within the Edwin timber surround and hearth in a lovely cashmere finish.
£1,037.00£1,265.00
---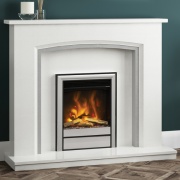 Timeless in design and finished in a beautiful combination of classic white with complementing grey on the inside of the main arch, the Elgin & Hall Elento is a wonderful fireplace suite that is equally suited to gas or electric fires. You can add further to the style with the optional ambient downlights.
£721.00£879.00
---
A gorgeous, timeless design from Elgin & Hall. The Eliana fireplace suite features a glorious sweeping arch with attractive edge detail and is offered in a choice of two micro-marble finishes. Combine this beautiful fireplace with virtually any gas or electric fire to create a spectacular centerpiece!
£775.00£945.00
---
The chic Embleton marble fireplace is offered in a choice of three colours and features stylish stepped detailing around the back panel. It provides an attractive backdrop to the Elsie 900 widescreen glass-fronted gas fire which boasts incredible performance and is compatible with Pre-Cast flues.
£2,071.00£2,525.00
---
A gorgeous, timeless design in a choice of marble colours with the stunning 900 HD widescreen, glass fronted fire with realistic glowing log bed. The Embleton electric suite from Elgin & Hall is suitable for any home with or without a chimney and will enhance any interior.
£1,652.00£2,015.00
---
The Farnham is crafted from luxurious Manila or White marble and featuring the stunning Chollerton 22" electric fire. Simple installation allowing you to fit the Farnham Deluxe against a flat wall making it ideal for bringing any living space to life with no chimney or recess required.
£1,073.00£1,309.00
---
With the Elgin & Hall Florano your home is gaining an enduring asset. A beautiful combination of white and grey micro-marble, this brand new design has an elegance and simplicity that will compliment your tastes in furnishing, fabric and décor. Ideal for combining with all standard sized fires.
£627.00£765.00
---
The Mariella high efficiency gas suite is designed to be fitted into a Class 1 real chimney but also has the option of being capable to be fitted into a Class 2 Pre-Cast flue when the depth of the chimney is extended. A unique option for those looking for a fireplace with a fire larger than standard.
£1,902.00£2,319.00
---
Simple yet highly desirable, the Mosello is a new marble fireplace suite by Elgin & Hall which combines white and grey micro-marble resulting in a beautiful design that will complement any interior setting. Available in a choice of two widths plus optional Smartsense ambient downlights.
£704.00£859.00
---
A premium quality marble fireplace suite finished in White micro-marble, the Elgin & Hall Odella will make an imposing feature in any room. Standing tall and proud, this classic design features intricate edge detail plus a shaped mantel top shelf. Ideal for combing with a variety of fires.
£988.00£1,205.00
---
Tall, broad and beautiful, the Orieta harmonises timeless marble with advanced gas technology. The glass fronted fire delights with large dancing flames, by completely filling the space framed by the surround. This fashionable fireplace suite can even be fitted into Class 2 Pre-Cast flues!
£2,000.00£2,439.00