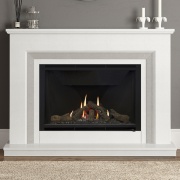 A truly spectacular, award winning complete fireplace suite which gives homeowners living in properties with shallow, Pre-Cast flues the opportunity install a fashionable centerpiece with large, landscape gas fire. The Cassius 950 is offered in two marble finishes and operated by slide control.
£2,309.00
---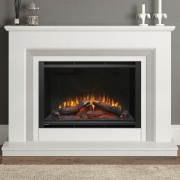 Featuring a wide aspect electric fire with three flame settings incorporating orange and red LEDs. Each flame effect has five brightness settings for optimum ambience. Featured here in the impressive Elgin & Hall Cassius marble fireplace suite which allows installation against a flat wall.
£1,759.00
---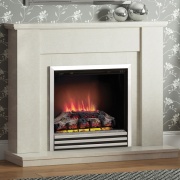 Simplicity at its finest with clean, straight lines which displays the luxurious Manila micro-marble off in all it's glory! The Cotsmore will compliment both classical and contemporary settings and can be fitted against a flat wall with no recess required. It accommodates a stunning widescreen electric fire.
£1,039.00
---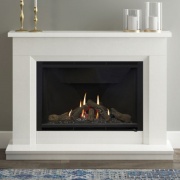 If your home has a Class 2 flue and you thought you'd be limited to a standard sized gas fire, the 48" wide Elgin & Hall Earlston 950 offers a superb solution for you! This exquisite, marble fireplace suite incorporates a wide gas fire with a version compatible for shallow, Pre-Cast flues.
£2,105.00
---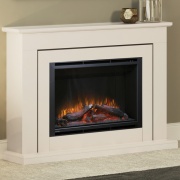 The Edwin by Elgin & Hall is a complete, free-standing electric fireplace featuring the Eco Design compliant 950 HD electric fire. This wide aspect, LED appliance creates a stunning feature and is complemented here within the Edwin timber surround and hearth in a lovely cashmere finish.
£1,049.00
---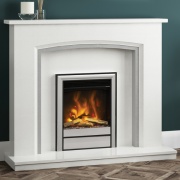 Timeless in design and finished in a beautiful combination of classic white with complementing grey on the inside of the main arch, the Elgin & Hall Elento is a wonderful fireplace suite that is equally suited to gas or electric fires. You can add further to the style with the optional ambient downlights.
£769.00
---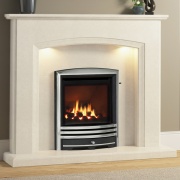 A gorgeous, timeless design from Elgin & Hall. The Eliana fireplace suite features a glorious sweeping arch with attractive edge detail and is offered in a choice of two micro-marble finishes. Combine this beautiful fireplace with virtually any gas or electric fire to create a spectacular centerpiece!
£829.00
---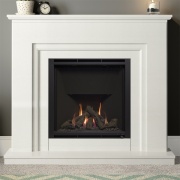 The chic Embleton marble fireplace is offered in a choice of three colours and features stylish stepped detailing around the back panel. It provides an attractive backdrop to the Elsie 900 widescreen glass-fronted gas fire which boasts incredible performance and is compatible with Pre-Cast flues.
£2,239.00
---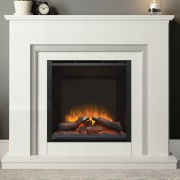 A gorgeous, timeless design in a choice of marble colours with the stunning 900 HD widescreen, glass fronted fire with realistic glowing log bed. The Embleton electric suite from Elgin & Hall is suitable for any home with or without a chimney and will enhance any interior.
£1,738.00
---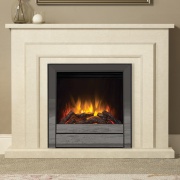 The Farnham is offered here as a 'Deluxe' model in Manila or White marble and featuring the stunning Chollerton electric fire. Simple installation allowing you to fit the Farnham Deluxe against a flat wall making it ideal for bringing any living space to life with no building preparation required.
£1,124.00
---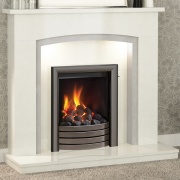 With the Elgin & Hall Florano your home is gaining an enduring asset. A beautiful combination of white and grey micro-marble, this brand new design has an elegance and simplicity that will compliment your tastes in furnishing, fabric and décor. Ideal for combining with all standard sized fires.
£678.00
---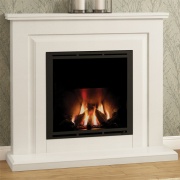 The Mariella high efficiency gas suite is designed to be fitted into a Class 1 real chimney but also has the option of being capable to be fitted into a Class 2 Pre-Cast flue when the depth of the chimney is extended. A unique option for those looking for a fireplace with a fire larger than standard.
£2,059.00
---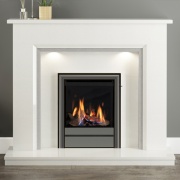 Simple yet highly desirable, the Mosello is a new marble fireplace suite by Elgin & Hall which combines white and grey micro-marble resulting in a beautiful design that will complement any interior setting. Available in a choice of two widths plus optional Smartsense ambient downlights.
£759.00
---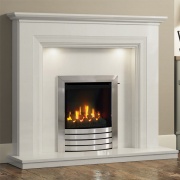 A premium quality marble fireplace suite finished in White micro-marble, the Elgin & Hall Odella will make an imposing feature in any room. Standing tall and proud, this classic design features intricate edge detail plus a shaped mantel top shelf. Ideal for combing with a variety of fires.
£1,069.00