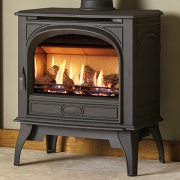 The Dovre 425 Gas Stove offers traditional styling combined with the latest technology that provides a highly realistic glow and gentle dancing flames around a authentic log fuel bed. Available for both natural gas and LPG homes.
£1,437.00£1,725.00
---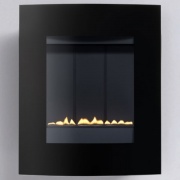 Sleek and stylish with a new black glass fascia that adds to the contemporary feel of this wall-mounted flueless gas fire. The Eko Fires 5010G is an ideal solution for homes without a chimney or flue as it can be simply hung on a flat wall and connected to a gas supply to create a modern feature.
£410.00£499.00
---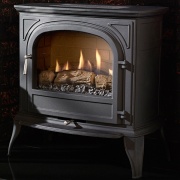 Enjoy the fashionable 'woodburner' look even if you don't have a chimney with the new Eko 6010 flueless gas stove. This flueless gas stove incorporates a state-of-the-art catalytic converter with a heat output of up to 3.1kW. Black, Ivory or Burgundy finish with plain or lattice door designs.
£835.00£960.00
---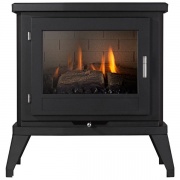 Create a stunning centrepiece in virtually any room in your home with the Eko 6030 Flueless Gas Stove. The charm of a real flame dancing over an authentic log effect fuel bed set behind a glass panel. Available in black, white or burgundy finish, the Ekofires 6030 does not need a chimney or flue.
£779.00£895.00
---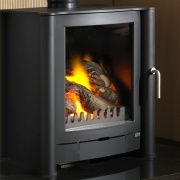 With a realistic log fuel bed giving an authentic alternative to a real stove, the Firebelly FB1 Gas Stove is offered with the same vast selection of colour options allowing you to create a unique centrepiece in your home. Boasting an impressive heat output of up to 6kW and excellent efficiency.
£1,639.00£1,735.00
---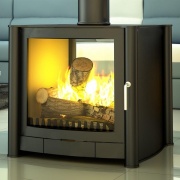 The gas version of Firebelly's FB2 Double Sided stove will create a truly stunning feature in large spaces and give a 360º view of the flickering log-effect fire bed. With the convenience of gas, you have instant control of this designer gas stove and a choice of 18 dazzling colours.
£3,789.00£4,250.00
---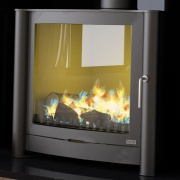 A wonderful, modern design gas stove which features a huge glass viewing window of which Firebelly are synonymous for. The FB2 Gas Stove provides the charm of a real wood burning stove combined with the convenience of gas. Available in a vast array of stylish colours.
£3,389.00£3,650.00
---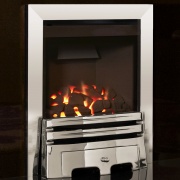 The Flavel Calibre balanced flue gas fire offers marketing leading efficiency and heating performance combined within a stylish focal point of which you can choose silver or brass finishes. There is also three options for control including full remote.
£839.00£1,135.00





---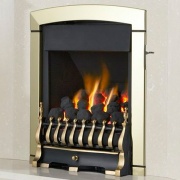 From the new 'Plus' range of open-fronted, high efficiency gas fires by Flavel, the Calypso Plus offers both increased efficiency and heat output compared to the standard model. Brass finish with a full-depth coal effect fuel bed.
£549.00£735.00
---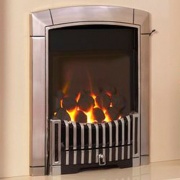 Featuring a beautiful solid cast curved trim in polished cast iron or brass, the Flavel Caress HE Contemporary gas fire offers market leading efficiency combined with superb heating performance. This glass-fronted gas fire is available with three control options.
£639.00£859.00
---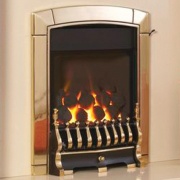 The glass-fronted, Flavel Caress HE Traditional gas fire offers incredible efficiency combined with a powerful heat output. This stylish convector gas fire is a excellent choice for anyone looking to reduce their heating bills without compromising on performance.
£639.00£859.00
---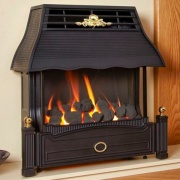 The Flavel Emberglow is a highly efficient, outset gas fire combining a robust, cast iron canopy and front with the very latest technology. Triple aspect windows give the ultimate view of the mesmerising living flame effect. Suitable for all flue types.
£724.00£945.00
---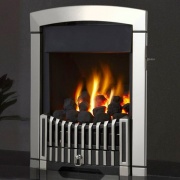 Using the latest gas fire technology to create open-fronted model with improved efficiency and incredible heating performance. The Flavel Rhapsody Plus gas fire is offered in a choice of four finishes to suit all interior styles.
£569.00£759.00
---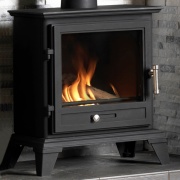 Boasting a spectacular view of the flames dancing over an authentic log effect fuel bed, the Gallery Classic Gas Stove replicates the charm and character of a real stove for those who prefer the convenience of gas. Manual control as standard with option to upgrade to remote.
£949.00£1,189.00