Designed and manufactured to the highest standards in Holmfirth, West Yorkshire, using top quality materials and components. The Dunsley Highlander 7 Enviro-Burn Solo is a multi-fuel stove boasting the latest innovations providing a highly efficient combustion with instant control.
Showroom Exclusive
£1,159.00

---
From renown British stove manufacturer Dunsley Heat, the Highlander Enviro-Burn 8 is one of their larger output stoves which boasts both DEFRA approval for use in smoke controlled areas and EcoDesign compliance. EcoDesign is a new, 'Clean burning' directive set to come into force in 2022.
Showroom Exclusive
£1,309.00

---
A large, powerful multi-fuel stove ideally suited to bigger rooms and open plan living spaces. The Ekol Clarity 12 is one of the few stoves over 10kW that benefit from DEFRA approval allowing you to enjoy the warmth and efficiency of wood burning no matter where you live!
Showroom Exclusive
£999.00

---
Stylish, easy to use and ultra clean burning make the Ekol Clarity 5 a popular choice for anyone looking for a multi-fuel stove for a small to medium sized room. An ideal stove for modern day living, this versatile stove is also exempt from the Clean Air Act for use in smokeless areas.
Showroom Exclusive
£699.00

---
Designed to heat larger than average living spaces, the Ekol Clarity 8 continues on the brands theme of being extremely efficient, suitable for all areas including smokeless zones and with multi-fuel capability as standard allowing you to burn either wood or solid fuels.
Showroom Exclusive
£799.00

---
The first, DEFRA approved double-sided stoves that gives you the option to heat two rooms whilst enjoying the ambience of burning logs or solid fuels from both sides. The Ekol Clarity Double Sided multi-fuel stove is available with low or high leg options.
Showroom Exclusive
£1,799.00

---
A new addition to the Ekol range of stoves, the Clarity Vision is been designed specifically for those looking for the maximum impact with the widest possible view of the flames whilst keeping the nominal heat output at 5kW. With a slimline depth for less intrusion into the room.
Showroom Exclusive
£899.00

---
The Ekol Crystal 12 is a sturdy, powerful stove that has multi-fuel capability giving you the option of burning either wood or approved solid fuels. An ideal 'workhorse' for large rooms or open plan living spaces, this easy to operate stove boasts incredible heating performance and controllability.
Showroom Exclusive
£849.00

---
Constructed using high quality, twin layer cast iron, the Crystal 5 was the first model in the Ekol range and boasts the same clean burn technology as in their Clarity range. This 5kW model is ideal for standard room sizes and is simple to operate and very controllable.
Showroom Exclusive
£545.00

---
A popular, multi-fuel stove that has passed the stringent tests set by DEFRA allowing you to burn wood or smokeless fuels anywhere in the UK including smokeless areas. The Ekol Crystal 8 is packed with state-of-the-art features resulting in a highly efficient and extremely controllable heating appliance.
Showroom Exclusive
£649.00

---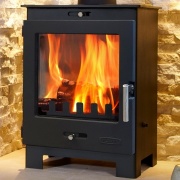 The latest Flavel Arundel is a stylish wood burning stove with multi-fuel capability which now boasts EcoDesign 2022 compliance. Cast iron door with a large viewing window and suitable for use in smoke controlled areas, the Arundel will fit in perfectly with modern living.
Showroom Exclusive
£499.00






---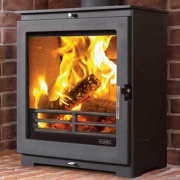 Following on from the huge success of the standard model, the Flavel Arundel XL provides even more impact from it's wider body and panoramic glass window yet retains a heat output rating that is ideal for standard sized rooms. Benefits from EcoDesign 2022 compliance.
Showroom Exclusive
£799.00

---
The attractive Flavel Dalton multi-fuel stove is constructed using patented cast steel and boasts the very latest innovative features as you would expect from a premium fire manufacturer. The Flavel Dalton can burn wood and smokeless fuels even in smoke controlled areas.
Showroom Exclusive
£649.00

---
A perfect stove for standard sized rooms, the new Rochester 5 benefits from multi-fuel capability allowing you to burn either wood or solid fuels. This attractive stove is constructed using a combination high quality steel and cast iron and has a lovely, classical style that will appeal to all.
Showroom Exclusive
£739.00