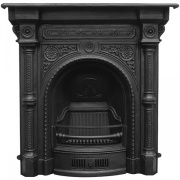 A charming, Victorian style cast iron fireplace which is suitable for combining with a dedicated gas fire or Ashpan Tray to burn wood or coal. The Carron Tweed numerous outstanding features include a chain link pattern that highlights the fireplace's arch, framed majestically with a sunflower detail.
£505.00
---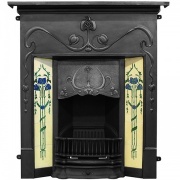 The Carron Valentine is a combination cast iron fireplace in the beautiful Art Nouveau style. Featuring a symmetrical pomegranate design that extends from the centre of the frieze to fill the legs of the framework. The Valentine can be further accentuated with a vast selection of decorative tile designs.
£555.00
---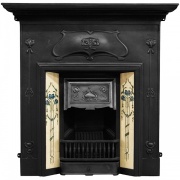 Featuring a straight-stemmed floral design which climbs the length of the cast framing and complimenting embellishments on the chest and canopy, the Carron Verona combination fireplace is especially suited to period properties. Art Nouveau design cast iron fireplace finished in matt black.
£740.00
---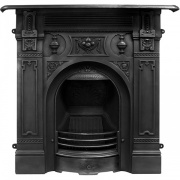 The large version of the Carron Victorian cast iron fireplace is perfect in size, design and stature for placement within a variety of rooms in classical homes. The sunken archway and intricate fruit and urn artwork provides the ideal place to display your choice of gas fire or real, wood & coal burning fire.
£465.00
---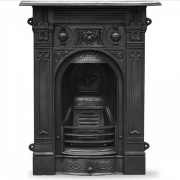 A highly decorative, cast iron combination fireplace offered in a choice of standard matt black or fully polished silver. The Carron Victorian Small is ideally suited to smaller living spaces that would benefit from a stylish feature without being too overpowering. Several fire options can be added.
£360.00
---
The Ashbourne Integra Combination Fireplace provides an excellent solution for anyone looking for a simple way to add a stunning centrepiece in their home. This innovative complete fireplace incorporates gives you the option to add a high performance gas fire or realistic electric fire.
CALL
---
A full sized, cast-iron mantel which will create a spectacular feature within any setting. The Cast Tec Limerick surround is available in a a choice of all black or highlighted with the raised sections polished. Offered here with the Oxford Integra insert and a huge choice of fireplace tiles.
CALL
---
The Regal Combination is a plain cast-iron fireplace suitable for all Integra gas appliances and includes a small top shelf, thereby reducing the need for a separate mantel. The Regal can be polished around two arched bands, the canopy and firefront, or simply matt black for a more understated look
CALL
---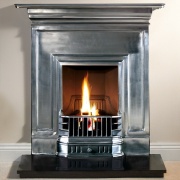 The beautiful Gallery Barcelona combination cast iron fireplace combines both insert and mantel in a single unit. It is, therefore, easier to install and saves the additional expense of a separate mantel, whilst compact dimensions make it particularly suitable for smaller rooms or chimneys.
£419.00£529.00
---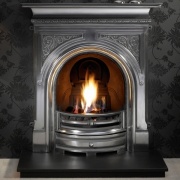 Featuring exquisite detail, the Gallery Celtic is a combination fireplace that manages to make a bold statement despite its smaller mantel width. Available in matt black, highlighted or fully polished cast iron, the Celtic has proved a popular design for living rooms, dining rooms and bedrooms.
£469.00£589.00
---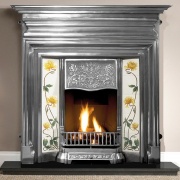 Finished in a spectacular fully polished cast iron, the Gallery Edwardian combination fireplace is guaranteed to create a sensational focal point in your home. The clean lines of the mantel are complimented by tiled side panel offered in various designs.
£849.00£1,060.00
---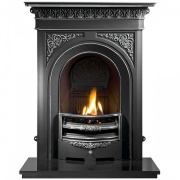 The smallest model offered in the Gallery range of cast iron combination fireplaces, the Nottage is a neat, compact design boasting delightful detail under he mantel shelf, chest and on the front fret bars. Available in a choice of matt black or highlighted finish with a selection of fire options.
£429.00£539.00
---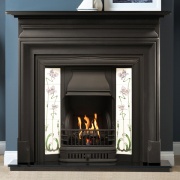 The Palmerston is a gorgeous, cast iron fireplace mantel available in a choice of all black or fully polished finish. Standing tall and proud, this Edwardian style design manages to also work well in more modern settings. Shown here with the optional Sovereign tiled insert.
£539.00£679.00
---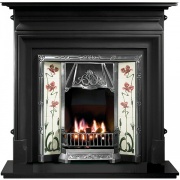 Another popular combination with the Gallery Palmerston cast fireplace is the Toulouse tiled insert. The simple lines yet imposing statue of the Palmerston mantel is complimented by the feminine embellishments on this beautiful cast insert. Large range of tiles and fire options available.
£539.00£679.00