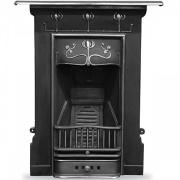 The petite cast iron frame of the Carron Abbot combination fireplace is lifted by the addition of elegant Art Nouveau embellishments. A triple tulip design runs across the mantel chest and is complimented by a decorative feature on the curved canopy. Available in highlighted or fully polished finish.
Showroom Exclusive
£345.00

---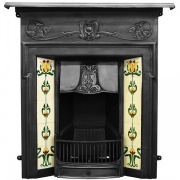 Crafted the traditional way using robust cast iron, the Carron Morris floral detail provides an elegant contrast to this stunning combination fireplace stature. Available in matt black or fully polished, the Morris will bring any room to life and is compatible with a solid fuel grate or dedicated gas fire.
Showroom Exclusive
£555.00

---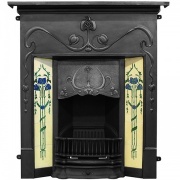 The Carron Valentine is a combination cast iron fireplace in the beautiful Art Nouveau style. Featuring a symmetrical pomegranate design that extends from the centre of the frieze to fill the legs of the framework. The Valentine can be further accentuated with a vast selection of decorative tile designs.
Showroom Exclusive
£555.00

---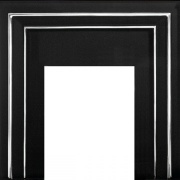 Cast iron fascia panels offer a excellent solution for combining virtually any standard sized gas or electric fire into a fireplace whilst retaining a beautiful, classical feel. The Gallery Hamilton is finished in matt black with two raised bars of the tiered section highlighted creating a striking contrast.
Showroom Exclusive