Woodburning or Multi-Fuel? Which stove is best for you?
If you're searching for a lovely new stove for your home, the choice available has never been greater. Cast iron or steel, matt black or coloured, output, modern or traditional and the question that is probably the most asked in our showroom is "what is best, wood burning or multi-fuel"?
Using the correct fuel in your stove is imperative. Once you have purchased a stove, you will be restricted to the type of fuel you burn in it so making the correct choice now is also very important. Most people initially enter our showroom with the idea of purchasing a multi-fuel stove as they'll have 'the best of both worlds' although in most cases, they will only ever end up burning wood.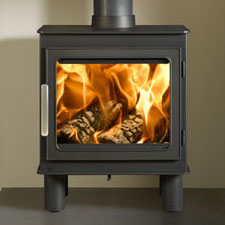 The Nordpeis Bergen is a popular woodburner with large fire chamber and flat bed
Wood Burning Stoves
Dedicated wood burning stoves is normally supplied without a fixed grate. Wood requires air from the top to burn so therefore burns best when laid on a flat base allowing no air to enter from under the fuel. Logs also burn best when resting on a bed of ash so there is no need to clean the stove after each firing.
One of the most appealing aspects of a real fire in your home is the mesmerising flickering flames and smell that burning wood offers. As long as you burn either kiln dried or seasoned wood (less than 20% moisture), the stove will give you many years of warmth and enjoyment whilst retaining its looks. Wood can be collected and stored in a suitable log store outside your property and a moisture metre will allow you to check when the fuel is ready to burn.
Burning wood is also environmentally friendly. A carbon neutral form of heating as during its growth, a tree will absorb the same amount of carbon dioxide roughly emitted when it is burned on a wood burning stove.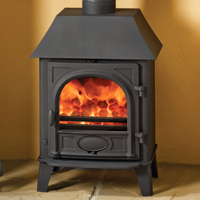 Multi-Fuel version of the Stovax Stockton 5 with canopy burning smokeless fuel
Multi-Fuel Stoves
Giving you the option of burning a variety of materials as well as wood, multi-fuel stoves have a raised grate with either moving bars or a riddling grate and ashpan. The raised grate lifts the fuel up allowing air from underneath to enter the stove which is what solid fuel requires for combustion.
Wood and solid fuels should not be burnt at the same time. When burning wood on a multi-fuel stove, the air control settings are different. The air from underneath is turned off allowing only air from the top. Burning wood on a multi-fuel appliance will often have a slightly lower efficiency so if you feel you're unlikely to ever burn anything but logs, we would always suggest opting for a dedicated wood burner.
The installation instructions of the stove you purchased will give a list of solid fuels suitable for burning on the stove. This will normally be anthracite, peat/turf and authorised smokeless fuels that also allow you to burn if you live in a smoke controlled area. It is important to purchase good quality fuels that have been approved by the manufacturer as some solid fuels have a high petroleum level that will burn too hot for a stove and can burn out baffles, grates etc. Normal house coal isn't suitable for a stove.
When burning solid fuels, you won't have the same flame picture as burning wood. It is more of a intense 'glow'. It will also burn for longer periods and when the air controls are turned down, it can often last throughout the night allowing you to wake up to a warm, cosy house.
We have sold a large amount of stoves both online and through our showroom. If fitted correctly, serviced and swept annually, you will enjoy many years of high efficiency heating and a charming focal point. If issues do occur, it is virtually always due to incorrect or poor fuel burnt. Wet fuel will block up the flue and not allow the fumes to escape, certain solid fuels will burn far too hot for a closed appliance such as a stove and can burn through baffle plates, grates etc.
Whilst our recommendation to customers is always burning wood as this is a cleaner fuel that produces a beautiful flame picture, we understand many customers want the option of burning other fuels. Our showroom in Manchester displays a superb selection of dedicated wood burning stoves and multi-fuel models (several live displays) and we will be happy to give a demonstration on the benefits of both models.