Will Wood Burning Stoves be banned?
If you're reading this article you must have heard rumours of wood burning stoves being banned after recent press articles stating that all wood burning stoves are bad for the environment. More recently, it was announced that there will be a ban on certain fuels which has also resulted in confusion and worry for both existing stove owners and those contemplating buying a wood burning stove for the first time. Everyone is aware of the changes we face to improve our carbon footprint and help provide a healthier environment for the future. In all areas of life, improvements are being introduced including improvements in wood burning stoves and gas fires with a new Stove Industry Alliance EcoDesign law due to come into force in 2022 which will result in all wood burning stoves producing 90% fewer emissions than an open fire and 84% fewer than a stove of ten years ago.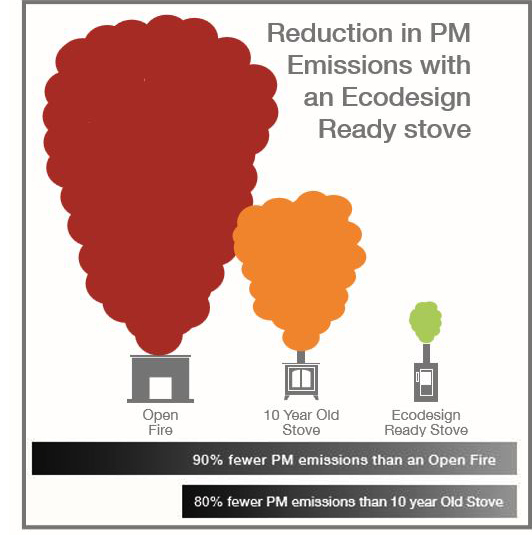 On the 22nd May the Environment Secretary Michael Gove published a Clean Air Strategy which aims to cut air pollution and save lives, backed up through new primary legislation. The new strategy, which is now out for consultation, is a key part of Defra's 25 Year Plan to leave our environment in a better state than we found it. HETAS, Woodsure and The Stove Industry Alliance have all been consulting with Defra for some time now and once again Defra has clarified they are not looking to ban stoves.
Burning wood can be bad for the environment but most of the negative press actually refers to wood being burnt on an open fire or old stoves which have poor efficiency ratings and therefore requiring far more fuel compared to a modern stove. This is the same for gas fires with many of the older types of fires now discontinued with manufacturers now only producing fires which meet strict efficiency levels.
Another problem that exists with burning wood is the quality of the fuel that is being being which is why stricter restrictions on wood is also a very important issue with Woodsure introducing their 'Ready to Burn' initiative enabling consumers to easily identify firewood that has a moisture content of 20% or less. A stove is only is a good as the wood it burns and so the Ready to Burn stamp of approval will reassure those who purchase logs with its logo that they are dry enough and ready to burn.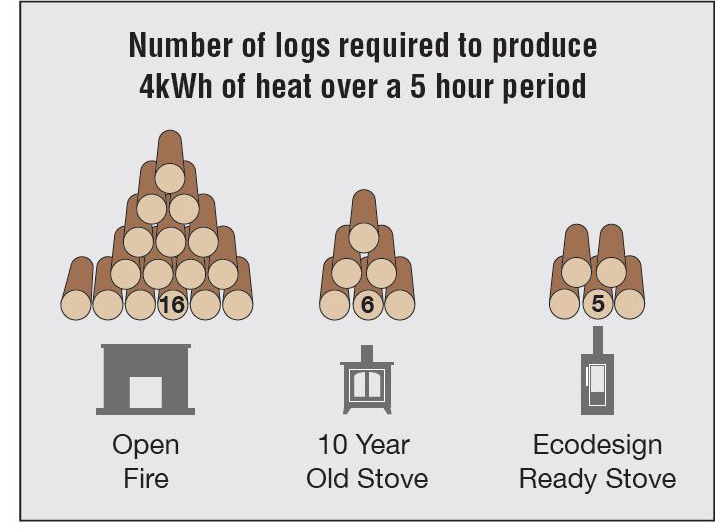 Ready to Burn logs give you more heat for each log. A 2kg unseasoned log with 50% moisture is half water, i.e. 1 litre of water. Burning wet wood means that much of the heat generated is used to boil off excess water leaving less heat to be passed to your room or to a water-heating or central heating system.
Burning wet wood creates more smoke and emissions which are not good for those breathing them in. Appliances are also generally dirtier when burning wet wood and you will have to buy and burn more wood to keep you warm. Wet wood should be seasoned or dried for up to 2 years or kiln dried at a controlled temperature before use to get it to 20% moisture content or less.
You can view an increasing number of EcoDesign Compliant Stoves on our website which have already passed the stringent tests which come into force in 2022. SIA Ecodesign Ready stoves are designed to reduce PM emissions by burning wood more efficiently and completely. The stoves have been independently tested by an approved test laboratory and met the emissions and minimum efficiency criteria for Ecodesign. They offer a more efficient use of heat whilst being virtually carbon neutral. EcoDesign Ready stoves are banded A+ at 80% efficient and provide part of the solution to reduce PM emissions.
Update February 2020
In more recent news announced in February, a ban on certain fuels will be coming into force which has again caused confusion with homeowners worried that this will be a blanket ban on woodburners altogether. Don't panic! This is not the case yet has caused worry with so many stove owners and those looking to purchase a stove for the the first time.
The ban refers to wood with a moisture content of more than 20% and re-packed house coal. These are two fuels that no one should be burning on a stove anyway if they want their stove to burn correctly. We always stress to customers in our showroom that burning the correct fuel in your stove is the most important thing and of the small number of issues we hear about with people who own wood burning stoves suffer, it is virtually always down to poor quality fuel being burnt.
Burning wet wood will create excessive soot build up in the flue and will result in problems with the flue not performing safely. House coal was used for open fires is not designed to be burnt on a wood burning stove as it will burn too hot and likely to damage the chamber components inside the stove.
Freshly chopped firewood has up to 50% water content so if you are planning on burning your own supply of felled trees, you'll need to season the wood before burning it on your stove. In general, pine and other softwoods require around 6 to 12 months to season, while hardwoods such as oak require a year to 2 years. Alternatively, there are plenty of wood suppliers who offer kiln dried wood which has been dried to below 20% moisture content are guaranteed to perform consistently. For more information on Ready to Burn wood suppliers, we recommend visiting the Woodsure website.
So to recap, wood burning stoves are not going to be banned. They continue to be a popular choice for those looking for a alternative way to heat their home as they offer superb heating performance, excellent efficiency and create stunning ambience of which only a real fire can. An EcoDesign stove is the best way to enjoy wood burning at home and produces a fraction of the fumes an open fire emits. From 2022, all new stoves being sold in the UK must adhere to low emission levels and look out for the 'Ready to Burn' label when choosing the best fuel for your stove. For help and advice when choosing a new stove, please don't hesitate to contact the Flames.co.uk team on 0161 654 1610.
For further guidance for wood burning stoves in London and what the Lord Mayor is advising, you can see an article HERE