Wall Fires - Create a striking, modern feature in your home with a Gas Fire, Electric Fire or Woodburner fitted raised up in the wall
What was was the norm in ultra-modern, minimalist European penthouses has become increasingly popular throughout the United Kingdom. Do away with the traditional mantelpiece and hearth and create a contemporary feature fitted up on the wall with one of our extensive range of Wall Fires. Available in electric, gas or a real log fire, wall fires offer all the warmth and ambience you get from a traditional design fire but offer a superb space saving solution perfect for smaller rooms or simply those who prefer less fuss in their interior.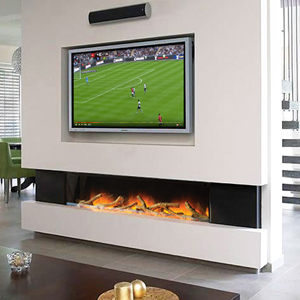 Flamerite Gotham 1300 recessed into a central stud wall TV recessed into pre-constructed hole
With most modern properties being built without the traditional chimney breast, for some, an electric fire is their only option. In addition to this, many people living in well insulated homes that have a efficient central heating system want the benefit of being able to enjoy a flame effect without the need of any heat.
Available as a 'hole-in-the-wall' for those with adequate depth to accommodate the fire into a recess which can either be done by constructing a false chimney breast stud wall or on certain models, insetting into a standard cavity wall. This type of wall fire provides a simple flush fit against the wall letting the flame effect to become the major feature. When fitted to manufacturers suggested height from the floor (usually 300mm-400mm), inset wall-mounted electric fires do not need a hearth beneath them and therefore do not take any space from the room - ideal for smaller living areas.
Another popular feature with most wall mounted electric fires is that they expel the heat from the bottom allowing you to install a television above so that the fire does not have to compete with the TV as the main focal point in the room. Also, if you do construct a stud-wall in the room to inset the fire into, this will make hiding cables for both the fire and TV easier as well as giving a plain, rectangle room more character if you decide to paint the false chimney breast a different colour to the main walls.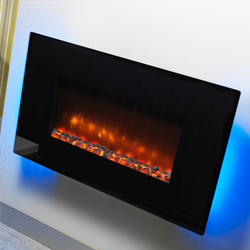 The popular Be Modern Orlando with rear ambient lighting feature which is simply hung on to a flat wall
The easiest way to gain a stylish feature into any room in your home (except bathrooms!) is to opt for a 'hang-on-the-wall' electric fire. Supplied with a bracket which can be fixed to any flat wall, the fire then attaches to the bracket for instant ambience and warmth when needed. Many of this type of wall fire also feature rear ambient lighting which offer a selection of LED light colours producing a flood of light to the back of the appliance.
These flush fitting fires are ideal for homes with or without a chimney in main living areas, dining rooms, conservatories and even bedrooms! They can be simply plugged into a standard electric socket or you may wish to chase the cabling into the wall for a neater finish.
As with the inset models, all modern electric fires can be used with just the flame effect on for a lovely, cosy atmosphere in your home no matter what the weather outside. However, when the room does get chilly, the convected heater will help to quickly warm the room up or act as a secondary heat source to you main heating supply.
The image on the right shows the popular Be Modern Orlando Flat Glass model. This sleek model with its black glass fascia frame is operated by remote control giving you armchair operation of the flame effect, heater and colour changing rear ambient lighting feature.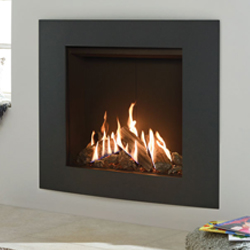 Gazco Reflex 75T fitted wall-mounted with Verve XS fascia (on live display in our Manchester showroom)
Originally only suitable for those lucky enough to have a full, Class 1 chimney in their property, wall gas fires will give any home the ultra-modern 'Wow' factor! Flickering flames dancing over coal, logs or pebble fuel effects provide a charming focal point and now many provide a genuine alternative to using your central heating and they boasts impressive high efficiency and excellent heating performance.
A selection of gas wall fires are now available for Class 2 flues which are commonly found in properties built from the 1970's. The will have a reduced depth to comply with the limited recess space available and often more of the fire will protrude into the room.
Even homes without a chimney or flue can enjoy the stylish design that wall gas fires offer as many are offered as a Balanced Flue designed for installation on an external wall with the fumes being expelled horizontally through the wall as opposed to up a chimney or flue. A high number of wall-mounted balanced flue gas fires would require a stud-wall (fake chimney breast) being built to accommodate the appliance depth and also the balanced flue pipe as most exit the fire at the top then bend 90º before the horizontal balanced flue section goes through the wall.
Two models that have been recently introduced which provide a perfect solution for rooms where no chimney is present and if you don't want to build out into the room is the Gazco Studio Slimline and Kinder Eden Elite Slimline balanced flue gas fires. The reduced fire appliance depth allows you to recess the fire into a standard cavity wall (external wall) and the balanced flue pipe attaches directly to the back of the appliance existing through the wall to a terminal similar to what you would have on a combination boiler.
The majority of wall gas fires are now glass-fronted. This results in far better efficiency and performance compared to an open-fronted gas fire which normally lose around 50% of the heat produced up the chimney. The fumes on a glass-fronted gas fire can linger around the fire bed longer as they won't spill into the room giving you more heat for less money and a fabulous, cosy way to heat the room you spend the majority of your time in.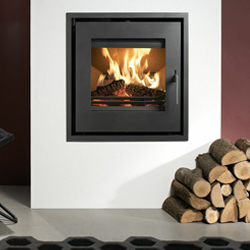 Westfire Uniq 23 Inset Convection Stove fitted raised up in the wall
Nothing compares to the character and performance that burning wood offers. Wood is a sustainable, renewable source of energy that will help us reduce greenhouse gas emissions by reducing the amount of oil, gas, and coal that we burn for heat.
For those looking to break away from the norm of a classic free-standing woodburner set into a chimney, wood burning wall fires offer a modern take on this popular way to heat your home. All wall fires that burn wood will require a conventional chimney (or custom built flue system) to deal with the fumes and to accommodate the deep fire box. A hearth is also needed to protect the floor as embers and ash are likely to fall when loading the stove.
Available in a variety of designs; square, landscape and even double-sided allowing two rooms with an adjoining chimney to enjoy the roaring flames and superb heat! Simple styles mostly the glass viewing window on show or models with designer fascia frames work especially well in contemporary styled properties.
Even if your home is located in a smoke controlled area, many of the wood wall fires offered burn the logs so cleanly that that have been classed as 'smoke exempt' appliances by DEFRA allowing you to enjoy these incredible heating appliances anywhere in the UK!