The best Electric Fires for Media Walls
Electric fires have come a long, long way since the spinning disc above a light bulb which creates a 'flicker' whilst illuminating coloured glass stones. With more new homes built without consideration for a fireplace, many are opting for electric as their choice for a new centerpiece. Modern properties are also built with excellent insulation so a major positive with electric fires is that you can benefit from a lovely, authentic flame without the need to use the heater - something not possible with a gas fire.
All new electric fires have to be extremely efficient with energy saving features built into the fires which will automatically shut-off the heater if an open window is detected. On flame effect only mode, low energy LED bulbs cost a fraction to run compared to standard bulbs so you can enjoy year round ambience without worrying about running costs. When extra heat in the room is needed, you can pre-set your heat comfort level for automatic temperature control using the thermostat.
The 'Media Wall' concept started a few years ago and has continued to prove extremely popular. No longer does the fireplace have to compete with the TV as the rooms main feature, combining both together in a newly constructed stud wall not only provides a wonderful centerpeice but it also allows for concealing cables from both the fire and the TV plus it allows you to create custom alcoves or build a log store within the wall to add to the realism of the fires flame effect.
So if you're looking for a striking feature fireplace which you are free to enjoy in virtually any room in your home by simply by plugging into the nearest mains socket or connecting into a fused spur, we have listed our favourite models which will enhance your home.

Elgin & Hall Arteon
Why we like it: Spectacular, deep flame effect. Colour changeable flames and fuel bed illumination and supplied with numerous fuel effects allowing you to choose desired set at home. Taller proportions than most for the ultimate impact.
The Arteon is Elgin & Hall's latest addition to their amazing 'Pryzm' range of electric fires. Boasting ground breaking visuals, the Arteon is offered in 1000, 1250 or 1500 sizes with each model having the benefit of being able to be fitted as a 1, 2 or 3 sided feature.
Incorporating Elgin & Hall's patented '5D' flame technology, it produces a dramatic array of hypnotic flickering flames through it's panoramic glass screen with 13 colour options and rotation setting. The Arteon is taller than most fires of this style which therefore provides a better flame view and more impact in the room.
Simple to operate, you simply adjust the settings with the touch of a button from the comfort of your sofa, including the flame effect and heat output. The discreet heater system gives out an idyllic 1.5kW heat; produce your desired ambience with the 7 day programmable thermostat remote control.
In addition to the hand-painted log effect fuel, the Arteon is also supplied complete with 4 Fuel bed dressing options: crystals, pebbles, slate & bark so you can create your own unique fire at home. For added ambience, you can choose an optional 3 metre length of LED strip lights which can be used to run under a custom plinth or around the back of alocoves built into the media wall to provide a striking visual display changing to the same colours selected on the fire.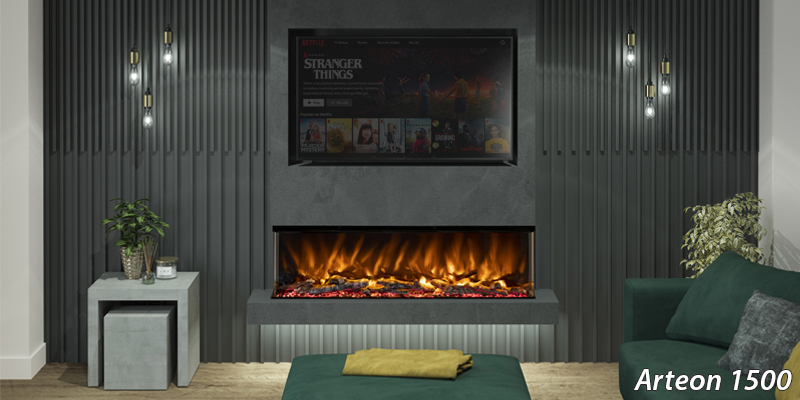 Gazco eReflex
Why we like it: From the highly regarded Gazco brand, the eReflex range of electric wall fires us offered in a wide variety of sizes from square proportions of the 55R up to the mighty 195R which boasts a panoramic flame view extending to nearly 2 metres! Ideal for any style of Media Wall setting, colour changeable flames are standard on the eReflex whilst the thermostatic handset gives full control over the fire's host of features.
Captivate your senses with the Gazco eReflex range. Designed with the very latest LED technologies and offering a choice of stunning fuel beds, this innovative electric fire range lets you decide on the perfect ambience to suit your mood - with only your imagination to hold you back.
No matter what style of Media Wall you're planning, there's a model in this range of state-of-the-art electric fires that will suit. Landscape and portrait models in a large selection of sizes designed to be recessed into a wall with an average depth of approximately 270mm (10½").
All models in the eReflex range are 1 sided allowing a view of the fire through a glass screen. When enjoying the flame effect, you have three stunning flame options to choose from including Amber, Blue and Amber with Blue Accent. Each flame colour is enhanced with matching down-lighting, which bathes the fuel bed in either amber or cool white for a truly immersive display.
As well as the flame effect only setting, the eReflex features a concealed fan heater with 1kW or 2kW heat output. Benefiting from thermostatic ambient heating, you can select the optimum room temperature you desire and the Gazco eReflex does the rest for you. Choose between 15°C and 25°C degrees, and depending on the temperature the eReflex will reach the desired level as efficiently as possible.
Updated Oct 28th 2021
Gazco have just unveiled their brand new eReflex 150RW. The new generation of eReflex electric fires, the 150RW is the first model in the range which can be fitted as a 1, 2 or 3-sided feature as standard. Simply remove the side blanking plates if required and let your imagination go wild with endless styles you can create your perfect centrepiece! The Gazco eReflex 150RW also has an optional Mood Lighting Kit available which which plugs into the fire and you build into the stud wall or used to illuminate behind a TV if building a Media Wall for example. The lights are controlled from the fires handset and offer you a palette of vibrant colours that can be set to display the same colours as the fire or set to display a different, vibrant colour.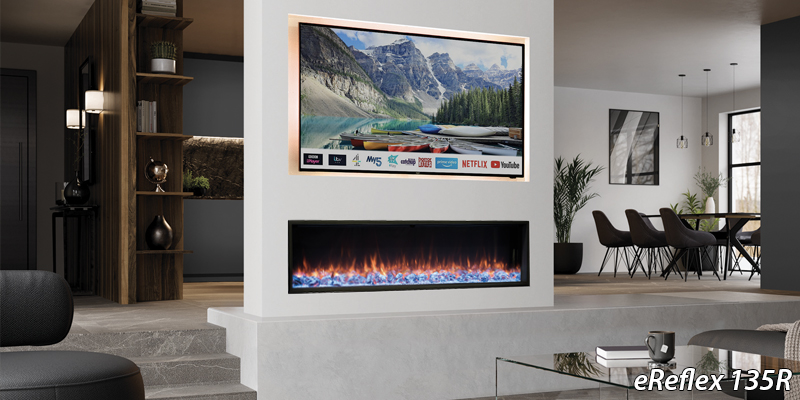 Dimplex Ignite
Why we like it: The most competitively priced fire in this size range, the Dimplex Ignite was originally designed for the American market but there's now 2 models brought to the UK. Whilst the fuel bed options may be limited, the Dimplex Ignite XL 50 and XL 74 still feature a colour changeable flame as standard.
Incorporating Dimplex's unique 'Optiflame®' flame effect, the Ignite inset electric fire provides the option of enjoying dancing flames without without heat in a choice of six different colours. Boasting edge-to-edge' glass, the Dimplex Ignite will add a stunning feature to any modern home.
An ideal electric wall fire to fit below a TV, this contemporary fire has a slimline total depth of 147mm (5¾") so when built into a stud wall, it won't take up too much space in the room. A stylish Crystal effect fuel bed adds to the modern appeal and enhances the colour changeable flames.
The smaller Ignite XL 50 has an overall width of 1306mm (51½") whilst the largest Ignite XL 74 boasts a whopping overall width of 1941mm (76½")!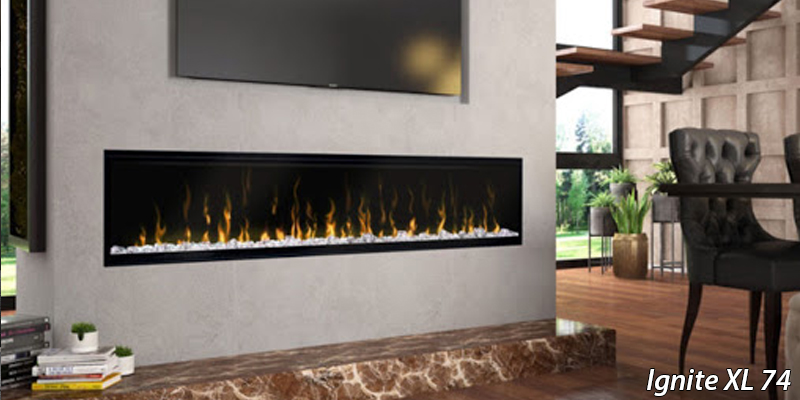 Be Modern Avella Grande
Why we like it: Relatively low priced, the Avella Grande from Be Modern has been a firm favourite with those looking to create a modern focal point combing their TV above in a Media Wall. Whilst it doesn't offer many of the advanced features of higher priced wall fires, the Be Modern Avella Grande boasts an attractive log effect fire with a neat, outer trim available in Black Nickel or Matt Black.
A wide aspect electric fire designed to be recessed into a wall or existing chimney with adequate depth available to accommodate the fires 165mm (6½") engine depth. The Be Modern Avella Grande is supplied with a neat 4-sided trim in a choice Black Nickel or Matt Black which frames the fire beautifully.
Set behind a glass screen, the log effect fuel bed and dancing flames will bring any room to life whilst with low energy, LED bulbs, you can rest assured that it won't cost much to run. The fan heater within the fire works independently to the flame effect and is capable of providing up to 2kW of thermostatically controlled heat.
This stylish inset electric fire will provide a wonderful focla point for your living room. When fitted below a TV, it provides a very modern feel and is the perfect finishing piece to your living area.