The Best Electric Fires 2023
A major benefit of electric fires compared to gas or wood is you can enjoy authentic, flickering flames without any heat. This makes them ideal for year round use where homeowners can create a lovely, cosy atmosphere at the press of a button - even in the peak summer months!
Having a fireplace in your home provides a focal point and really enhances your mood. It's not just main living areas - even dining rooms, studies, conservatories and even bedroom look gorgeous when you add a fireplace! It really does becomes the heart of any room.
With minimal installation stipulations, any home can take advantage of fitting an electric fireplace. They're simply plugged in or connected into a fused spur and do not need any venting. There do not require annual servicing and once fitted, will provide many years of enjoyment.
A fashionable style of electric fire over recent years has been the landscape, inset wall fires. Available in a wide variety of sizes to suit any room size, they are designed to be built-in to a stud wall where you can opt for 1, 2 or 3 sides of the fire to be on show with many models.
The latest electric fires offered in the UK are EcoDesign compliant with various features which aid performance and efficiency. LED illumination ensure that they are extremely cheap to run on flame effect only setting so it's something you can enjoy whenever you're at home without worrying about energy bills.
When building a stud wall to accommodate the electric fireplace depth, this can often give plain, rectangle rooms more character - especially if you decorate the newly build wall differently so it stands out within the room. Popular styles include a statement paint colour, jazzy wallpaper, Venetian plastering or tiled.
The stud wall (or false chimney breast) can be created to your individual style. Hugely popular is building a recess above the fireplace to inset your TV. Here at Flames.co.uk, we always recommend choosing a fire that is wider than your TV as this looks best in our opinion but there's no set rules. Virtually all electric wall fires expel heat downwards when the heater function is in use.
You can really let your design skills run wild when creating your ultimate 'Media Wall'! In addition to storage departments to discreetly hide you satellite or cable media box, you can build alcoves in the wall to display picture frames or your favourite ornaments. This can be accentuate along with your TV recess with additional LED strip lighting with many electric fires offering this as an optional extra with the fire allowing you to adjust all lighting from the fires remote control.
Here's a list of some of our favourite electric fires that combine superb flame effects, fuel beds, options and ease of use.

Charlton & Jenrick i1500e Deep 1-2-3 Sided Electric Fire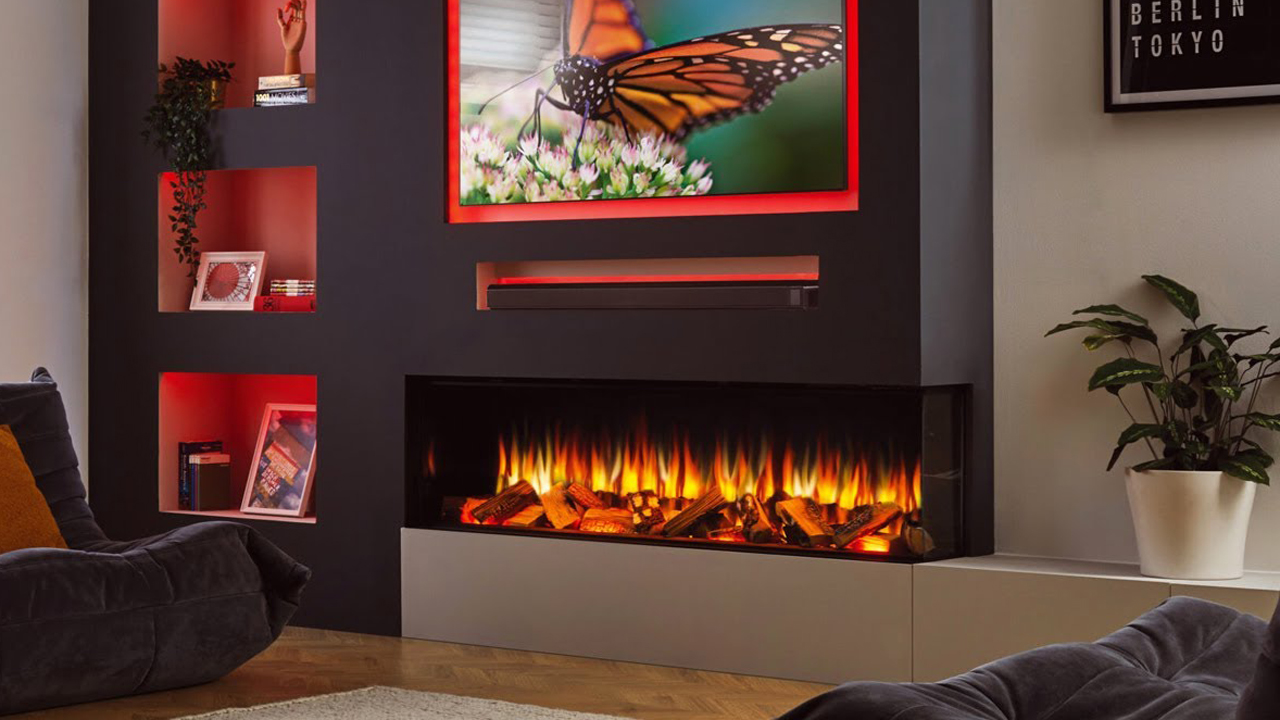 Vibrant and vivid dancing flames operated by a multifunctional remote control. For a warming glow during the colder months, the i1500e Deep looks great with warm tones of orange, yellow and red. To create a contemporary feature whilst it's hot outside, why not select the cooler hues of blues and purple?
This model boast a deeper fuel bed which adds to the realism and allows for a new chunkier log set and increased illumination of the fuel bed thanks to a new glowing front log feature that has been added. The 1500 width is ideal for standard rooms and the most popular size for this type of wall fire.
The i1500e Deep gives you the option of installing as a 1, 2 or 3 sided feature by simply removing the relevant side blanking plates. Create a 'hole-in-the-wall' feature either recessed fully into a stud wall so only the main front aspect is on show. A contemporary 'corner' fireplace at one end of a stud wall when removing the left/right hand blanking plate. For a stunning, 180° view of the fire, with both side blanking plates, you can enjoy a 3-sided centrepiece!

Gazco eReflex 135RW Electric Fire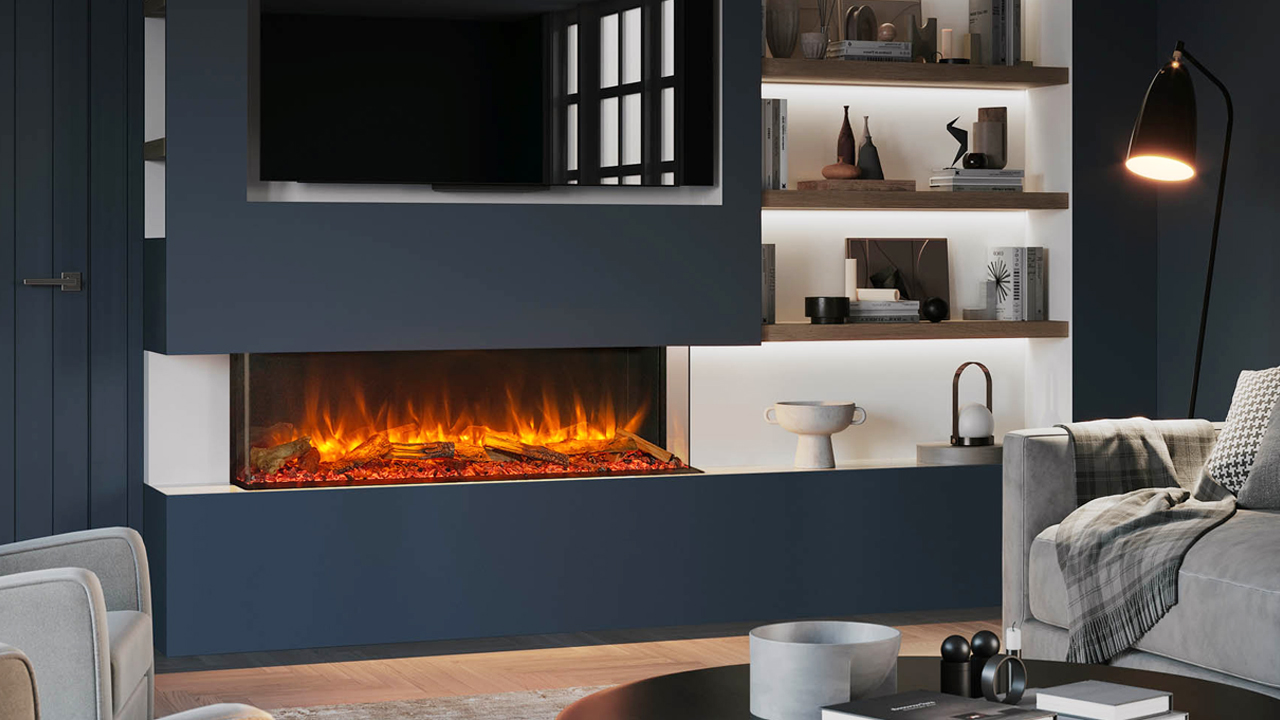 The eReflex from Gazco has been a firm favourite for anyone looking to build a media wall style feature in their home. The original 'R' models were single sided only allowing you to recess into the wall with just the face of the fire on show. The new generation 'RW' eReflex models now allow for a 1, 2 or 3 sided installation so you can really let your imagination run wild when designing your dream fireplace!
Designed with Gazco's latest Chromalight® LED technology, the eReflex 135RW electric fire lets you choose the perfect ambience to suit your mood. This contemporary centrepiece is brought to life by authentic fuel effects, eye-catching flame visuals and a pulsing realistic glowing ember bed. Thanks to a choice of multiple flame effects, and a variety of fuel bed lighting options plus a gradually changing spectrum mode, the highly advanced eReflex 135RW makes it possible to create your own bespoke ambience.
Using the innovative app or Thermostatic Eco Remote Control, you'll not only be able to turn on or off the heat independently of the display, but have full control over the array of immersive lighting options available, all from the comfort of your sofa. To further enhance your space, an optional mood lighting kit is available which can be placed around your TV or shelves, to bathe them in your choice of 13 vibrant colours, or the steadily changing spectrum mode.

British Fires New Forest 1600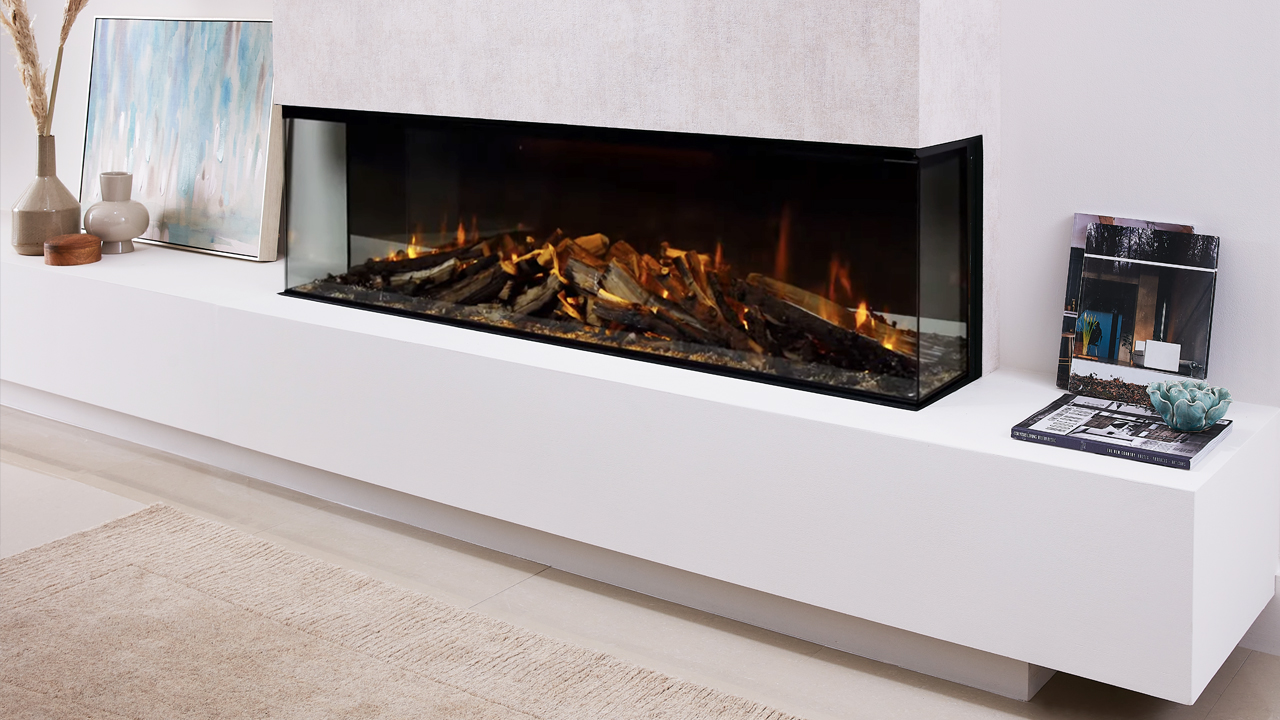 This designer electric fire constantly gets rave reviews from customers visiting our showroom. British Fires offer their New Forest model in a range of sizes up to a whopping 2400mm! We think the New Forest 1600 is the 'sweet spot' for most room sizes where it is plenty big enough to become the main feature in the room.
The flame visuals on the New Forest 1600 are incredible and further enhanced by the signature logs which are hand-crafted to capture every detail of a log found in the New Forest National Park. You can add to the realism even further by opting for British Fires 'Deluxe' log upgrade. Each Deluxe Real Log is unique and artisanly crafted using actual logs found in nature.
The development process of the Deluxe Real Logs fuel bed begins by selecting different sized logs, branches, and twigs to create a natural log layout. Then placed on a forest floor bed comprised of bark, twigs, and log remnants. A resin mix is then added into the base and cured in an oven to permanently fix the logs.
The New Forest 1600 has flame only setting so you can create a lovely, cosy atmosphere in your home all year round. When you do require a boost of heat, this state-of-the-art electric fireplace boasts 'Air Curtain Technology®'. The patented engineering design not only commands performance but is designed to distribute heat effectively throughout a space. Choose a temperature between 17° and 27°C and the fire will do the work to heat the room up effectively.

Glazer 1500 Electric Fire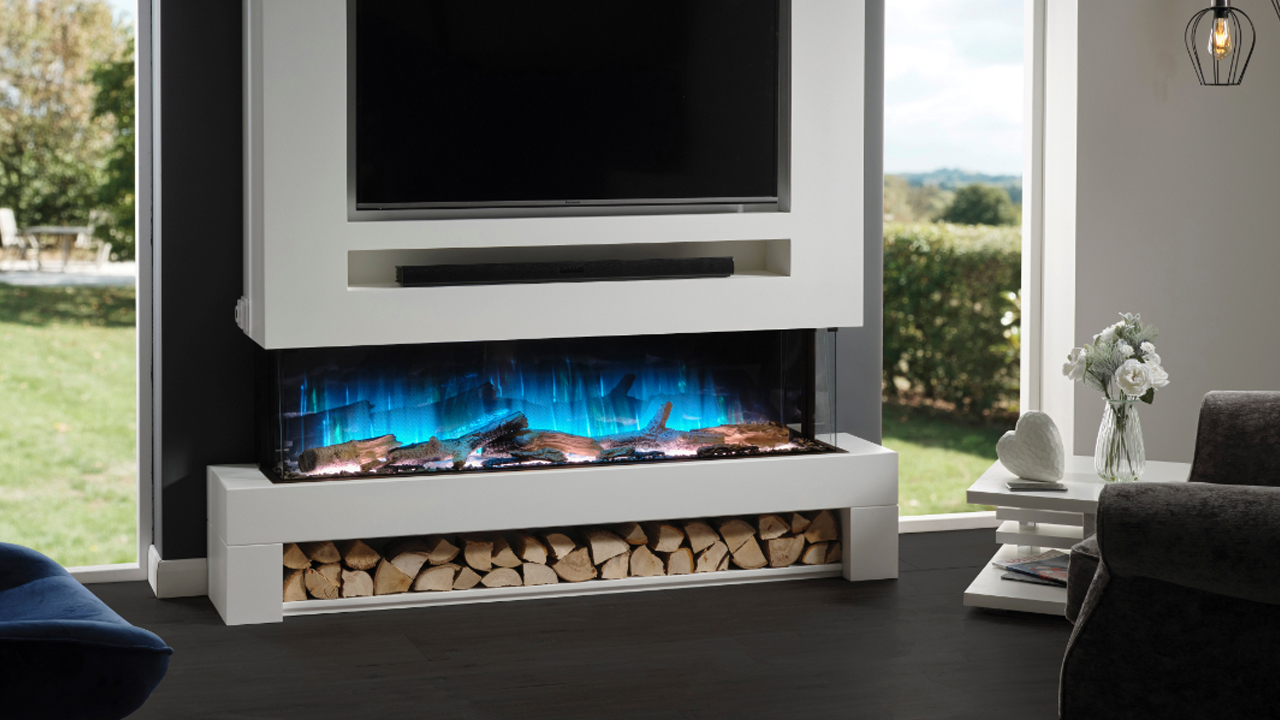 Over its 23 year history, Flamerite Fires has produced a remarkable collection of electric fires using cutting-edge technology. Their innovative electric fires and fireplaces include inset, wall-mounted models, freestanding suites, inset electric fires designed to be combined within a fireplace and electric stoves.
The Flamerite Glazer is their premier model ideally suited to media walls. Available in a choice of sizes to suit any home, you can install the Glazer 1500 with just the main face on display as a 'hole-in-the-wall' style feature, with the front and 1 side on show as a corner fireplace or for a wonderful 180º flame view, a 3-sided focal point.
As you would expect from a premium British manufacturer, the Glazer 1500 is packed with features including Flamerite's unique OmniGlide 2 position front glass, a thermostatically controlled 750W/1500W concealed fan heater and a choice of Large Cinderwood or Hybrid Woodland Logs fuel effect.
As with most models in the Flamerite range, the Glazer is available with a choice of 2 exciting flame effect options. Radia Flame is their standard flame producing a strong and radiant flame image with warm tones of yellow and orange with a deep fuel reflection. Flamerite's new Nitra Flame gives you the ability to change the flame colours either through the remote control or with your phone or tablet using the dedicated app.

Celsi Electriflame VR Commodus S-1600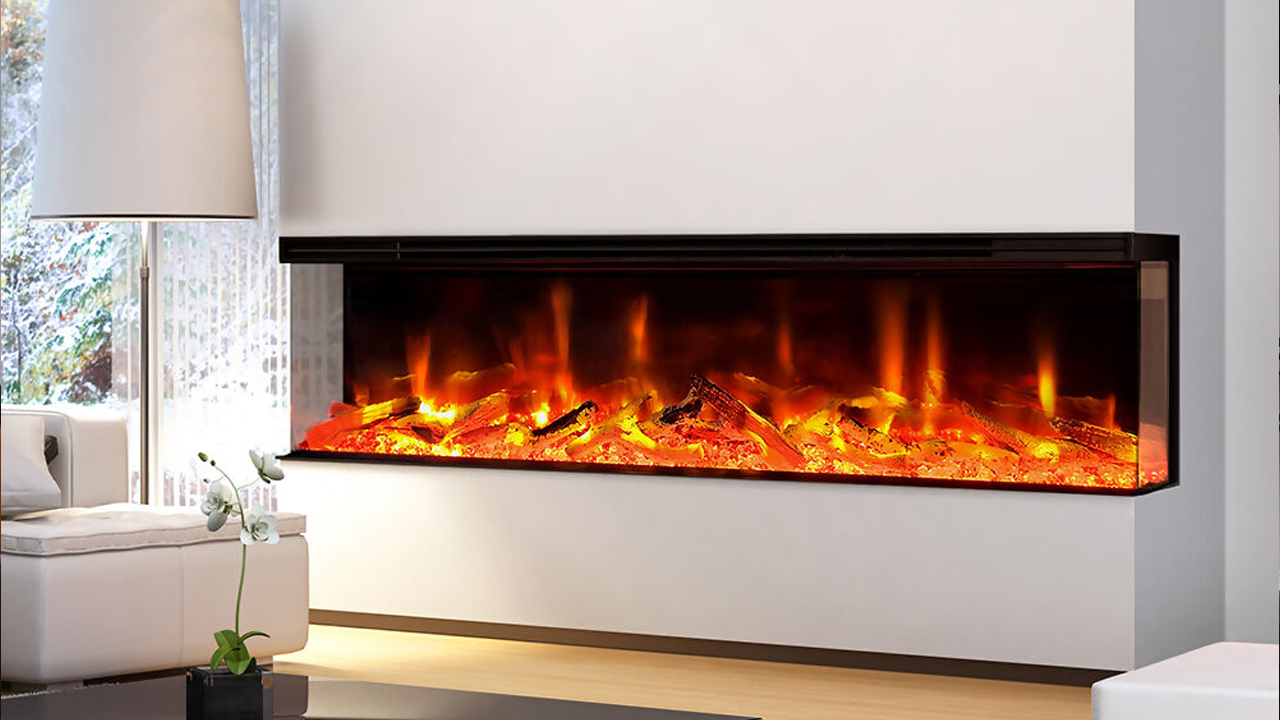 The Commodus S1600 is from Celsi's latest range of 'E-VR' - Electriflame Virtual Reality fires. It raises the appearance and functionality of electric fires to a new level. Conventional electric fires feature flames on a flat screen at the rear of the product, with Celsi's E-VR Flame Projection Technology they create the flame illusion to the front, the centre, and the rear of the fuel bed. This creates a totally natural log fire effect.
Choose whether you fit this panoramic feature fireplace as a 1, 2 or 3 sided design and create a spectacular media wall when combined with TV above. Supplied with a customisable fuel effect with Woodland, Silver Birch log sets plus Active Crystal Embers all included.
The Celsi Commodus S-1600 allows you to select from 16 pre-set colours and 100+ custom colours in animation mode. You can use the fires remote control or connect to your phone or tablet to adjust all settings plus it's Amazon Alexa and Google Assistant compatible.
As with all the fires on our list, the Commodus S1600 can be operated with just the flames and no heat for year round use. When needed, the fire features a concealed fan heater with instant, controllable heat of up to 1.6kW.