RAIS Stoves - Manchester's New Premier Dealer of RAIS Wood Burning Stoves

From their production facilities in Frederikshavn, Denmark, RAIS all work to create the very best product – every time. That is why you can be sure that when you choose a product from RAIS, you get Danish design that never compromises on quality.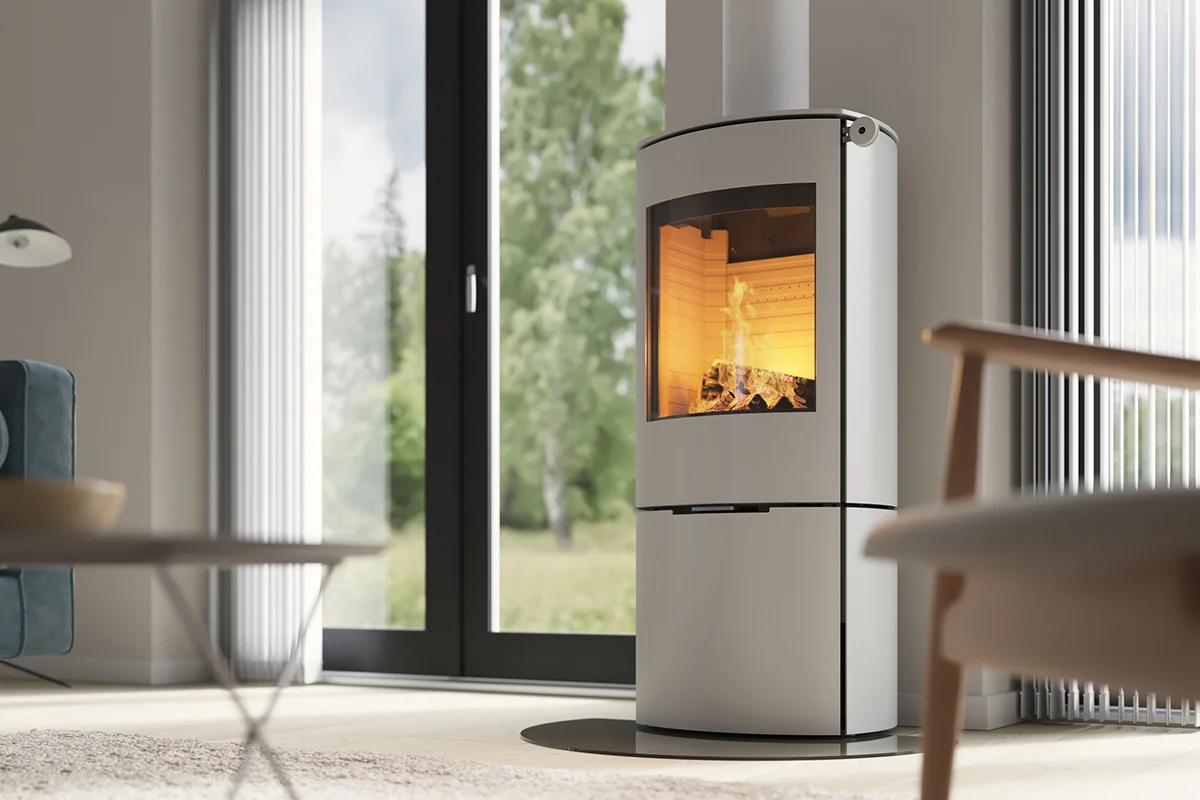 We're delighted to be selected as a RAIS dealer covering Greater Manchester and Cheshire and have started to receive a selection of some of the fabulous RAIS wood burning stoves in our showroom. Highly regarded within the stove industry thanks to their premier construction and cutting-edge, Scandinavian styling, the stoves will be a popular addition to our range and will appeal to discerning homeowners.
From the ultra-cool RAIS Caro characterized by its compact and attractive design with a discreet rounded front and curved sides that will look sensational within any modern styled home to the RAIS Q-Tee designed especially for the UK market which looks amazing either recessed into an inglenook chamber or sat on a hearth freestanding in the room.
A RAIS wood-burning stove is an uncompromising fusion of technology and aesthetics, form and function, design and craftsmanship. It is timeless elegance, carefully designed details, and exclusive quality that lasts.
From contemporary, cylindrical wood burners to minimalist, built-in inserts, the RAIS range will appeal to all interior design schemes. In addition to their stunning designs, you can tailor the stoves further by choosing your preferred door handle, colour and select from one of RAIS matching accessories including designer fire tools and log storage solutions.
It's these details that make the difference when choosing a RAIS stove. It gives the feeling of having something that is very special and unique to your home! Nothing is left to chance, and everything is carefully considered down to the smallest detail. Their uncompromising attention to detail explains why several of their stoves have received internationally acknowledged design awards over the years.
These state-of-the-art, Danish stoves are designed to ensure the flames are the centrepiece and allow them to fill the room visually. RAIS stoves are distinguished by their exceptionally large glass panes that make the flames the natural focal point of your home.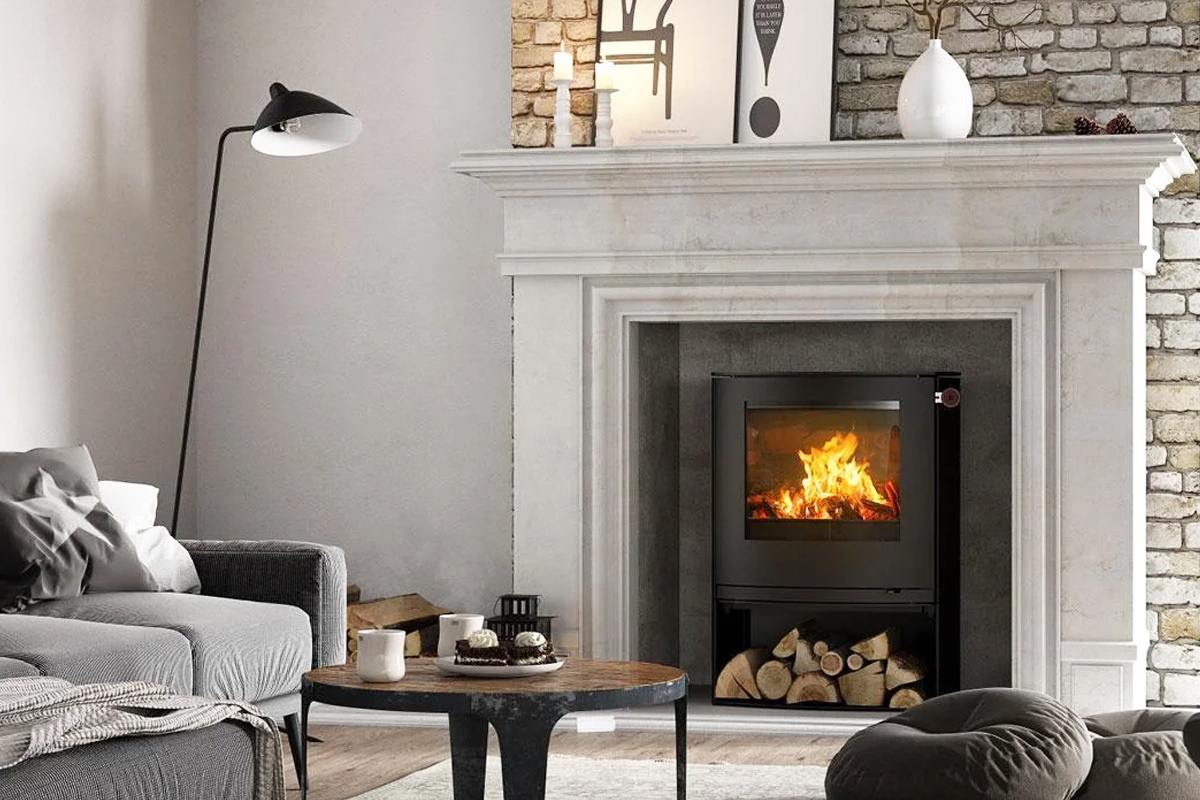 The extra-large panes offer an exceptional panoramic view of the fire which is a distinctive and unique RAIS feature. Several models are also available with large side panes allowing you to enjoy the flames from almost anywhere in the room.
For the ultimate fireplace experience, a selection of RAIS stoves are offered with the choice of an optional revolving base. When mounted on a revolving base, you can turn the stove 360 degrees and enjoy the flames and fireplace ambience from every corner of the room.
Featuring Advanced Glass Concept® which effectively minimises soot build-up on wood stove glass and ensures that you can always enjoy a beautiful view of the flames through clean panes. Soot build-up is avoided by getting to operational temperatures quickly and by ensuring high temperatures in the combustion chamber. RAIS ensure this process by using coated glass and two-layered glass that reflect the radiant heat.
One of the many small details that makes a big difference with this premium range of stoves is the stove door closing mechanism. The closing mechanism is made from high quality materials and is designed with two closing hooks that ensure an airtight combustion chamber and thus an effective utilisation of the firewood. The unique construction of the two closing hooks also ensures that the door closes softly and discreetly – with the sound of quality.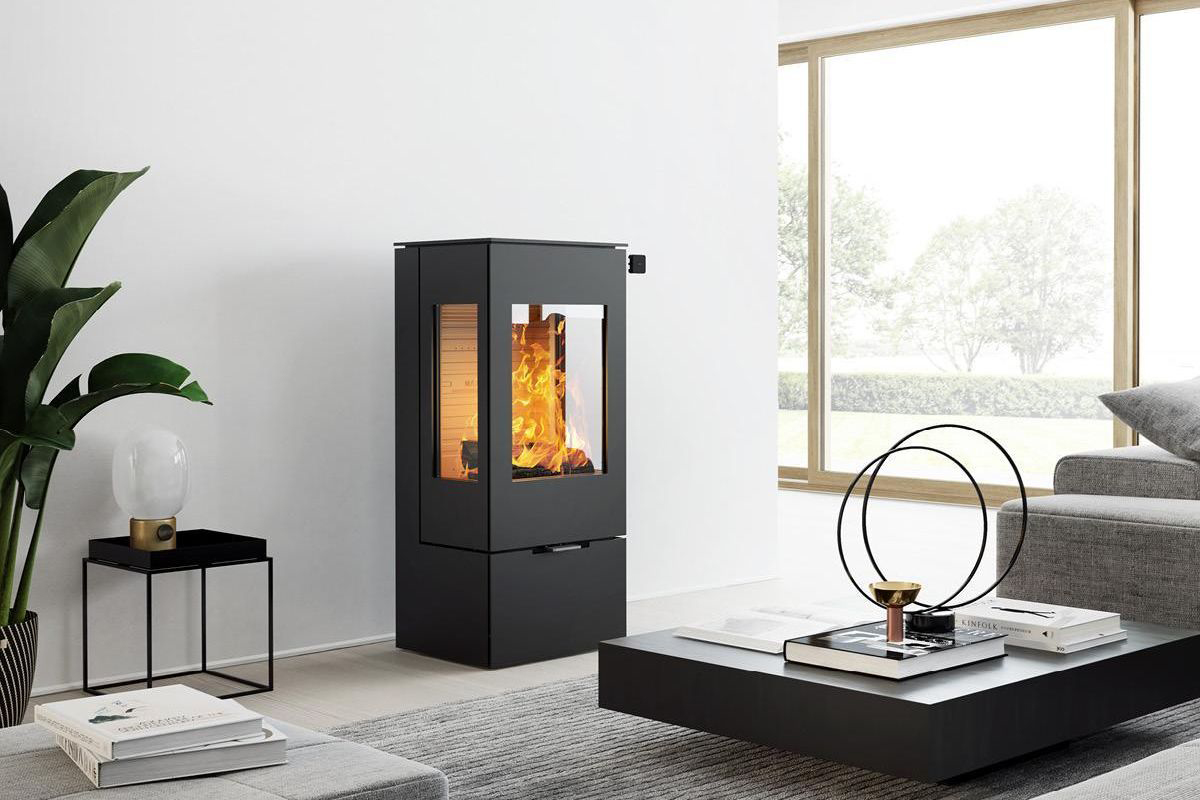 RAIS stoves are distinguished by their user-friendly design. An example is their air damper systems with easy-to-understand symbols and rubber covering to ensure an easy, comfortable and correct operation of the damper and air supply. In addition, the damper is constructed with ball bearings that reduce noise during handling and add to a superior user experience. When you operate the air damper, the ball bearings also ensure that you can easily feel whether the air damper is in the middle, closed or fully open position.
Experience new standards for how you can heat your home with a wood burning stove in an elegant design. With unique solutions, RAIS give you a timeless, aesthetic piece that creates a cosy atmosphere in your home. With a combination of solid handwork and new technology, you get a stove that will undoubtedly live up to your expectations. All their wood burning stoves are designed and created in the Scandinavian design tradition – elegant and functional.
To experience the style, function and heating performance that is offered from a RAIS stove, contact our Manchester fireplace showroom team who will be delighted to offer a full demonstration of these superb wood burning appliances. We can provide a home survey throughout Greater Manchester and Cheshire and our HETAS installers can provide a professional installation service.
Showroom address:
The Heat Depot
Harpoon House
Sharp Street
Middleton
Manchester
M24 1AD
Tel: 0161 654 1610 (main number) 0161 654 1616 (showroom direct number)
Email: showroom@heatdepot.co.uk