The amazing new Pryzm electric fires from Elgin & Hall



Celebrating contemporary design and embracing advanced technology, Elgin & Hall introduces the next generation of electric fires & fireplaces - the Pryzm...



EXPERIENCE THE LIGHT
The Pryzm brings a new dimension to modern day living. Synching seamlessly with an instant world, the Pryzm delivers immediate heat, with a breath taking and ground breaking visual performance. A bold, broad profile boasts a glass screen of cinematic proportions. As if to underline the obvious beauty, a floating hearth slices through the structure, creating a distinctive silhouette. designed to stretch theatrically across your wall, it will confidently take centre stage.
The Pryzm is not only a fireplace, but a piece of functioning modern art which will adapt to your mood, your style and your surroundings at the touch of a button. Escape from the rapid rhythm of everyday life and take a moment to appreciate the comforting 2kW enveloping warmth and outstanding visual flame effect with a realism which will intrigue and amaze. The warmth is encompassing, the aesthetics are inspiring, the flames are revolutionary; Experience the light with the Elgin & Hall Pryzm.

UNIQUE FLAME AND FUEL BED EFFECT
It's the patented 5D flame effect which makes this centrepiece so unique and desirable. Discover the full, dramatic expanse of the panoramic screen as the fuel bed ignites with a hypnotic and mesmerising display of flickering flames. Appreciate the full contours of each LED flame which will dance before you upon a bed of ultra-real logs. Remaining cool to touch, you will be forgiven and permitted to reach out and admire the handcrafted and hand painted logs, finished to a level of realism and artistry that will astound you.
Locked into place and strategically positioned to create a natural composition, the logs will glow with smouldering illumination when your fireplace is ignited. For added depth, a secondary internal glowing log bed rests behind the glass, adding a deeper 5th dimension of illusion and enchantment. It's truly mesmerising.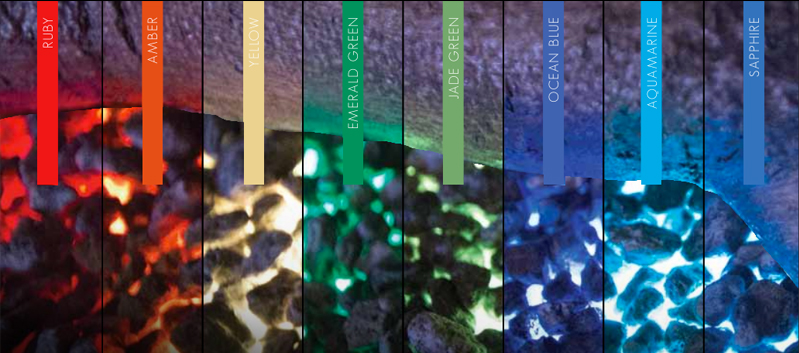 REMOTE CONTROL - 7 DAY PROGRAMMABLE THERMOSTAT

EXPERIENCE THE ULTIMATE HEAT MANAGEMENT SYSTEM


Enjoy a bespoke heating experience with the 7 day programmable thermostatic remote control. With a simple click of a button, the Pryzm remote offers an array of convenient features, benefits and effects, all from the comfort of your sofa.
DAILY & WEEKLY PROGRAMMABLE SCHEDULE
For ultimate convenience, the Pryzm remote control comes complete with a daily and weekly programmable feature allowing you to pre-program your fireplace to turn on or off, as you wish. with three daily settings, over an entire week, you can ensure that your room is at your desired temperature when you need it most. The fire will automatically turn off as it reaches the end of a scheduled slot, or as soon as the handset detects that your room has reached your preferred level of warmth. Change of plan? no problem, simply select 'advanced mode' to override your schedule.
5D FLAME EFFECT
Choose from three entrancing flame effects; deep red, golden amber or a combination of both. The realistic log bed smoulders to showcase intricate hand finished detail. Dim the flames back to a smolder and a subtle smoke illusion will rise from the logs.
MULTI LED EFFECT FUEL BED
The distinctive fuel bed of the Pryzm comes to life as ambient light radiates from beneath pebbles giving the appearance of smouldering embers. Select your desired hue or opt to experience all 13 delightful shades which blend with hypnotic rotation.
OPEN WINDOW SENSOR
Should there be a rapid drop in room temperature, your handset will activate the 'window open' warning and your fire will automatically turn off. as the heat returns, your fireplace will resume as programmed. This energy saving function ensures that you gain maximum results with no wastage.
TIMER FUNCTION
Designed with energy efficiency in mind, you can program your fireplace to turn off automatically after a set period of time, from half an hour and up to 9 hours. set it and forget it, as the Pryzm performs to your every command, it's that simple.

UNIQUE FEATURES
5D flame effect with three flame colour settings
A multi – LED effect fuel bed with 13 colour options and rotation setting
Patent pending design
Realistic post flame smouldering smoke effect
7 day programmable thermostatic remote control
Eco design compliant
Realistic, hand painted, loose log display
Down lights illuminate the loose logs
Panoramic glass screen for optimum flame performance
Glowing ember effect with miniature pebble fuel bed

As a official supplier of Elgin & Hall products, Flames are excited for the imminent release of the Pryzm range of electric fires. This stunning collection of fires include stand alone wall-mounted models and custom designed suites in wood and marble and we plan to display some of these fires in our Manchester fireplace showroom - call us on 0161 654 1610 for further details.