New range of Multi-Fuel Stoves launched by ACR Heat Products
ACR Heat Products have been the UK distributors of leading brand stoves including Vermont Castings, Franco Belge, Varde Ovne and Nordpeis for many years. They have used their extensive knowledge of the stove industry and released their own range of exciting multi-fuel stoves which are available in a vast range of designs, colours, styles and outputs.
The first range to be released by ACR were steel bodied stoves. Manufactured using high quality plated steel, these stoves have proved to be extremely popular thanks to the excellent performance, innovative design and extensive options available. This range includes models named Earlswood, Astwood, Buxton and Malvern. They all feature large viewing windows giving you the ultimate view of the flames and most can be supplied with a log store base making them ideal as a free-standing appliance in modern interiors.
Following on from the success of their steel stoves, ACR displayed their brand new range of cast iron stoves at the 2014 Hearth & Home trade exhibition at Harrogate. They received a fantastic response and it is clear to see that ACR have taken inspiration from their vast experience and produced this range of multi-fuel stoves to suit the needs of the UK market perfectly!
Cast iron is synonymous for its robust properties and longevity. This is reflected in the 5 year warranty given on the stove body. If you are looking for a 'work-horse' appliance, these stoves are designed especially for their performance and heating efficiency. There models range from 5kW which is ideal for small to medium rooms and don't normally require additional ventilation to 7kW stoves that will provide larger rooms with a abundance of heat whenever needed.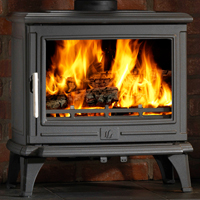 ACR Rowandale Multi-Fuel Stove
An important factor when choosing a new stove is the look and ambience it will offer to your home. All ACR Heat Product stoves feature large glass viewing windows that let you enjoy the dancing flames in all their glory. The Rowandale stove is sure to become a firm favourite with any discerning home-owner thanks to its landscape dimensions and panoramic glass window whilst retaining a nominal heat output of 5kW and therefore not normally requiring an air vent in the room.
The cast iron models are finished in classic, matt black and will suit a variety of interior styles. You can also choose from three striking enamel finishes as a cost option. Gloss Black, Majolica Brown or Buttermilk enamel give the stoves a chic look that will make it stand out even when its not in use! All of these stove incorporate the latest multi-fuel and wood burning technology which allows them to be operated easily giving you virtually instant control of the flames to ensure the fuel burnt is done so efficiently.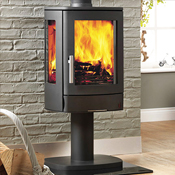 ACR Neo 3P Multi-Fuel Stove
In addition to the new cast iron stove range, ACR have also produced a selection of contemporary stoves designed for modern homes. These stunning models are unusual as unlike the majority of existing stoves of this type, they give you the option of burning either logs or approved solid fuels. They incorporate a multi-fuel grate and innovative 'slide-out' ashpan drawer making it so easy to empty the ash produced by the burning process.
Constructed using high grade steel, the Neo range of stoves are available with triple aspect windows, log store models and ultra-modern, wall-mounted versions. Again, they offer a superb view of the flames from huge glass windows and are extremely controllable allowing you to maintain a even temperature for your home. All of the ACR Neo stoves are finished in matt black and will offer a stunning, highly efficient centre piece for open plan living areas.
All of these models are available with fast, free delivery direct to your door throughout Mainland UK. We will supply a free 'fitters kit' which comprises of a 1 metre length of black stove pipe, a steel register plate, a tub of fire cement and a heat resistant glove. You can also spread the cost of your purchase with 0% finance being offered (subject to status) on the complete ACR range of stoves. View the full range online and please don't hesitate to contact us if you require any more information.