New Generation Gazco eReflex Electric Fire Range
Following the 55RW, 75RW and 150RW launched over recent months, the new additions to the Gazco eReflex collection include the 85RW, 110RW, 135RW and 195RW. All of these models have been refreshed with the new generation engine, and are now available with Gazco's all-new flame and log effects, app control, plus optional mood lighting kits.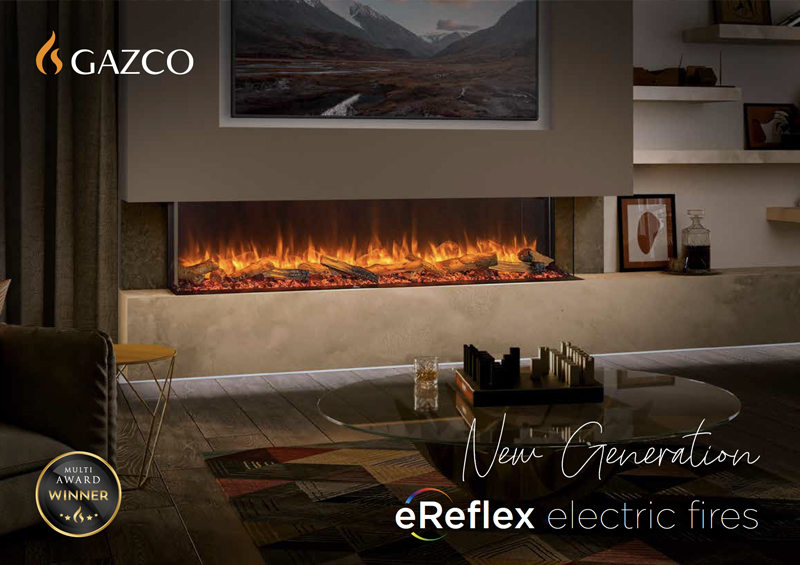 Fireside comfort come rain or shine – the new generation eReflex range effortlessly combines beauty with convenient electric heat, putting the artistry of fire right at your fingertips. But the eReflex doesn't just deliver mesmerising effects and a fireside glow. Designed with the very latest Chromalight® LED technologies, a choice of stunning fuel beds, plus app control, this innovative electric fire range lets you choose the perfect ambience to suit your mood, with only your imagination to hold you back.
Conjuring dramatic flame effects, sparkling embers and an enchanting ambience, the eReflex's ground-breaking lighting systems effortlessly create the magic of a real fire... and much more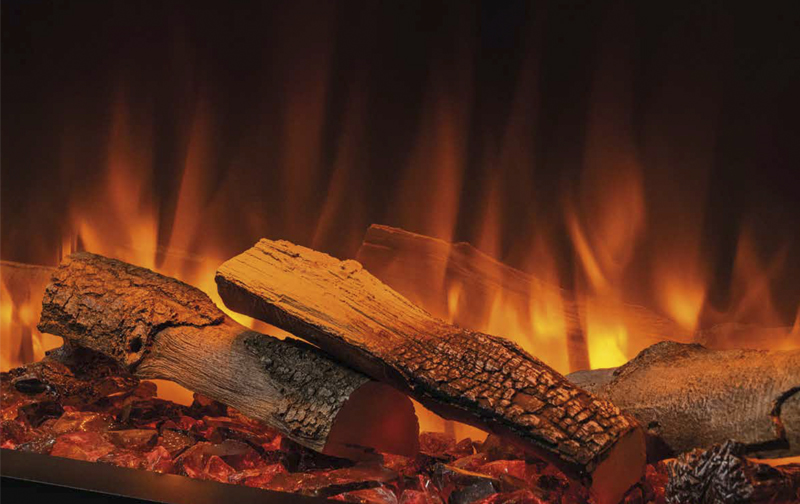 Immersive Lighting System
eReflex fires use Gazco's Chromalight lighting system to create a mesmerising display with almost endless possibilities. Vivid flame effects are projected to appear amongst the fuel bed for a deep, three-dimensional display and can be set to natural amber, striking blue or even a combination of the two. Each flame colour is enhanced with downlighting, bathing the fuel bed in your choice of warming amber or cool white, for a truly immersive display.
Eight fuel bed lighting colours illuminate the fuel effects from below, providing relaxing, mood-enhancing ambience. Fuel bed lighting can also transition through each vivid colour for a gradually changing spectrum, providing the ultimate wow factor.
Customisable Fuel Bed
The new eReflex comes with the life-like Oak Log effect, or the contemporary Crystal Ice effect – both of which can be interchanged at your leisure to suit your ambience.
Optional Mood Lighting System
An optional mood lighting system lets you enhance your space, with up to 6 metres of LED lighting for accompanying shelves or around your TV. This kit offers 13 different lighting colours plus a gradually changing spectrum mode to complement your fire, or even your home's décor.
Key Features:
Can be easily configured as a three-sided, two-sided, or single-sided fire
Chromalight® LED System
Comes with life-like Oak Log effect, or the alternative Crystal Ice effect
Pulsing glowing embers for realism
Three flame colour choices including amber, amber with blue accent, and blue
Downlighting illuminates fuel effects with lighting to complement flames
Eight fuel bed lighting colours, plus cycling spectrum mode
Programmable Thermostatic Eco Remote Control
App control on iOS and Android devices
Up to 2kW programmable heating
Ecodesign Energy Saving Features
Optional Mood Lighting System
Flames can be enjoyed with or without the heat
Ambience on Command
Two complimentary control systems put the eReflex's range of visual and heating capabilities in the palm of your hand. Adjust your desired fireside ambience… and relax. The entire eReflex range can be controlled with a powerful app, available on an iOS or Android smart device. This app offers the ability to control your fire remotely, but with the ease of access from your phone or tablet.
The app displays all settings clearly on your smart phone or tablet, giving you precision control over the fire's Chromalight® LED systems. Lighting settings are easily adjustable thanks to the app's slider controls.
With the app, you have the added functionality of being able to easily program your fire to provide different heating schedules. Create up to four daily heating schedules to suit your lifestyle, with room to save up to three weekly programs.
On the app, the eReflex's heat and lighting functions can be set to turn on according to a timer, independently from each other. Set a time to switch on the heat, or opt for the lighting effects alone for a fireside glow in the warmer months without the heat output. The eReflex range is also controllable via the Eco Remote Control.