Introducing the all-new gas and electric AGA Ellesmere and Ludlow stoves collections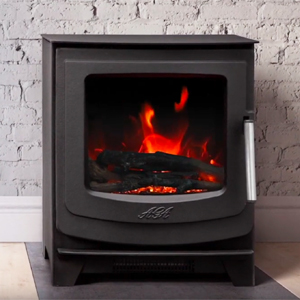 With the same great design as the AGA Ellesmere and Ludlow stoves – but running on gas or electricity – the latest additions to the collection look fantastic in both contemporary or traditional spaces.
Electric stoves only need a 13-amp supply, so can be plugged in or sited almost anywhere in the home and the Ludlow and Ellesmere ranges have natural gas and also LPG models, making them suitable for homes in more remote locations.
Gas models have a real flame and electric models feature an authentic flame effect. With electric models, there are more than 60 light variations for the flame pattern and 10 shades of downlights illuminating the fuel bed, meaning its possible to personalise the appearance of the stove.
Gas models have high and low setting and a heat output of 2kW to 5.5kW. Electric stoves have a heat output of 0.9 kW to 1.9kW but the flame patterns also operate when the heater is off, offering a cosy focal point without excess heat and energy use. The remote control doubles up as a thermostat and programmer.
Gas is environmentally friendly as it burns more cleanly than other fossil fuels. Electricity is increasingly produced from renewable sources so an electric model from either the Ludlow or Ellesmere ranges is perfect for those looking for a stove that minimises impact on the environment.
Both ranges offer models in two sizes and with contemporary or traditional design values to offer clean lines and solid performance. Each model is manufactured and tested in the UK. See these fabulous new additions to the AGA range HERE