Media Walls - Combining a Fireplace with your TV to create a stunning feature
3 Comments
Sunday, 7 February 2021
Most modern built properties are built without a chimney which restricts the choice available making electric fires an ideal option. With modern standards of insulation meaning new homes retain the heat from the central heating system, electric fires are great to providing a lovely, cosy atmosphere with authentic flickering flames which can be enjoyed without the heater function for year round use. Many of the latest electric fires also boasts colour changeable LED flames so you can replicate the charm and character of a real fire during winter and opt for contemporary blue, green and purple flames for a striking centerpiece during the warmer months.
With the fashionable range of wide, inset electric fires requiring depth to recess into, this normally means building a stud wall or 'false chimney breast' into the room - now often referred to as a 'Media Wall'. Whilst this will take some floor space off the room, it will also add extra dimension to a modern home. A plain, rectangle room can be enhanced by building the stud wall which can be decorated with a different colour to main walls, wallpapered in a bold design or clad with natural stone or tiles. It also provides an ideal solution to conceal all the electric cables from the fire as well as allowing you to create the ideal location for your TV!
These sleek, minimalist electric fires such as the hugely popular Gazco eReflex 135R are low in height meaning the TV can be positioned at the optimum eye level whilst seated. Another great design option when building a media wall is to create a recess for your TV to fit into above the fire. Made slightly larger that the TV and allowing sufficient depth so that the face of the TV sits flush to the finished wall when hung on to the wall bracket, it adds provides a modern, sleek look and using a pull-out bracket means the TV can be moved around to allow easy viewing no matter where sit in the room then pushed back neatly into place when finished.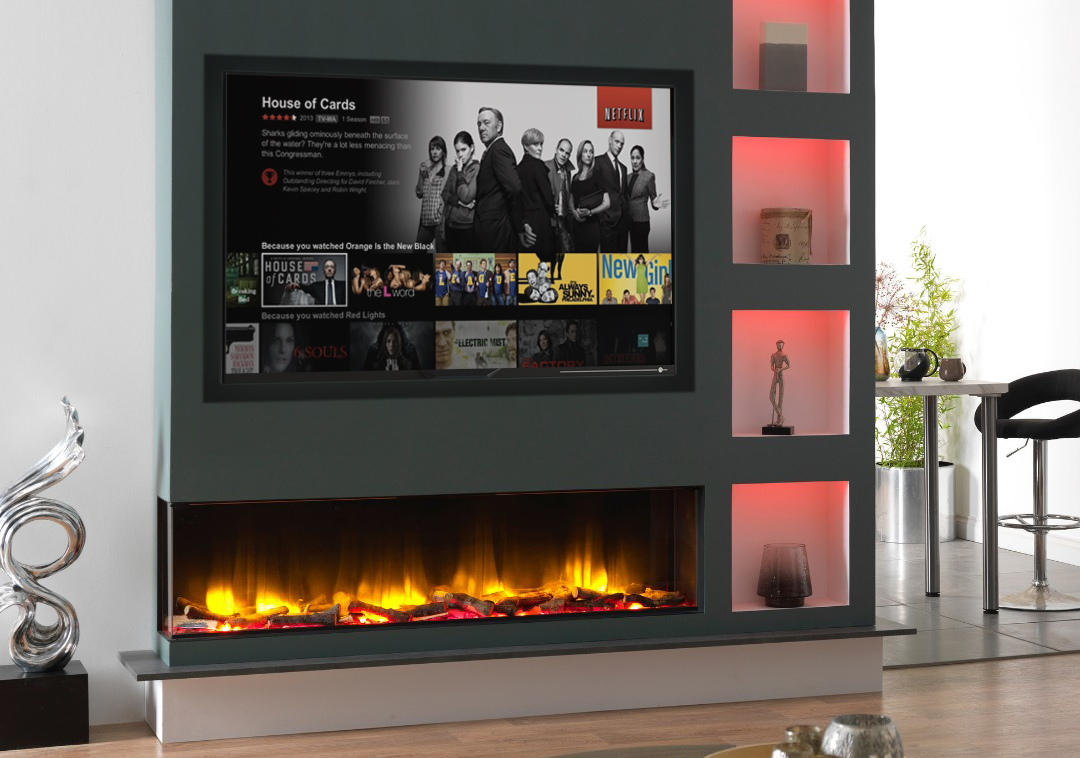 The design possibilities when building your own media wall are endless. We love the illuminated alcoves shown above on Charlton & Jenricks Polaris 1600e electric fire. An ideal place to show off your favourite ornaments whilst enhancing the look of the media wall to guarantee it becomes a dazzling feature in the room! They have chose to fit the Polaris electric fire off-centre positioned to the left of the stud wall and therefore creating an attractive 'corner' fireplace with the flames visible on two sides. This is an option available on many of the electric fires of this type. You can fit it one-sided with just the main front face visible, remove one blanking plate and fit it as a 2-sided corner design as shown above or remove both side blanking plates for a 3-sided feature fireplace.
Another example of a versatile electric fire that is ideal to combine within a media wall is the Flamerite Glazer. Available in a range of sizes up to a mighty 1800mm width, all models can be fitted as a 1, 2 or 3 sided feature depending on your preference. Flamerite have recently introduced their new 'Nitra' flame technology which is offered on all their Glazer models with colour changeable flames and fuel bed. The Flamerite Glazer can be operated by manual controls located on the fire or for added control features of the flames and heater, you can use your iOS or Android phone or tablet after downloading the free app for the ultimate in armchair operation. The Nitra flame model is also supplied with a dedicated remote control.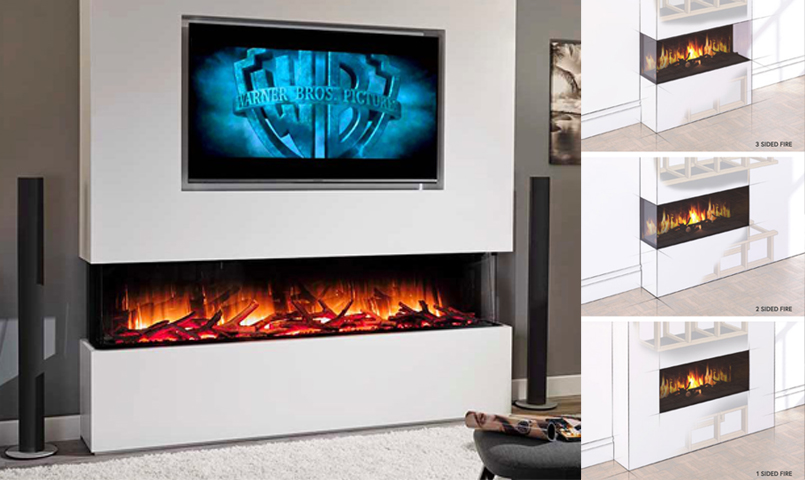 A concern for many homeowners looking to create a media wall is "will the heat from the fire affect the TV?". All of the latest, quality electric fires incorporate a fan heater with the maximum output being 2kW (many are slightly less). The heat is expelled from the top of the fire which blows down and away and therefore does not directly go towards the TV. The amount of heat produced and the distance the TV is positioned from the fire means that it is highly unlikely to affect the TV but ultimately, it is the customers choice if they wish to fit their TV above. In our many years of selling fires where customers have fitted TV's above, we have never heard of any issues relating to heat affecting the TV. Most customers who purchase electric fires use them for on flame only setting 99% of the time to add ambience in the home. With modern homes so well insulated and the kind of heat produced by a fan heater, they are mainly used in heat mode for very short period to take the chill off a room before the main heating source kicks in.
We often get asked about putting TV's above gas fires. This has also been extremely popular and again, whilst the customers responsibility if they decide to do this, with the increase in heat on a gas fire there are several options such as recessing the TV into the wall, fixing a non-combustible shelf or beam etc above the fire to disperse heat away from the fire which you can do. The image below shows an Element4 balanced flue gas fire we supplied and fitted locally for a stunning new home built by Evans James Property. This high-end design incorporated a home cinema sound system, hidden media cabinets and illuminated feature alcoves. The wall was finished in a custom grey Venetian plaster finish.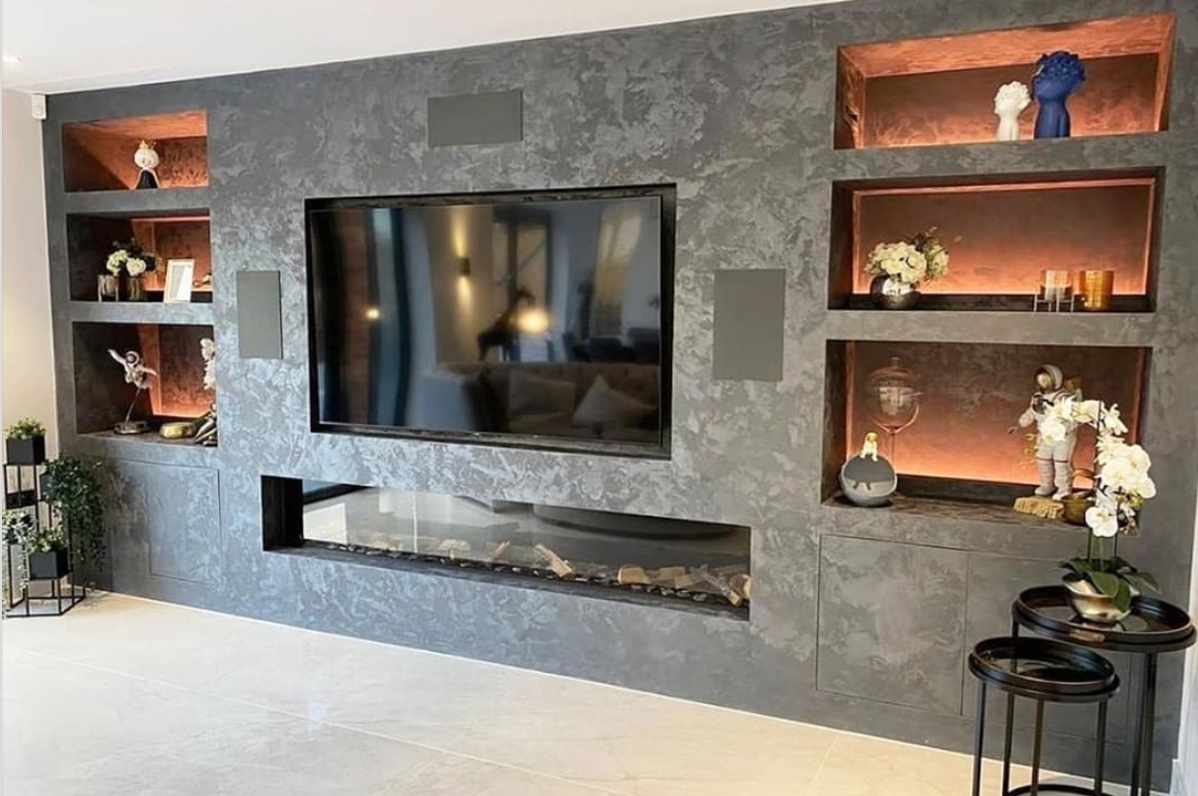 A simple solution to creating a Media Wall in your home has just been introduced by Be Modern fireplaces. Their 'FLARE Collection' now includes a model called Oxton which is a complete modular chimney breast system incorporating a widescreen electric fire and ambient mood lights. The Oxton media wall is finished in white and can be used to enhance any room where it simply attaches to a flat wall. It can accommodate TV's up to 55" in size whilst the mood lighting feature can be operated by voice control using your Alexa or Google Assistant.