Follow our suggestions for making your Christmas fireplace the heart of your holiday home
If you are a stickler for tradition, then you won't be putting up the Christmas decorations until advent, which is quite early this year and could in fact, be a bit too early for a real Christmas tree.
The middle weekend of advent is December 16/17th and this seems like a safe bet. However, it looks like people in and around Manchester can't wait to get festive – and we can't blame them. In fact, if you pay a visit to our Middleton showroom you'll see that we've gone all Christmassy ourselves.
The fireplace is always the focal point of any room, but especially so at Christmas and there are so many stunning ways to add sparkle to the fireplace and hearth. We've picked some of our favourites. Please note that all decorations used should be FIREPROOF and purchased from a reputable outlet.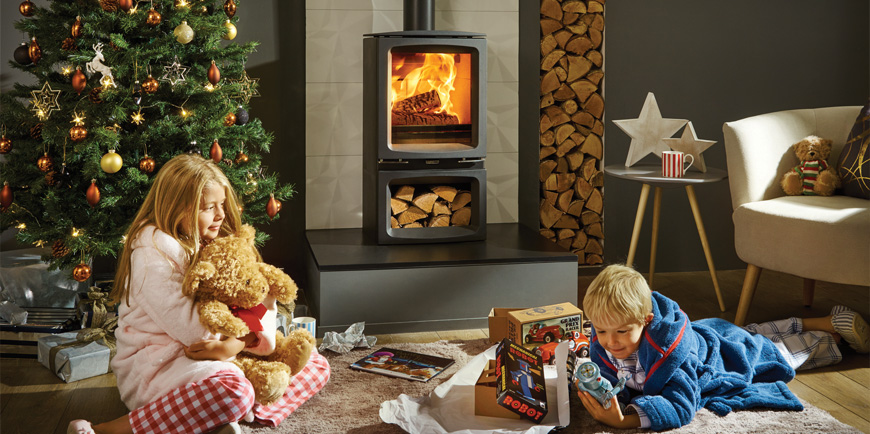 Country cosy
Bring the outside in with a wicker basket filled with pine cones and then drape some fairy lights in the arrangement and place at the side of your fire. Or, if you have a wood burning stove, put the fairy lights around your wood basket, which for a few weeks will just have to be for display purposes only.
You can't beat a garland on the fireplace and use battery operated candles behind the garland so that the greenery sparkles.
Christmas flowers such as amaryllis or white narcissus cut short and placed in rustic mugs or tankards are also perfect for the country theme.
Contemporary Christmas
For a modern feel, then metallic colours are always a good bet. Rather than a traditional garland invest in some baubles of different sizes and put them all along your fireplace – make them look chaotic rather than orderly. Your battery-operated candles behind them should be in metallic holders of different shapes and sizes.
For something a bit different put large coloured feathers in neon colours into plain glass vases and then wind some fairy lights around them. The vases should be placed on either side of your hearth.
And just for Christmas, if you have a picture or mirror above your fireplace, take off the wall, wrap it in Christmas paper and stick a big bow on it – and then hang it back up to look like a giant gift hanging on the wall.
We'd love to see your pictures.