Luminosa 150 LCD Electric Fire
Electric fires continue to increase in popularity thanks to their ability to produce a cosy feature without heat, cleanliness and zero emissions. This has resulted in some incredible innovations in flame effects such as the amazing new Luminosa 150 from renown fireplace brand Charlton & Jenerick which features state-of-the-art 'Real Flame Technology™' using LCD screens.
The fire is brought to life at the touch of a buttom producing the sharpest, most authentic flames ever seen on an electric fire. With a selection of different real fire effects to choose from, the fire will bring any room to life using a combination of cutting-edge LCD and LED technology.
Boasting 16 flame colours, 9 log illumination effects and 10 fuel bed options, you can adjust the Charlton & Jenerick Luminosa 150 LCD electric fireplace to your personal preference, complementing your room lighting and style.
In addition to the truly spectacular, Real Flame Technology™ produced from the Luminosa 150, the fire also incorporates real 'fire crackling' sounds which you can increase/decrease the sound level or switch off. This adds extra realism and character to the fire making it almost indistinguishable from a real fire!
Supplied with a multi-functional remote control giving armchair operation of flame style, brightness and heat, the Luminosa 150 can also be controlled by your phone or tablet via the C&J Smart App.
Design to appeal to media wall installations, the fire is in landscape format with an overall width of 1532mm (60¼"). You can build the appliance into a custom stud wall with just the main front aspect on view, the front aspect and one side on show as a corner feature or with the glass front and both glass sides on show as shown below.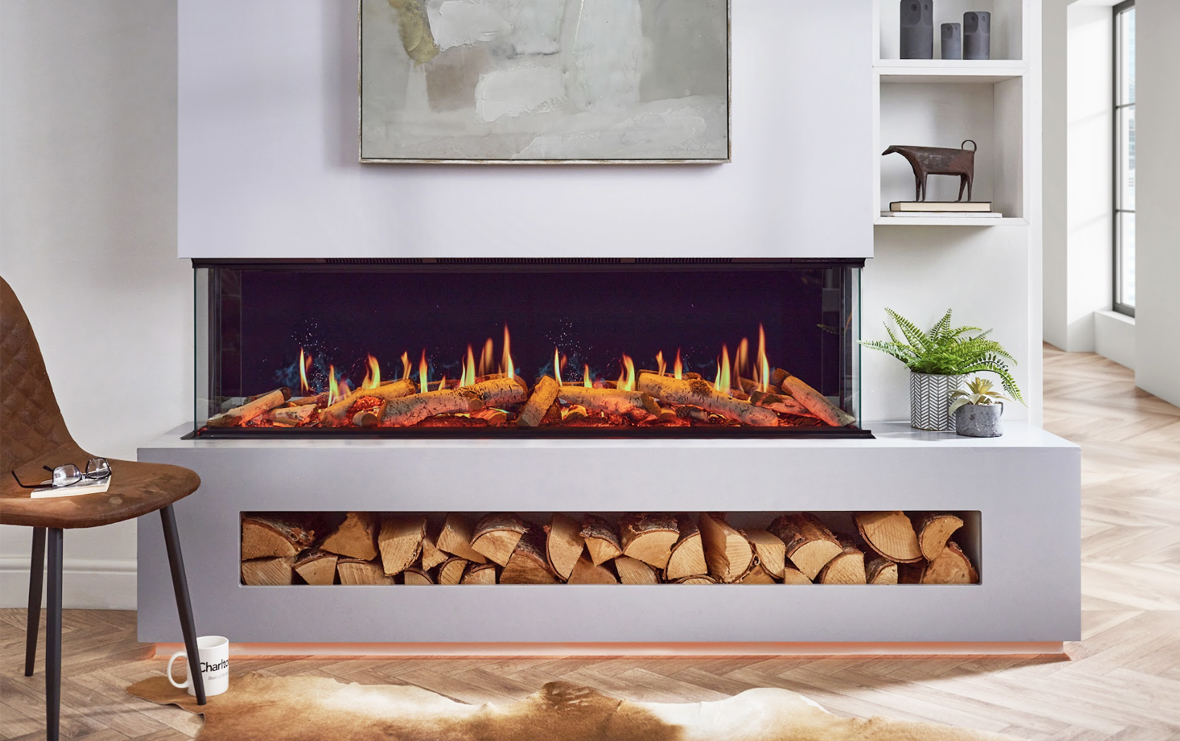 Incorporating realistic 'Ambilight' flickering fuel bed with ten options and four mood settings. Choose from a glowing, natural amber or take your pick from any one of eight other shades to match your mood – all easily set using your remote control. You can even set the colours to gradually shift from one shade to another, cycling through the whole palette to create an ever changing display.
Low energy, LED lighting illuminates the Birch effect log sets giving an extra dimension to this wonderful fire. The amazing flames can be enjoyed all year round without the heater but when needed, you can give the room a boost of heat with the fire's concealed fan heater with a maximum output of 2kW. There's also a 7-day programmable timer and an electric thermostat all incorporated into the stylish remote-control handset.
The Luminosa 150 LCD Electric Fireplace is priced.at £2,995 and a showroom exclusive product. If you're looking for the very latest innovation in electric fire design, come and visit our Manchester Fireplace Showroom to view the incredible innovation in electric fire design or email the showroom team at showroom@heatdepot.co.uk