Love stoves – hate fuss?
Many of our customers in Greater Manchester love the idea of having a multi fuel or wood burning stove at home – but are not so keen on the work that can be associated with lighting and maintaining a stove. Here at www.flames.co.uk we can offer the best of both worlds.
Electric stove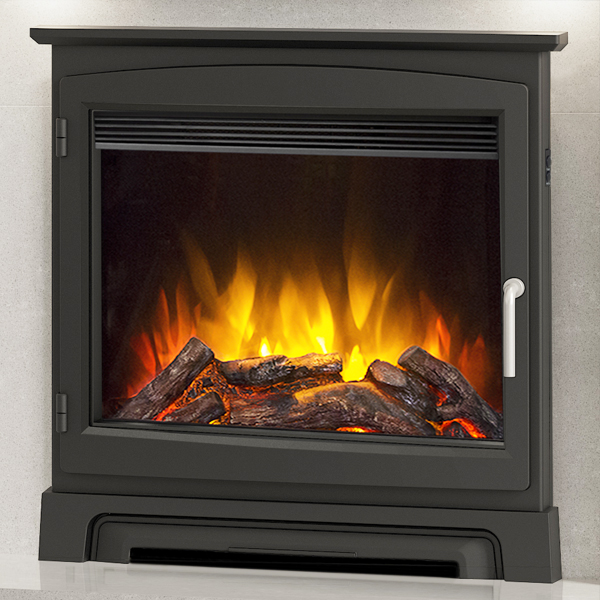 We are delighted to be a stockist of British fire design and manufacturers Elgin & Hall, who, for over 50 years have been leading the way in developing electric and gas stoves. Many modern electric stoves benefit from a powerful heat output, incredible efficiency and of course, technology that gives flames that are hard to tell from the real thing.
One such stove is the magnificent 22" wide electric fire with a stove front is cleverly designed to take advantage of the benefits of an electric fire with the look of a traditional stove. It is an electric inset fire that offers a panoramic view of the LED flames - which can even be used as a design feature without heat – and so you can use the stunning stove all year around.
The realistic flames are operated by remote control and offer excellent heat from a 1kW/2kW fan heater and guests will never know it's not a real stove. As well as doing its job as a fire, the fire also meets the requirements of stove lovers thanks to its classic matt black cast stove finish.
Better still, this electric fire with stove front is just plugged into a standard electric socket and so no chimney or flue is necessary. We think it works well with the Elgin & Hall Vitalia fireplace which can be made to fit the dimensions of this wide electric fire.
Gas stove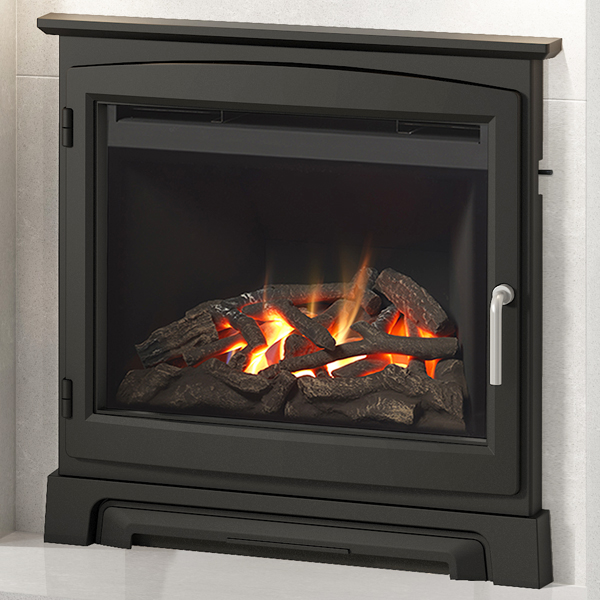 If you prefer your home to be heated by gas rather than electricity, those considerate people at Elgin & Hall have also developed a 22" widescreen gas fire with stove front. This gas fire can be installed into a chimney or prefabricated flue and will work nicely with any fireplace that has a wider than usual opening in the back panel.
The gas fire element boasts a heat output of 4.2kW as well as an efficiency rating of 86%. All this with the traditional style of a stove style that purists will love but with all the ease and benefit of using gas. Sit back with a cup of tea or glass of wine and lose yourself in the realistic, hypnotic flames produced by the log effect that will sit well within a contemporary or traditional setting.
If you prefer a small gas fire stove, then the Gas Fire with Stove Trim is a clever design that suggests an inset stove but has all the benefits of gas. The heavy duty cast iron trim has all the good looks of a stove and offer a glass front to enjoy the flames.
The fire is available in mid-depth high efficiency gas fire, full depth high efficiency gas fire and high efficiency balanced flue gas fire which essentially means you will find one of these stunning fires to fit most property types with or without a chimney or flue.
The fires are also energy efficient and offer a five-year guarantee. Just speak to the fire experts at Flames.co.uk to ask which model is most suitable for your home.
It's never been easier to enjoy the benefits of a 'stove'.