Kinder Eden HE High Efficiency Gas Fire Review
With rising energy costs, home owners now want more than just attractive looks from their fireplaces and want to rely on them to provide adequate heat to the room. Why use your central heating system to heat the whole house when you spend the majority of the evening in just one room? The Kinder Eden HE will not only give the room a striking centrepiece but is also capable of producing a powerful heat output of up to 5.2kW!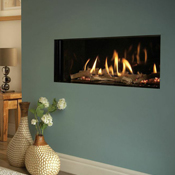 Kinder Eden HE - Trimless
An almost invisible glass panel which is set slightly back gives you a landscape view of the spectacular dancing flames. Unlike a lot of fires of this style, the Kinder Eden HE has a less regimented layout for the fuel effect so it looks extremely authentic with its realistic logs randomly placed across the fire bed. A special, glow fibre material is also supplied which is designed to emulate glowing, burning embers and gives a striking effect even when the fire is on its low setting.
In addition to the realistic log fuel effect, the Kinder Eden HE is also supplied with small white stones fuel bed. The small white stones work well in contemporary settings giving a fashionable, minimalist feel with the illusion of the hot flames dancing on top of the cool white stones. This means you have the benefit of changing the fuel effects to achieve a different style of fireplace - maybe the white stones during the warmer months and cosy logs throughout winter!
The conventional flue model of the Kinder Eden HE is designed for installation in Class 1 (real chimney) or Class 2 (5") pre-fabricated flues. When fitting into a chimney with a flue liner, an optional flue liner spigot will be required. This model boasts a superb maximum heat output of 5.2kW which is far higher than average whilst running costs are still low thanks to its impressive efficiency of 83%.
If you live in a home that doesn't have a chimney or flue, there is a balanced flue model available that includes a standard 'up & out' balanced flue kit allowing for installation on to a external wall. The balanced flue kit attaches to the top of the fire and then bends horizontally through the wall to a terminal outside. Extension pieces are available for deeper than standard walls. Due to the depth of the appliance, a stud wall (false chimney breast) will need to be constructed in flat wall situations to accommodate the appliance depth.
All models of the Kinder Eden HE gas fire are operated by a highly advanced remote control system. This innovative, hand-held device allows you to ignite the fire from the comfort of your chair and adjust the flame height to your requirements. It also features thermostatic operation allowing you to set the temperature to your ideal level and the fire will automatically adjust itself when needed. This does require the fire to be connected to a standard, 13 amp electric supply.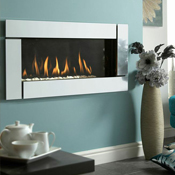 Kinder Eden HE Balanced Flue - Designer Trim
The fire is available with a choice of two stylish trim options. The Slimline trim is a simple design that frames the Eden beautifully whilst still allowing the flickering flames to take centre stage. A Deluxe trim option is a popular choice for those who wish to accentuate the fire even further making a prominent centerpiece.
Both trims are offered in either polished silver or antique brass. Alternatively, the Eden HE can be fitted totally frameless using the the trimless kit supplied with the fire. The outer edge of the fire is plastered in creating a striking, minimalist look ideal for contemporary living. When the fire is fitted without a trim, high temperature plaster over a heat proof screed should be used around the fireplace opening.

Whilst originally designed as a 'hole-in-the-wall' style feature fireplace, the Kinder Eden HE has also proved a popular fire to be combined in custom, hearth mounted fireplaces. It provides a larger format than a standard 16" inset fire allowing the fire to become a major feature within natural stone or marble fireplace designs. Always a popular model in our showroom, we rate the Eden as having one of the most appealing flame pictures of any fire of this type as well as being an extremely efficient and well performing gas fire.