Introducing the Mk2 Kinder Celena Gas Fire
If you are thinking of updating your fire this Spring, we wanted to let you know about some fabulous improvements to the Kinder Celena HE gas fire models. Kinder is a hugely respected manufacturer that produces state of the art fires in the UK. You can tell their fires are quality as the company is so confident in its products that it offers a 15 year guarantee.
So, what is all the fuss about? The Kinder Celena HE Mk 2 is the ideal fire for a contemporary room. It is effortlessly stylish and you can select from two models – a wall mounted fire or one that is fitted within a more traditionally styled fireplace.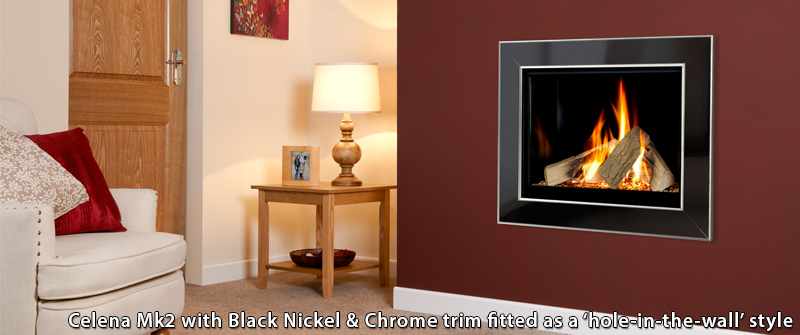 These new improved fires offer a redesigned and larger log effect. The logs themselves are intricately detailed to make them appear incredibly realistic. The logs and the dancing flames can be fully appreciated thanks to the large viewing window which provides the perfect foreground to enjoy the mesmerizing flames as they dance on the logs. And, as the cleverly designed glass is non-reflective – the view is even better, in fact, the latest glass appears almost invisible – another feature of the updated models.
A further improvement to the Mk 2 models is that the previously matt back panel is now a deep, glossy black enamel on four sides which works to suggest the illusion of a deeper fire and of course, it allows those stunning flames to be reflected on three sides. There is also a Celena HE trimless version which alows you to combine within a hearth mounted fireplace with custom back panel opening.
The fires also offers an outstanding high efficiency of up to 79.3% and a maximum heat output of 3.8kW and thanks to the battery powered thermostatic remote control you can use it to ensure the room is never under or over heated. These modern gas fires pack enough punch to be the main source of heat in a standard room. And, the remote control will allow you to regulate those wonderful flames as you wish.
The great thing about this fire is its flexibility when it comes to fitting. It can either be wall mounted and this will particularly work in smaller rooms, or, if you prefer your fire in a fireplace then the Celena will also sit within a custom sized fireplace opening. As you can choose from a choice of four-sided trim - black nickel with chrome detail, polished silver, brass or black – you can choose the right Celena for your current interior design style. Or, if you love the modern minimalist look opt for a trimless model.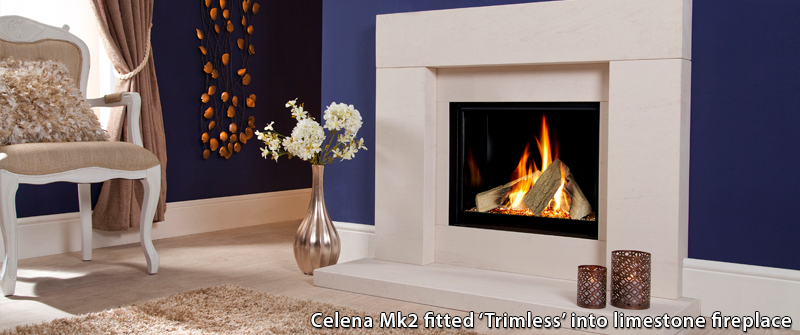 Currently, the fire is only suitable for installation into a Class 1 flues (real chimney) or Class 2 prefabricated flues (5"). Please remember that gas appliance must be fitted by a qualified Gas Safe engineer and our friendly, knowledgeable staff will be able to explain all the benefits of these fires as well as explaining any further safety information.
Visit our Manchester fireplace showroom or visit our website to see which of these stunning gas fires would best suit your home – hole in the wall with a 4 sided trim or fitted into a fireplace.