Gazco Radiance Electric Fires - Give your home the ultimate 'WOW' factor!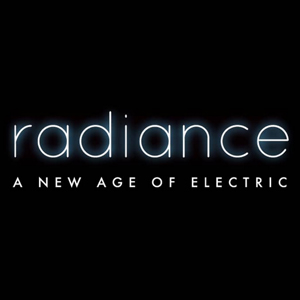 Gazco Radiance - The ultimate in style & technology
A simple way to instantly add a stylish centrepiece in almost any room! Electric fires have the advantage of allowing you to enjoy the ambience of a mesmerising flame pattern without the need to use the heater function. This means you can enjoy the stunning effect all year round and with the new Gazco Radiance range all benefiting from highly advanced LED technology, you can rest assured that the running costs are a fraction of what standard incandescent bulb electric fires would be.
The Gazco Radiance range of electric fires comprise of two base models; Wall-mounted models in four sizes that provide easy installation as they can simply be hung on to a flat wall with no recess needed. Ideal for almost any room in your home and particularly popular for properties with no chimney recess or in extensions and conservatories.
The wall-mounted versions also incorporate Gazco's state-of-the-art Chromalight™ LED backlighting, effortlessly setting the atmosphere with its mood enhancing illumination. Colour psychology, the study of combining colours for effect, stems from the principle that through exposure to certain lighting you can reach greater levels of relaxation, focus, or even revitalise your mind and body. The 12 colour chromatherapy lighting system lets you either bask in the serenity of a soothing, gradually changing colour spectrum or using the handset, immerse yourself in your favourite aura – at the touch of a button.
Choose from an attractive range of fascia frames in coloured glass or steel. Sizes of the hang-on-the-wall models start at the Radiance 80W models featuring a 890mm (35") wide flame area combined with 1280mm (50½") fascia frame or for larger living spaces or for those looking to create a bold statement, the largest wall mounted model is the 190W with a panoramic flame area of 1990mm (78¼") with huge fascia extending to a whopping 2380mm (93¾")!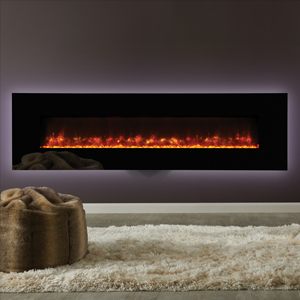 Gazco Radiance 190W Hang-on-the-Wall fire with black glass fascia and Chromalight™ LED backlighting
The Inset version of this truly stunning electric fire is a streamlined design which requires a 180mm deep pre-constructed cavity for installation, allowing your home's interior to both frame and enhance this ultra-contemporary fire. This is normally fitted into a stud wall and allows the fire to be fitted flush to the face of the wall without any protrusion into the room. For those that prefer a minimalist look, the frame-less 'Edge' model allows you to plaster up to the flame area to let the flickering low energy flames become the main focus of this contemporary feature fire.
Again, the inset version of the Radiance electric fires is offered in a variety of sizes to suit any home. The Radiance Inset 85R will compliment smaller rooms and wall spaces. A viewable flame area of 855mm (33½") still manage to provide a striking hole-in-the-wall focal point. For larger areas, there are three further sizes up to the 195R with an expansive dancing flame bed 1955mm (77") wide.
The Gazco Verve XS frame is offered as an optional extra on the inset model and lends further presence to the Radiance Inset's sleek lines. With its subtle curving form, this three dimensional frame option adds depth to the fire and can be viewed from any angle in the room. Available in a choice of stylish colours, the eye-catching looks of the Verve XS both attract attention and leave a lasting impression.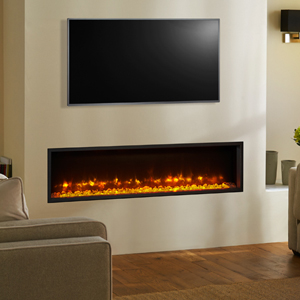 Inset 135R 'Edge' fitted below a flat screen TV
All Radiance electric fires feature the same variable heat output between 1.0kW and 2.0kW and benefit from convenient thermostatic control. The sleek handset gives you full control over the fire's host of features including heat output as well as flame effect brightness levels and colour, making it easy to create the perfect ambience from the comfort of your sofa. The remote control also lets you access the Radiance's convenient timer-off feature – perfect for gently falling asleep to the relaxing flames and comforting warmth.
The stunning LED flame patterns give you the choice of two distinctive colours, so you can create the perfect mood for every occasion. Selecting the deep amber glow offers a warm and inviting atmosphere of a traditional fire, or alternatively the blue flame effect provides an eye-catching contemporary look. Each alluring flame picture features high and low brightness settings, letting you move between an ambient glow and radiant focal point.
All models in the Radiance series come with a customisable fuel bed that provides a focal point even when the fire is off. The standard White and Clear Stone bed can optionally be upgraded to clear Crushed Glass or Glass Beads in either black or clear, to further enhance the flames.
The breathtaking Radiance electric fire series combines striking aesthetics and cutting edge technology, letting you instantly transform any interior. Offering a captivating, realistic flame picture in a choice of effects and colours, this designer fire is available in either wall mounted or inset versions, as well as a variety of sizes and styling options for optimal versatility. A choice of beautiful frames and eye-catching fuel effects allow for individual tailoring to your décor – radiating the utmost sophistication and style.