Gazco Loft Gas Stove - Brand New Product for the 2018 Heating Season!
Introducing the Gazco Loft!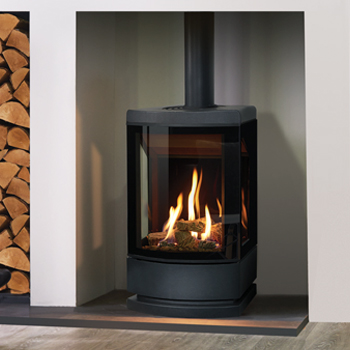 Gazco Loft Gas Stove with Steel Plinth
Always at the forefront of design and technology, Gazco have again exceeded expectations with their stunning new Loft Gas Stove. Highly fashionable and contemporary, the Gazco Loft boasts unparalleled flames and aesthetics whilst producing superb heating performance and exceptional high efficiency!
With a strikingly realistic hand detailed log effect fuel bed which is almost indistinguishable from a real fire, The Gazco Loft also features 'EchoFlame' polished black glass lining, which accentuates the the flickering flames and glowing fuel bed to give the illusion of a much deeper fire.
Manufactured using a combination of a glass and steel with a modern curved glass front and tapered sides. The Loft is available with a choice of styling options allowing you to create a truly individual centrepiece for your home. Whether you opt for the standard plinth or log store in tow different materials, this gorgeous gas stove will dramatically transform any room.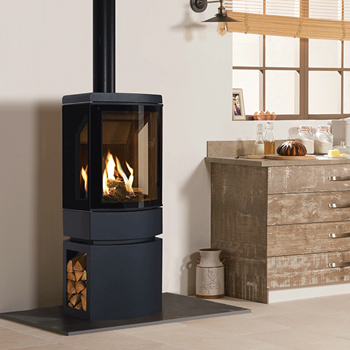 Gazco Loft Gas Stove with Steel log stor
For those looking for the ultimate in minimalist, contemporary design, the Gazco Loft gas stove can also be fitted as a 'floating' feature on the 'no chimney' balanced flue version using the wall mounting kit elevating the flames to the perfect eye level whilst seated and providing an dramatically alternative, but still superbly modern, aesthetic.
As with most gas fires in the Gazco range, the new Loft gas stove is available as a conventional flue model for installation into a standard Class 1 chimney or Class 2 (5") prefabricated flue or a Balanced Flue gas stove for properties without a chimney or flue.
Market leading high efficiency of up to 94.3% (balanced flue model) make this model not just stunning to look at but a cost effective way to heat the room you spend the majority of your time in rather than using a central heating system to warm all the house. Up to 4.80kW of heat conveniently and instantly controlled using one of the available remote control handsets.
For more details on this beautiful new stove, view our Gazco Loft gas stove product pages or call us on 0161 654 1610 where a member of our team will be delighted to discuss further.