The Flamerite Glazer Fire & Modular Suite will make a statement in any room
Here at Flames we are really excited to introduce an exciting new concept in electric fires from Flamerite. This British company is a family firm with a history of producing innovative, award-winning, electric fires, stoves and suites and they have really surpassed themselves with this new collection.
The Flamerite Glazer is essentially an electric fire that adds a contemporaneous feature in any room of the house. The great thing about the fire is that it is available with a number of modular suites making it a flexible design option that homeowners will love.
The Glazer Fire

Let's start with the fire itself. This electric fire is framed by modern glass at the front and at both ends providing a panaromic, landscape viewing area for the cinderwood dimmerable log effect flames. The tilting glass panel on the Flamerite Glazer electric fire means you can enjoy the enhanced flames from anywhere in the room. The flames themselves are controlled by a manual keypad and optional control tablet with smart control which means your iOS or Android phone can control the fire (app download required).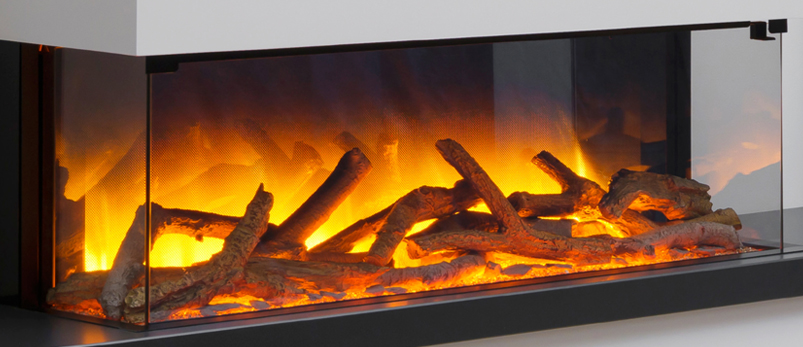 The fire comes with a range of heat settings to suit the size of your room but thanks to the flames only setting, this statement fire can become the focal point of your room all year round.
This fire itself is simple to use and is simply hung on a wall and plugged in. When purchasing the fire on its own, it will look most effective if homeowners build a stud wall above the fire and/or a base plinth below. However, the Glazer also comes with a choice of Flamerite fireplace suites.
Flamerite suites for the Glazer fire

There are three suite options to complement the Glazer and each allow homeowners an opportunity to select a design option that will suit their personality and home style. All of them are really easy to install as they are designed to fit flat to any wall and you can mix and match the bases and tops as you wish. You can even order a chimney breast to a bespoke height (standard 5ft/1525mm).
The Strato suite stands on the floor and is available in a range of widths, which means you can buy a size to simply sit underneath the fire – or a longer version that would allow for a TV plinth, receiver box and storage for your DVD system.

The Exo and Iona modules also come in a range of different lengths allowing you to decide on four configurations, including a false chimney breast – all models give the illusion of a floating hearth. The suites are made from timber and available as Artic White or Pastel Grey
There is no doubt that whichever model you choose this fire and one of the complementary suites will make a statement in any room. And, because they are so easy to install they can be used in virtually any room of the house as no chimney or recess is needed. We love them and we think you will too!