Five of the best fireplaces for 2019
Friday, 7 December 2018
We all have our new year plans whether that's to lose weight, declutter the kids' rooms or invest in that new fireplace you have been promising yourself for so long.
As one of the North West's leading fire retailers we appreciate just how difficult it can be to navigate your way through the huge range of fireplaces now available on the market. Thanks to constant innovation and design from leading manufacturers, consumers have never had so much choice. However, sometimes too much choice could be overwhelming. That's why we are recommending our five of the best fireplaces for 2019.
Our choices have been made based on popularity, style, quality and price and our customers can be assured that our in-house experts have pondered the best of the rest question in great detail to give our final recommendations. In no particular order, they are:
Elgin & Hall Vitalia Marble Fireplace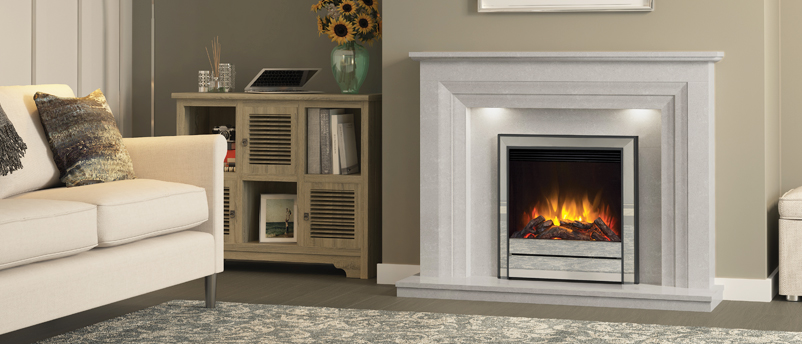 Elgin & Hall is a leading British manufacturer of fireplaces and they well deserve their reputation for quality and reliability.
This fireplace is compatible with all standard gas fires or electric fires and the Vitalia deserves its place in the top five largely due to the fine detailing found in this marvelous micro marble fireplace. We also like the fact the fireplace is offered in a choice of manila, white or grey providing an opportunity for homeowners to find a fireplace that complements their home. An additional option offers the opportunity of adding ambient down-lights to the underside of the fire allowing you to highlight this beautiful fireplace even when it is not in use. And you can personalize the fire further with a choice of hearth designs including standard, bullnose edge of five-sided.
The Vitalia has a grand air about it and boasts a timeless and luxurious design that has echoes of a classic country house.
Pureglow HANLEY with Chelsea High Efficiency Gas Fire Suite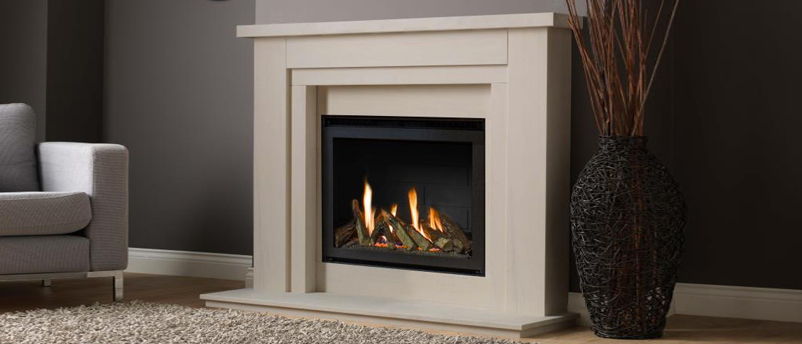 As a manufacturer of fires for more than 60 years, Pureglow has a passion for design that secures its place in the best of the best.
This particular model features a premium limestone mantel and hearth giving it a classic look which is cleverly combined with a contemporary glass front gas fire allowing the realistic log fuel bed to take centre stage.
However, the experts at Flames have selected this particular suite as it is one of our larger than standard fires which are becoming increasingly popular with North West homeowners thanks to their heating and energy performance. Customers can control the heat output from the comfort of their own sofa using the remote control.
The limestone Hanley fireplace itself has an aesthetically pleasing 'square boxy' look which when placed in the centre of a wall will give any large room a lovely symmetry that will be especially pleasing to the eye.
Be Modern Emelia Marble Fireplace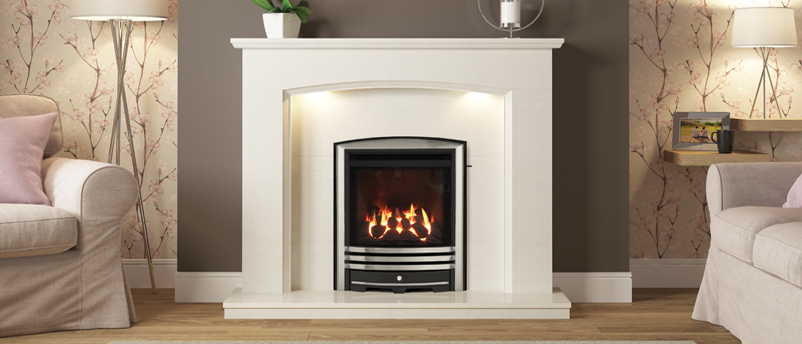 It's not surprising that another marble fireplace has managed to secure a top position in our fireplace awards. This time the credit goes to another British designer that operates from the North East. Boasting a proud heritage, Be Modern is renowned for its huge range of fires and fireplaces.
Emelia is a relatively new product and has already proved a big hit with discerning Flames customers. The fireplace works with any standard sized gas or electric fire and this lovely lady is available in either a white micro marble finish or a manila with subtle white markings on a cream background.
While offering that traditional classic design thanks to its chamfered arch, we like the way Be Modern offers Emelia in a narrow as well as a standard finish, which makes it suitable for various room sizes. The designers have managed to mix the traditional design with touches of contemporary style like the option of having under mantel lighting, which can be operated by simply waving a hand beneath the mantel. What will they think of next?
The Gallery Asquith Agean Limestone Fireplace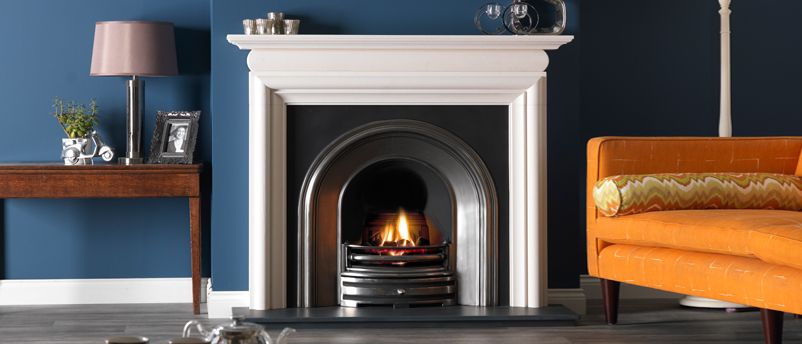 Taken from the Gallery Collection the Asquith is a very handsome fireplace. Made from 100% handcrafted natural limestone the material is ingrained with what are essentially thousands of minute fossils which essentially makes each fireplace unique as each has its own specific markings. We think this is one of the reasons why this particular fireplace is so beautiful – it is so obviously not mass produced.
The fireplace enjoys resplendent rounded details across the chest and down the fireplace and with a striking mantel shelf of 1405mm (55 ¼ ins) it will fit into a standard chimney breast as well as providing the perfect back drop for your objet d'art.
We often sell the Gallery Crown cast iron insert (shown) with this fireplace. The insert is available in both a matt black and half polish with the cast iron arch buffed to reveal a silver/pewter finish or fully polished with both arch and outer section in the alluring shining silver. The Crown is supplied with its own dedicated cast back section allowing you to add your preferred choice of fire – both gas and electric are suitable and you could even have a solid fuel kit with a few adaptions.
The fire options for this particular fireplace make it a really popular choice for North West homeowners and if the Asquith appeals to you then our experts will discuss all the finer details of which fire type will suit your room and your property.
Elgin & Hall Cassius 950 Marble Gas Fireplace Suite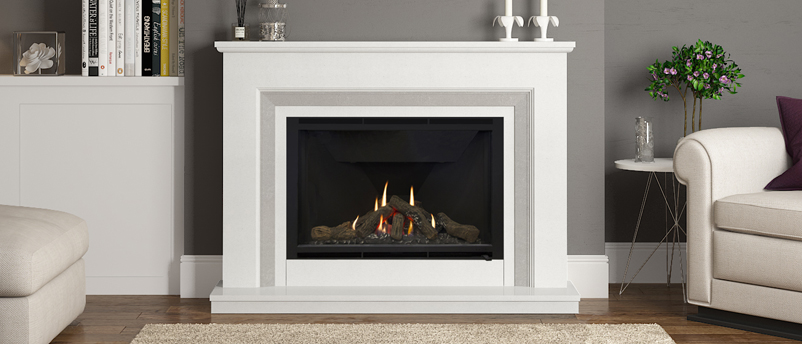 We end where we started with another beauty from Elgin & Hall. This time our fireplace experts have been thinking about modern homeowners who, because of the construction of their homes may be limited in their choice of fire. Instead of a traditional class 1 chimney they are likely to have a shallow pre-cast flue. (Usually applies to homes built after 1960s). This larger than average fireplace allows homeowners with both a Class 1 and Class 2 chimney as well as Pre-Cast flues to install this landscape gas fire which is perfect for bigger rooms.
Be assured that Cassius is going to be the centre of attention. As well as the landscape feature gas fire with log fuel effect it also boasts a low and wide surround and hearth, both fashioned from a glorious marble which is available in a choice of white with grey inlay or all white. We love the drama offered by the incredibly realist log effect flames which are operated by a discreet slide control lever.
As well as its flexibility that suits most property types, this fireplace really belts out the heat and is capable of providing 4.7kW but still has an energy efficiency rating of 75%. In fact, this final fireplace is so good, that it was awarded best gas suite and product of the year at the fire industry Oscars - the Hearth & Home exhibition in 2018.