Fireplace Chambers in Brick or Natural Stone - Perfect for Wood Burning Stoves
Give your fireplace a finished look with a fireplace chamber.
There is something quintessentially English about a fireplace in the winter. It conjures up images of cosy family homes, tea and buttered toast, or simply curling up with a good book while the autumn and winter weather rages outside.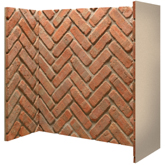 Herringbone Brick Fireplace Chamber
While most fireplace customers in the North-West concentrate on selecting the perfect fire, surround and hearth, many people don't realise that you can also select your perfect fireplace chamber. The fireplace chamber will play an important part in the overall appearance of your fire and will be especially noticeable when the fire in not lit.
Here at Flames, we have a wide selection of fireplace chambers to ensure your entire fireplace looks just how you want it to. Selecting a fireplace chamber will offer protection to your fire, offer heat radiation to ensure all heat output is maximised into the room and, of course, provides the perfect finishing touch.
Our full range of fireplace chambers are online and customers in the North West of England looking for their perfect home accessory are sure to find a style they like.
If you want to go for a country look a rustic brick fireplace chamber would work well. We offer chambers manufactured in the UK with either side panels or an arch. They work with any type of stove including wood burning, gas and electric – and even basket style fires.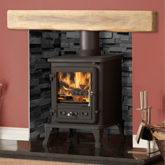 Staggered Black Slate Fireplace Chamber with Firefox Wood Burning Stove
If you prefer a more contemporary look to your fireplace in Greater Manchester take a look at our slate options. We have graphite, olive, porcelain, staggered black slate and staggered oyster slate with return panels and again these are suitable for any stove – we would probably recommend a complementing modern fire choice.
Finally, we also offer a herringbone and ceramic brick choice of chamber panel to ensure a decorative finish to any inglenook chamber.
The fireplace chamber panels are a new addition to our leading fireplace selections and provide a lovely finish inside your chimney or pre-constructed wall. Most can be cut to size and offer straightforward installation. View the full range here Fireplace Chamber Panels