Feel proud about buying a wood burning stove and doing your bit for the environment
Concerned about air pollution?

An Ecodesign-ready woodburning stove is for you!
We are all concerned about air pollution. It can cause both short term and long term effects on our health. If you have asthma, lung conditions or heart conditions, poor air quality can make the problem much worse.

In cities, a lot of air pollution is caused by petrol and diesel cars, but as you may have read in the press, it can also be caused by wood smoke. In fact, 70% of pollution in the capital was caused by wood smoke – but the important thing to note is that it is wood smoke caused by OPEN FIREPLACES and not wood burning stoves.

In fact, if you decide to buy a modern ecodesign-ready stove, emissions caused by wood smoke are actually reduced by 90% This means that replacing an open fireplace with an ecodesign-ready stove would make a huge difference to the quality of our air

An Ecodesign ready stove also has other environmental benefits
At the moment most of our electricity, and much of our heating, is made by burning fossil fuels such as coal and petrol. These release carbon dioxide which means when they burn they add to the greenhouse effect and global warming. Fossil fuels have a limited supply and will eventually run out and so the world will need to look at other renewable energy sources.

Wood is a renewable source and in comparison, to fossil fuels is carbon neutral. This means that burning wood is not only sustainable but it is also a way to reduce global warming and reduce your carbon footprint.

Therefore, when you buy a modern wood burning stove – rather than adding to the problems of air pollution and global warming, you are actually going some way to reduce them.

Take a look at our huge selection of wood burning and multi fuel stove which come in a range of sizes, prices and designs and buy safe in the knowledge that you are doing your bit to reduce air pollution.

Take pride in your Ecodesign Ready Wood Burning Stove!
You may have read the negative publicity around wood burning stoves and their impact on pollution. However, delve a little deeper behind the headlines and you will find that stoves don't deserve their bad reputation.

The government's Clean Air Strategy has been welcomed by the industry as for the most part, manufacturers been way ahead of the government when it comes to making modern stoves that don't cause pollution.

The Stove Industry Alliance (SIA) has already seen the development of Ecodesign Ready stoves that meet the requirements outlined in the Clean Air Strategy and in fact, these stoves actually produce 90% less emissions than an open fire and 80% less emission than older stoves.

The pollution levels taken in London as part of the Strategy's development found that a lot of pollution was caused by petrol and diesel cars but also a significant percentage was also caused by open fireplaces and NOT stoves – as the press may have you believe.

Another benefit to owners of Ecodesign-ready wood burning stoves is that wood is of course, is mainly carbon neutral and a sustainable source of fuel. A stove is in fact much more eco-friendly than an electric or gas fire which relies on fossil fuel – a major pollutant.

In order to further enhance the green credentials of your stove – make sure you are burning the correct wood. Wood should be well seasoned which means only wood with a moisture content less than 20% should be used. Another tip for homeowners is to ensure the chimney is swept once a year by a reputable chimney sweep.

Owners of stoves less than 10 years old should, in fact, feel quite proud of the fact that they are actually making a positive contribution to the environment by reducing both air pollution and their carbon footprint.

So now you know you can buy your stove in confidence, browse our huge selection of wood and multi fuel burning appliances. There's a price and style to suit every home.

It's not the stove - it's the fuel!
Many customers have been asking ii buying a stove is bad for the environment – the answer is no!

Today's modern Ecodesign-ready stoves are actually much better for the environment than most other heating appliances. Gas and electric stove use fossil fuels and these fuels release carbon dioxide which are partly responsible for global warming. An open fire meanwhile, is the worst offender of all, and in studies was responsible for 70% of air pollution found in London.

Stove manufacturers have been working on developing eco-friendly designed appliances for many years and today's stove is probably one of the most environmentally friendly heater you can buy. The main thing to be aware of is that air pollution is not caused by the stove itself – but the wood you burn on it.

Environment Minister Thérèse Coffey said: "Many of us enjoy a cosy fire in our homes, but burning dirtier fuel has a real impact on the quality of air for our family and friends around us. If we make the switch to burning cleaner domestic fuel, we can continue to enjoy burning wood and smokeless coal in stoves and fires in our homes."

Cleaner fuels essentially mean ensuring that the wood burnt on a stove is well seasoned – in other words, well-dried. The moisture content should be less than 20% and in fact Defra believe switching to dry wood alone could cut harmful emissions by half.

If you burn wood with a high moisture content, it not only produces little heat but also increases smoke and emissions – and it's not good for your stove or your chimney.

In order to ensure you are burning the correct wood, only buy products that have the Woodsure Ready to Burn logo. This allows you to be confident that the wood is clean and high quality and will not cause air pollution. You can read more at http://www.stoveindustryalliance.com/the-importance-of-using-dry-wood.aspx

Is the government going to ban us using stoves in our home?
No. The government has never suggested a ban on stoves. The government does however, want to ensure that only the cleanest fuels to use on the stoves will be sold.

Will I be adding to air pollution if I buy a new stove?
No. If you buy a stove that has been made in the last 10 years you are more likely to be improving air pollution and the environment. New stoves that are known as 'ecodesign ready' already meet the requirements outlined in the government's draft Clean Air Strategy and are approved by the Department for Environment, Food and Rural Affairs (Defra).

As you can see from the image below, these stoves actually produce 90% less emissions than an open fire and 80% less emission than older stoves.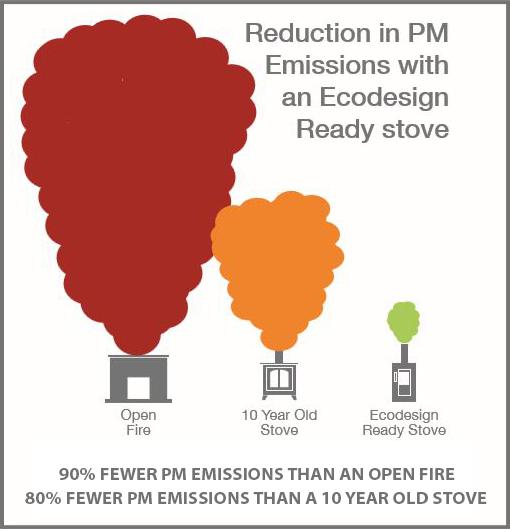 So what is the problem with stoves?
The problem is not with the stove, it's the wood that is burned on them. Wood that is unseasoned (not fully dried out) causes smoke and harmful particulates when it is burned. This is what the government is most concerned about. It wants to ensure that only seasoned wood – that is wood with less than 20% moisture content - is burned. It is expected that it will ban the sale of poor quality logs.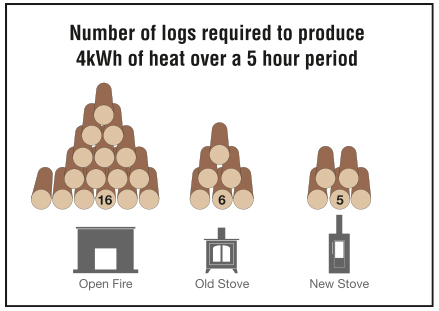 How do I know I am buying the right wood?
Only buy products that carry the Woodsure approved logo. Products that carry the Woodsure Ready to Burn logo will be clean, of high quality and be well seasoned.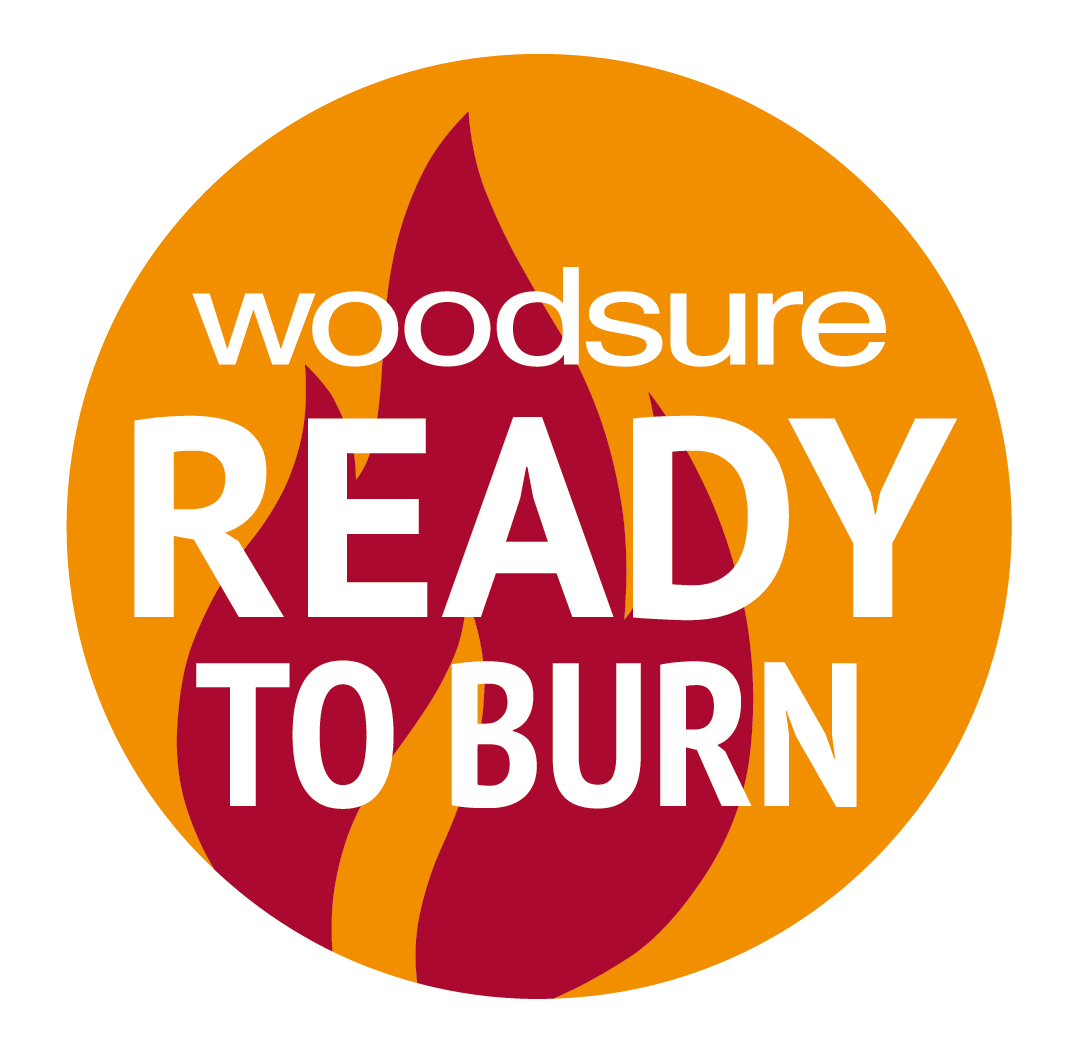 Are there any other benefits to buying a stove?
Let's start with the aesthetics. You simply can't beat the look and feel of a modern stove. With so many designs, colours and sizes available you are sure to find the right stove for your home and we guarantee it will become the focal point of any room.

Green credentials. We have outlined above how new stoves are much cleaner than older versions and open fires. It's also important to remember that using wood is a renewable and sustainable energy source – much better for the environment than fossil fuels.

Efficient. Many stoves are highly efficient heating appliances that have a generous heat output that can often heat more than one room. You should therefore see a saving on your energy bills.

How do I know which stove is right for me?
Our staff are experienced in advising customers on the right appliance for the room based on budget, design and heat output. Just give us a call and we will take it from there.